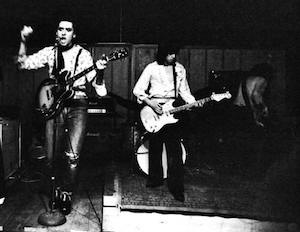 Cleveland guitarist/singer/songwriter/scenemaker Peter Laughner, best known for co-founding Rocket From The Tombs and Pere Ubu, died at far too young an age in 1977. But he managed to pack an astonishing amount of activity into his short life — including a tangled relationship with Television, Tom Verlaine's pioneering CBGB-centric NYC band. Over the years, countless myths, legends and half-truths have been built up about this relationship, often going way beyond "just the facts." Fortunately,  Cleveland punk scholar/Laughner archivist Nick Blakey has gone above and beyond and written Let Me Take You To The Empty Place, the definitive history. It's an essential longread.
As a soundtrack to Nick's essay, we've got two raw-but-right documents: Laughner's early 1976 tape of a Television set at CBGB (kindly supplied by Peter's friend and collaborator Don Harvey), along with a home recording of Peter and Don in Ann Arbor, featuring some of his own distinctive originals (check out the gorgeous rendition of "Amphetamine), plus covers of The Velvet Underground, Richard Hell … and Television, naturally.  words / t wilcox
Download: Television – CBGB, January 1976 (zipped folder)

Fire Engine / Prove It / Little Johnny Jewel / Psychotic Reaction / Friction / Guiding Light / Let Me Out / Kingdom Come
Download: Peter Laughner – The Ann Arbor Tape, February 1976 (zipped folder)
Candy Says / Fire Engine / Blank Generation / That's The Story Of My Life / Dead Letter Zone / Amphetamine / Venus de Milo
Photo: Peter Laughner, Rick Kalister, Scott Krauss (obscured behind Kalister), and Albert Dennis of Cinderella Backstreet at the Viking Saloon, Cleveland 1973. Out of frame: Cynthia Black. Photographer unidentified.