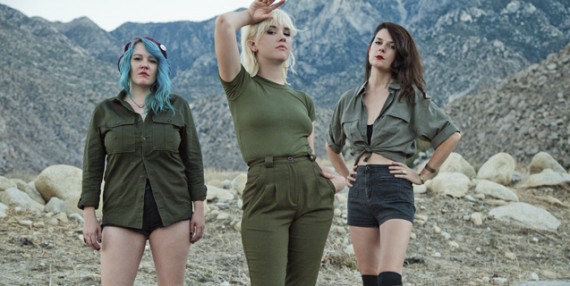 On its latest LP, Welcome to Worms, Los Angeles band Bleached pulls off everything you want great rock songs to do. Led by sisters Jennifer and Jessica Calvin, the album's funny and loud, as well as reflective and self-aware. It's fun, effervescent, and catchy, but it rewards repeated spins, inviting the listener deeper into singer Jennifer's often dark head space, which she explores without pretension. "Trying to lose myself again," she sings on the song of the same name, allowing her direct lines to just sit with the listener the same way the sugar-rush fuzz guitar does.
"Trying to understand myself was the biggest thing," Jennifer says of the writing process. "I would have one day where I thought I was amazing, and then the next, I would hate myself. But I just knew what I had was my writing and being honest with myself, so I just went there every time I'd write…We're really scared to face the darkness in life, but when we just accept that's part of the package, the good and and the bad, then I think it's easier to be happier."
The contrast between the gleeful strut of these songs and intimate lyrical reflections is underscored by — as bone-headed as the observation might read — the power of the album's riffs, meaty, Joan Jett-plays-Cheap Trick slabs of heavy guitar.
"We definitely wanted to up our game from the last record," Jennifer says. To that aim, they worked with established producer Joe Chiccarelli, pushing the band to make the sonic feel of the record "scary and hard."
That heaviness "made this record possible," Jessica says.
Though the sisters are hardly new to making music — they were members of the buzzed-about group Mika Miko in the early 2000s — Welcome the Worms found them devoting extensive effort to the pre-production process for the first time. They rented a house in Joshua Tree, where they focused heavily on writing.
"A lot of times we'd go to Joshua Tree to escape L.A., so in the end I wound up writing about L.A.," she says, and indeed the town's mark and reflections on life there can be heard in power-pop songs like "Wednesday Night Melody" and "Hollywood, We Did It All Wrong."
"It's like when you break up with your boyfriend but you're still writing songs about him, you know?" Jennifer says.
Los Angeles plays heavily into Bleached's thematic make up. It's where the Calvins grew up, getting into punk like Generation X, the Slits, Blondie, oi bands like Cock Sparrer and Sham 69, hardcore from Black Flag and Minor Threat, and the spooky gloom of X, the Gun Club, and the Velvet Underground. "I don't feel like we ever really talked about it, we just both knew this was something we were into," Jessica says. "Punk is what made us start playing together."
"We would go to shows every weekend, Friday and Saturday night, and I remember being at this venue called the Glasshouse," Jennifer says. "I saw this band called F-Minus, which had two girls in it. I remember thinking, 'We could start a band.' And we started a band literally the next day."
The city, and its proximity to the movie industry, also influenced the Calvins sense of humor, informing their inside jokes and allowing them the unique ability of finding humor in grim situations.
"You look at life as an outsider sometimes," Jennifer says. "Sometimes, I find dark things so funny…"
Then of course, there's their shared inspiration the Misfits — which recently reunited with classic singer Glenn Danzig — which blended classic pop tricks with distortion and a deadpan macabre lyrical sensibility."
"We're really big fans of the Misfits — another band with poppy, catchy melodies, but the lyrics are like 'I've got something to say, I killed your baby today,'" Jessica laughs.
Whether or not Danzig himself would appreciate being called "funny" seems up for debate, but the Calvins have sneaking suspicions he might be fine with it, despite his tough facade.
"I think he'd be alone with his girlfriend, laughing about it all," Jessica says. words/j woodbury