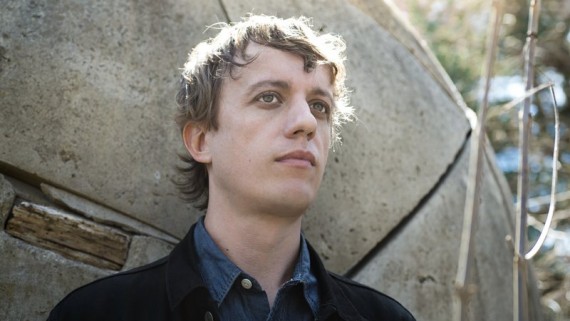 The songs on Steve Gunn's seventh album and Matador Records debut Eyes on the Lines don't move straight ahead. Instead, they loop, swirl, and curl. But they do have a sense of purpose, and the driving language Gunn sprinkles across the nine songs parallel how he and his band push forward. On the album, detours aren't distractions. Often, they're the point.
"I was thinking about the concept of being lost, welcoming a sense of the unknown," Gunn says via his cell from the road. Musically, the reference points carry over from his last couple of excellent outings, like the sounds of mentors and collaborators Mike Cooper and Michael Chapman, blues from Chicago and Mali, and the Basement Tapes. But on this album, there's a distinctly rock feel to the proceedings.
"When I'm coming up with stuff, we're talking about rock & roll songs," Gunn says. "Mostly the Velvets, Stones, and Dylan, to cite three."
Lyrically, Eyes on the Lines is devoted to the unexpected, celebrating deviations from the path, dwelling on moonlit wanderings, strange dreams, and observing the thrill that comes from finding oneself truly lost, the ultimate acknowledgment of the unknown.
On "Conditions Wild," Gunn lyrically paraphrases from author Rebecca Solnit's book A Field Guid to Getting Lost. "It's a field guide from the other side, beyond the path you know," he sings, his husky Philly baritone rolling over organ and a steady backbeat. "Feel the path and move along the traces where you'll go."
"It's really an interesting book," Gunn says of Solnit's 2005 collection of personal and historical reflections, which helped order his thoughts about the concept of "losing oneself." "Being a creative person, you have to kind of trust this other aspect of your life, which is something you can't explain or predict. You can't have preconceived notions."
Recorded in April and September of 2015 at Black Dirt Studio in Westtown, New York, Eyes on the Line expands on the full band groove of his previous, 2014's Way Out Weather. There's a clear familiarity between Gunn, drummer John Truscinksi, and bassist Justin Tripp, but the expanded cast provides excellent color here, chiefly guitarist James Elkington, whose deft guitar plays off Gunn's on the jammy "Heavy Sails" and the exploratory "Night Wander." If Way Out Weather was the sound of Gunn and the band gelling, Eyes on the Line is the sound of a fully-realized group of players getting down, including harpist Mary Lattimore and Jason Meager providing occasional bursts of flute.
"I trusted them," Gunn says. "They have great instincts. There's sort of an element of spontaneity and embedded trust with all of us."
More than any of his albums thus far, the LP reflects on the road, and coupled with the notion of the inherent value in losing the way, there's a kind of gentle tension between freely wandering and the responsibilities of road work that come along with being a traveling musician. On "The Drop (Eyes on the Line)," he references "the drop," trucker slang for a destination, but devotes most of the time to looking out the window, watching the lines on the horizon blur.
"Of course I work on certain themes, but once a record's done and it's sequenced, that's when you realize, 'Oh shit, that's what this is about,' The meaning starts to come into form," Gunn says.
His lyrics, which crept into his songwriting circa 2013's Time Off, remain impressionistic and character-driven, shying away from confessional sentiment. "I try to hold on to being a bit anonymous, being an observer…I want to let people interpret them in their own way," Gunn says.
But even the keenest of beholders has a point of view, and Gunn's personal travels inform his writing in a specific way.
"I think the record reflects the fact that I wrote most of the songs while I was traveling. A lot of them have to do with being on the road, thinking a lot, being positive and hopeful, but [also] just staring out the window trying to remain sane."
As the album came together, he began to fold in other inspirations, centered around the concept of "lines," like the art of the late conceptualist Sol LeWitt and sculptor Donald Judd, whose work featured striking lines and angles.
"I was really interested in this minimalist, meditative approach, in either nature or lines, and this generation of conceptual, minimalist artists," Gunn says.
He reflected on his time as an art handler, helping assemble installations for artists like LeWitt and Robert Irwin, the latter proving to be a huge influence on Gunn's artist process.
"His approach to making art was fascinating to me," Gunn says.
Irwin is a self-made kind of guy, lacking the "elitist pedigree" of others in the fine art world, Gunn says. "He's a normal, 1950s working class guy who was really, really interested in cars," Gunn continues. Gunn dove into author Lawrence Weschler's book on Irwin, Seeing is Forgetting: The Name of the Thing One Sees, taking note of Irwin's obsessive tendency to refine and shape, continually working on a specific concept.
"He would disappear [into his studio] for years," Gunn says. "He boiled his art down to such an acute focus. He was staring at lines in his studio, moving them around slowly, moving through with his vision. People thought he was crazy… For me, he kind of changed the concept of art in general, particularly in this idea of minimal art."
Gunn's own search for "acute focus" is clear as one traces the thread from his early experimental guitar records to his new role as a bandleader and singer/songwriter. You can hear the minimal, droning melodic lines in his own playing, but also his willingness to let go, allowing the songs to plume out in unplanned directions.
"When I was thinking about concepts for the record, I just wanted to reflect accepting the unknown," Gunn says. "Just being comfortable in that kind of world." words/j woodbury
For Heads, by heads. Aquarium Drunkard is powered by its patrons. Keep the servers humming and help us continue doing it by pledging your support via our Patreon page.