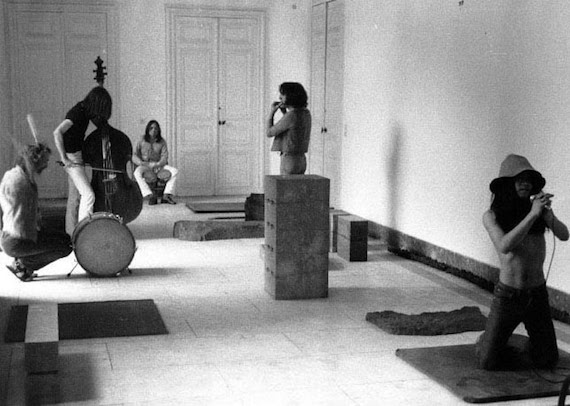 Can's influence cannot be overstated. Highly impacted by the improvisational side of The Velvet Underground, Frank Zappa's Mothers and Sly Stone, the group incorporated repetitive grooves that brought to mind African percussion and American funk. Two eccentric vocalists (first Malcom Mooney, then, famously, Damo Suzuki) and a dash of modern classical music helped create a distinct vision that is often imitated, though never matched.
While Can continued to release records until 1979, it's their period from 1968-1974 that serves as the foundation of the band's legacy, the primary reference point for a sound that would manifest throughout music and across genres for years to come. Below are some live highlights from that period, that capture the improvisational ethos applied to their inspired studio recordings. words / d see
"Paper house" (The Beat Club, Aug. 7, 1971): The Beat Club was a long ­-running German TV program, with a seemingly bottomless pool of exceptional clips, many of which were performed live. Here, Can shows off their live prowess, and (atypically) sticks closely to the studio version of this seminal track. But there's just enough of their improvisational prowess on display to make this performance exceptionally powerful.
"Oh Yeah" (unknown, 1970): While we may not ever find out WHERE this was filmed, it was certainly beautifully documented. "Oh Yeah" is one of the more accessible tracks on Tago Mago, and this version begins rather faithfully to the original recording before taking off into uncharted territory. Not only does the group explode in a fury of unbridled ferocity, but Damo Suzuki shows off his own unhinged improvisational style, as well.
"Spoon" (Cologne Sporthalle, Feb. 3, 1972): Released as a single,'Spoon' became a bona fide hit in Germany. The song was drawn from the group's classic Ege Bamyasi LP, one of   the most impressive examples of avant-garde intertwined with straight forward pop-rock. While the breezy, catchy and soothing studio version clocks in at a radio friendly 3:03, this live performance rearranges this song into a ferocious stew of aggression and rhythmic madness.
Further Listening: Aquarium Drunkard – Collected: A Can Playlist // Can :: The Peel Sessions (1973-1975) // Can :: University of Essex — Colchester, England, May 17, 1975