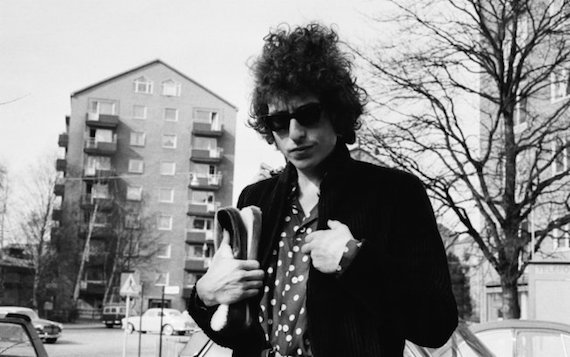 After a few months of rumors, Sony has finally announced another massive Bob Dylan box set — The 1966 Live Recordings. Weighing in at 36 (!) discs, it collects every known recording of Dylan's confrontational 1966 tour of Australia and the UK (along with a handful of audience tapes from the US) with the Hawks, who were soon to morph into The Band. Overkill? Sure. But obsessives (guilty as charged) will love trawling through these tapes, many of which have never been bootlegged, savoring every Dylan inflection, every Garth Hudson organ fill, every slashing Robbie Robertson solo. It's some of the most powerful rock and roll ever made.
With such a wealth of live '66 recordings on the way soon, it's easy to forget that for decades, the only official evidence of this epochal tour was a Liverpool performance of "Just Like Tom Thumb's Blues," tucked away on the b-side of the "I Want You" seven-inch. Released just a few weeks after the concert itself, it's easy to see why it sent Dylanologists on a mad hunt to dig up any and all recordings from 1966. Revisit it for a taste of the glories to come, as Dylan and the Hawks roar through the tune, making its Highway 61 Revisited studio counterpart sound like a pleasure cruise in comparison. words / t wilcox
Dylan & The Hawks :: Just Like Tom Thumb's Blues (Liverpool, 1966)
Only the good shit. Aquarium Drunkard is powered by our patrons. Keep the servers humming and help us continue doing it by pledging your support via our Patreon page.