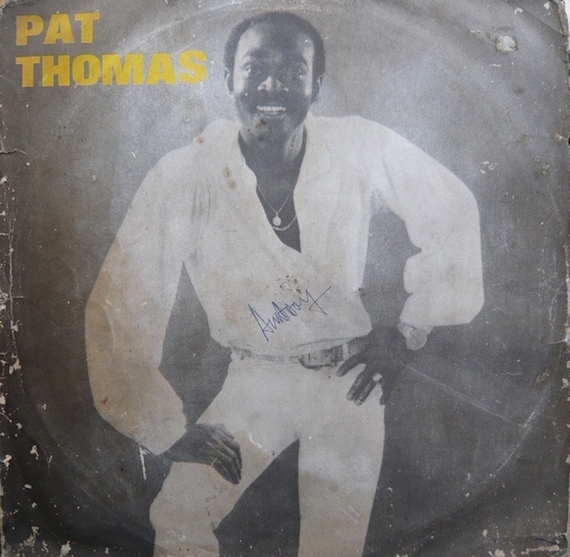 Following the release of last year's Pat Thomas & Kwashibu Area Band, Strut Records returns with Coming Home, a career retrospective compilation for the Ghanaian highlife master and " Golden Voice Of Africa", spanning his late '60s big band highlife recordings to the "burger highlife" movement of the early '80s. As such, we asked the collection's compiler, Duncan Brooker, to spin some of his favorite records of the era. Brooker's notes, below.
This mix started with Pat Thomas at its core, featuring three tracks from my latest Strut compilation,  Coming Home. I wanted to showcase some of the sounds that were happening across Ghana during the early to mid 70's, selecting music that features some of Pat's friends and associates, as well as some of the other contemporary highlife groups of the era. I included everything from guitar bands to the post-big band collectives that were around during this time. There are some of the more well known bands from this period, like The Boom Talents and then there is the more bluesier guitar highlife sound, like the F. Micah's Band track, which was just as popular domestically at that time.  Guitar highlife remained popular throughout this period and remained so after the demise of the larger highlife bands — guitar groups were a more manageable size and format.

On the individual tracks, I tried to include recordings that haven't been reissued or compiled. There are some relative obscurities, including a song from a Gapophone 45 that sounds like a Marijata track featuring Jewel Ackah, a friend and contemporary of Pat, on vocals. The track has a very similar sound to Pat's records, great enthusiastic highlife, with a particular south-western Ghanaian vocal sound. Jewel had also come through the big band school before developing his own career.   There is also what I believe to be a promo-only 45, from Meringue & The Pilseners — as far as I'm aware this was never fully released, and never got past the promo stage. It's a wonderfully hard and exotic track that has a pretty unique sound. Similarly, OPK (Osafo Poku Kantanka) is another lesser known but beautiful and infectious track, which crosses over into the short-lived bump style highlife sound.
There's a track here from EK's Band — EK Nyame was one of the first guitar stars in Ghana and toured whole of West Africa. This track comes from the later period of his career. His older recordings have a raw, guitar-led sound but this track really stands out thanks to some wonderful arrangements and  production. It still features all of the subtleties and musicianship you would expect from a musician with one of the most illustrious careers in highlife, and it features that classic blues lament / vocal harmony style.
I have also featured Black Star Line. Black Star Line, also known as Black Star Sound, was a fluid big band that went through a multitude of different bandleaders and line-ups. Many of the greats came through their ranks — vocalist Joss Aikins, Kojo Donkor, Ebo Taylor and others. Oscar Sulley also led them for a time.
Next are two dance bands that came out of the big band highlife era, Diplomats and Republicans — they toured together and both recorded for Ambassador. Ebo Taylor was a key figure in Republicans. They relate more to the earlier highlife sound as the big band era gave way to smaller funkier sounds.
Finally, I wanted to include a couple of tracks from army and police bands. Although they are included on merit alone, the tracks have a different sound, drilled in the brass tradition. They are contemporary but the musicianship is very disciplined and while this was an important part of the landscape in Ghana at the time, it tends to be less heard and documented today than other styles.