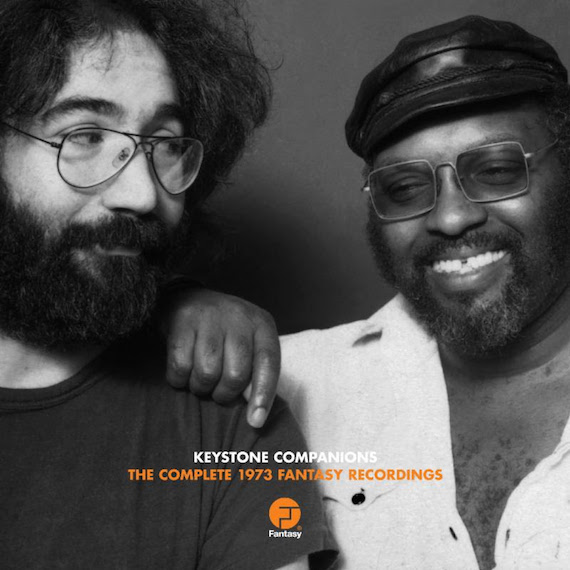 1973 was a transitional year for Jerry Garcia. Along with his duties in the Grateful Dead, who were begrudgingly careening into celebrity, he could also be found hanging out (and keeping his chops) in Bay Area music clubs for pick-up jam sessions. Two groups formed out of these communal hangs — the first being the bluegrass supergroup Old And In The Way, and the second was commonly referred to as simply 'The Group'. There was no need to label what was intended to be spontaneous and without commitment…until Betty Cantor, dame of the golden reels, set up shop and recorded two nights at the famed Keystone Club in Berkeley, California.
The jam sessions originally began in 1970 at the Jefferson Airplane clubhouse, The Matrix. It was there that drummer Bill Vitt, organist Howard Wales and bassist John Kahn backed seminal blues players before Jerry started coming around. With Garcia in the mix, the sound in favor of futuristic jazz explorations resulting in the spacey Hooteroll? album. Howard was later replaced by jazz pianist and organist Merl Saunders who had just returned from the east coast. The repertoire also changed — the jazz foundation was still there but R&B (Smokey Robinson's "I Second That Emotion" and Holland—Dozier's "How Sweet It Is (To Be Loved By You)") was reintroduced along with reggae (Jimmy Cliff's "The Harder They Come"), Broadway show tunes, and of course a healthy dose of Bob Dylan. Seemingly random in assortment, the material was all tied together by Kahn and Vitt's funky backbeat – one that allowed Garcia and Saunders to weave in and out effortlessly.
When Cantor and her partner, Rex Jackson, locked in the reels and pressed record on July 11—12, 1973 they were capturing four immensely creative musicians at their peak. While the Keystone gigs have been previously released via a series of records in the 1970s and 1980s — Keystone Companions: The Complete 1973 Fantasy Recordings collects every single note from those two nights.
Below is our conversation with the sole living member from the group, Bill Vitt, who sheds some light on the group and recordings from those nights.
Aquarium Drunkard: What was your background prior to 1973? Who were you playing with?
Bill Vitt: I played with the Jerry Garcia Band, Bill Champlin, Howard Wales, Michael Bloomfield, and many others. I also led two bands: Rumors and Main Man and The Sides. Also did a lot of studio work, a few of the records I played on: Hooteroll? with Jerry and Howard, 3 records with Brewer and Shipley (One Toke Over The Line), 2 or 3 with Tom Fogerty, Danny Cox, Merl Saunders, Phil Wood, Last Days at the Fillmore (one song) and all the records that were released from Keystone gigs. I moved to Los Angeles in '65 and did many demo sessions and master recordings  at Don Costa's studio on Fairfax (Frank Sinatra used the same studio) with Eydie Gormé and Kathy Carlson. I also played with The Coasters.
AD: How did you meet Garcia? Did you two run in the same circles of Bay Area musicians?
Bill Vitt: Howard Wales introduced me to Jerry when Howard and I were doing an organ duo and also backing up folks like Freddie King and James Cotton. Jerry started showing up when he was not on the road with the Grateful Dead. In the early days, it was almost  a family as far as the San Francisco and Marin musicians went.
AD: The original jam sessions took place at the Matrix — when and why did they move to Keystone?
Bill Vitt: The Matrix closed in 1972. There was no notice and we never saw the owners after that.
AD: What was the atmosphere of the Keystone like? Were shows packed or were they low key affairs?
Bill Vitt: The Keystone was a large nightclub. We packed the place  and there were times that we would do two shows, clearing the house after the first, to handle all the ticket buyers. Not a "hang out" scene like the Matrix.
AD: The set lists for these two shows are pretty musically varied — there is the funky ("Keepers") and jazzy ("My Funny Valentine") moments coupled with more rootsy blues tunes like Bob Dylan's "Positively 4th Street" yet the term jam band is often used to describe the group. Did you guys ever discuss what you were going to play prior to the shows?
Bill Vitt: I don't remember us rehearsing, although, if any of us wanted to play a new tune (John Kahn  and I were into Motown and Jazz) and of course Merl was a Jazz player, we would.  Jerry produced most of the tunes and I think that he was excited to merge into the Jazz, Funk, and R&B mode.
AD: Within the folklore of the Grateful Dead, Betty Cantor – who recorded these shows – and her "Betty Boards" are held in very high esteem. Did that change the way you guys prepared for these shows knowing she was behind the board?
Bill Vitt: No. But she did an awesome job!
AD: The duo of you and John Kahn was a force to be reckoned with, and you two laid down a heavy slab of rhythm for Merl and Jerry to weave in and out of. What was your relationship like with John? Did you two immediately meet in the pocket?
Bill Vitt: John and I lived in the same town in Marin (Forest Knolls) and we were very good friends. We met in the Mike Bloomfield Band and played on a lot of records as we had a great time playing together. We had the same tastes and we had each other's backs.
AD: In 1974 the band morphed into Legion of Mary with Elvis' drummer Ron Tutt joining the group and you were no longer in the picture. What happened? Did you join another group full time?
Bill Vitt: I bought into a winery in  Alexander Valley (Healdsburg, Sonoma County) and made wine until 1999. I did put together a 7 piece funk, jazz and Latin band (Mirage) in the mid 1980's and we stayed together for about 4 or 5 years.
AD: What are you up to these days? Are you still doing Keystone Revisited gigs?
Bill Vitt: In the last 4 years I've played with two bands that played a lot of the same tunes. The first Keystone Revisited, with Merl's son Tony, did a few tours and recorded one record Back At It Again. In 2014, I joined forces with the Steve Kimock Band and did gigs back east, played on the Jam Cruise along with seven or eight gigs at Bob Weir's Sweetwater club in Mill Valley. Both were great bands. I also play a few Jazz gigs in the Bay area (Mitch Stein, Judy Hall … etc.), and have released two CDs of my own material (State of Grace and Magic or Illusion).
Keystone Companions: The Complete 1973 Fantasy Recordings was previously released on cd in 2012. Fantasy Records is pleased to announce the vinyl edition which collects all 24 tracks on this 180-gram, 6LP edition complete with never-before-seen photos, a poster of the famed backstage shot and updated liner notes by Grateful Dead historian and Grateful Dead Hour host David Gans. We have a vinyl set to giveaway to an AD reader. Leave you name and favorite Garcia (non-Dead tune) in the comments to enter.
Full disclosure: The art direction and design of the boxset is done by myself, Darryl Norsen.
For heads, by heads. Aquarium Drunkard is powered by its patrons. Keep the servers humming and help us continue doing it by pledging your support via our Patreon page. For heads, by heads.