Lagniappe (la ·gniappe) noun 'lan-ˌyap,' — 1. An extra or unexpected gift or benefit. 2. Something given or obtained as a gratuity or bonus.
This latest installment of the Lagniappe Sessions hits close to home — Steve Gunn taking on a pair of Smiths tunes. Gunn, in his own words, below. His latest LP, Eyes On The Lines, is out now via Matador.
A lot of teenage guitar players went straight into metal or prog, but the Smiths were the first guitar band that really spoke to me. Some people hated this band then and still do. Somehow that is pretty understandable. I love them.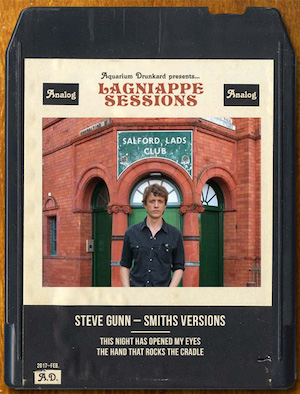 When I was a new guitar player, I borrowed a Smiths cassette from my older sister. Johnny Marr's arrangements mystified me, transfixed me. I felt that they were something I'd never be able to decipher. It wasn't until later that I started to look into his influences, and I came to understand his playing and arranging, especially in partnership with Morrissey. Plus Johnny looked so damn cool playing that Rickenbacker.
I took an extended break from the Smiths after my teenage years. I kind of grew out of my first phase of love for them and tried to stop feeling so sorry for myself. I lost the passion after the first solo Morrissey album came out. I was on to more formulaic music that in retrospect wasn't any better–though much easier to play! I no longer had it in me to go and cry at the concerts (I never saw him), or fight for a sliver of Morrissey's torn shirt. All of that being said, I will always have a deep admiration for this band. I always go back to them.
Steve Gunn :: This Night Has Opened My Eyes (The Smiths)
As a teenager, I did a lot of walking around with my little foam headphones listening to Louder Than Bombs on cassette, using up a lot of AA batteries. This was the first double album I'd ever became acquainted with, and I listened incessantly–forever etching these songs into my memory. Morrissey's lyrics and sentiment cemented the vision I had of myself as this forlorn figure walking through suburban Philadelphia, back from high school, without much destination. Oh the pain! Ultimately, though, there was always an underlying message of hope in all of these depressing songs, which made me love this band.
Steve Gunn :: The Hand That Rocks The Cradle (The Smiths)
This song, from their first self-titled album, stands out because of Morrissey's vocal delivery. His gothic, folklorish, lonely, dark and ghostly words are there, of course, but the vocals roll along in an almost, dare I say, Dylanesque style. One sentence collides with the next. The album is a favorite of mine because it's more stripped down that the ones that come after; the Johnny Marr guitar arrangements are simpler, less layered. It wasn't until their next studio album, Meat is Murder, that he really started layering tracks and finding lush arrangements. A great example is the introduction on the song "How Soon is Now'"–still a constant topic of discussion among guitar freaks and studio nerds across the globe.
Lagniappe Sessions Archives / imagery via d norsen
For Heads, by heads. Aquarium Drunkard is powered by its patrons. Keep the servers humming and help us continue doing it by pledging your support via our Patreon page.