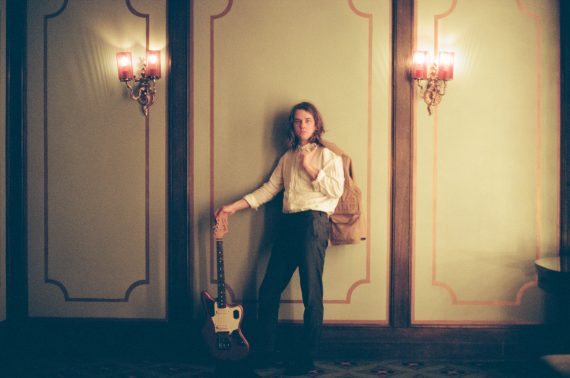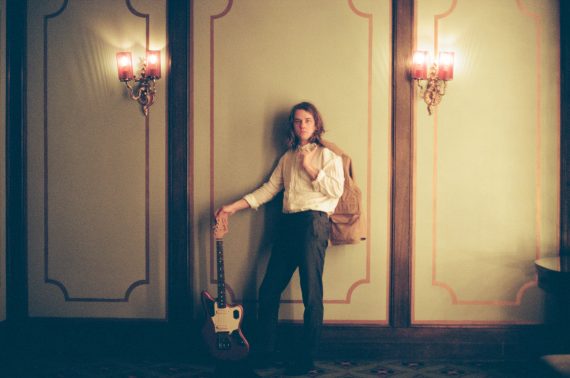 "Joey, Johnny, Dee Dee, Tommy/they were all my friends and they died," Kevin Morby sings on "1234," a punk-influenced gem from his new album, City Music.
In Morby's mouth, the recitation of the departed Ramones' names becomes something like a mantra, his interpolation of Jim Carroll's most famous song signaling that City Music is in part, like his debut Harlem River, a "New York" record. Though the native Midwesterner calls Los Angeles home these days, N.Y.C. holds a particular fascination for him. You hear the city in the record's grooves, in its nods to Lou, Patti, Bob, and Joni.
Recorded at California's Panoramic Studios and completed with producer Richard Swift in Oregon, the record presents Morby's Cohen-esque folk with rock & roll underpinnings, balancing the sparseness of previous records with the energy of his live shows. Tellingly, it features a studio version of the Germs' "Caught In My Eye," a cover originally cut for Aquarium Drunkard's Lagniappe Sessions, transmuting the punk screed into something tempered but driving.
Kevin Morby :: Caught In My Eye [Lagniappe Sessions Version]
Actual cities inspired City Music:  Morby compiled a pamphlet for his label Dead Oceans called, "A Guide To The Cities That Inspired City Music," focusing on Kansas City, New York, and Porto, but the spirit goes deeper than specific locales. The record swirls around the big idea of a city  as a setting for human dramas, full of stories and disparate characters contributing to a whole. Writing about cities and the people in them, Morby inevitably winds up giving voice to his inner self, illustrating the way our relationship with our surroundings and those around us make clear our own hearts. One of City Music's best moments features singer/songwriter Meg Baird reading a passage from Flannery O'Connor's The Violent Bear It Away, but the whole of the record reflects O'Connor's assertion from Wise Blood: "In yourself right now is all the place you've got."
Morby sat down with AD to discuss the record. That conversation below, edited for clarity and cohesion.
Aquarium Drunkard: The last time we talked, one of the things we centered on was how your last record, Singing Saw, was an album very much rooted in finding and settling into a place. City Music seems like it's about something else — about moving around, finding a lot of places. Yet they feel very connected, almost like two sides of the same coin. Do they feel that way to you?
Kevin Morby: Absolutely. Singing Saw was very much about one thing, and it's almost like one-half of my brain realized what it was creating and decided to play devil's advocate and say, "I'm going to create the opposite." It's just the way I operate. I get restless easily. The moment I realize I'm doing one thing, I'll see that through to completion, but by the time I get there, I'm already half-way through with the next thing.
AD: This album, musically and lyrically, references a lot of rock & roll music: Patti Smith, Lou Reed, Jim Carroll, the Ramones. Was it fun to tap into that freewheeling spirit?
Kevin Morby: That's something we've always done live, but now we really get to explore that. We just played our first two shows and playing the songs off this new record has opened up a whole new world. We can kind of go off the rails a little bit. We were playing "1234" last night and it's completely different than anything we've ever played. That's the fun part about being a solo artist — I get to explore all these realms.
AD: When you were making records in the past did you ever feel like you needed to restrain yourself from, to use sort of a boneheaded term, "rocking out?"
Kevin Morby:Yeah. I was doing the Babies before I did a solo record. That was faster, more of a punk rock band. But the core of what I've always been interested in is really solid songwriting. When I started stepping out to do my own solo records, I wanted to dial it back, strip away the distortion and drums. I wanted everything to breathe and got really into space.
You can see that a lot, especially on my first record and Singing Saw. But it goes back to the moment I do one thing, I want to do the opposite. I'm already working on another record, and who knows what it will end up being, but my thing with it right now is I want to make a record with no guitars because City Music has so much guitars. That's the way my brain works: I'm halfway through eating Thai food and I'm like, "Fuck, I want a burger now."
AD:  There's a certain balance to what you do, but it definitely sounds like this record leans heavier.
Kevin Morby: I think in terms of records and in terms of a whole catalog. I sometimes envision myself in the future looking back on my discography and seeing all these different records in the same way I look at my heroes' discographies. "There's the solo piano record, the crazy live band record, there's the very orchestrated record, like Lou Reed with David Bowie on Transformer." That's exciting. They're kind of like dime store novels. What's the next tale? Where's this one going to take place. The last one took place in Los Angeles; this one will take place on the streets of New York. The next one will take place in Paris or wherever.
AD: Who's reading that Flannery O'Connor text?
Kevin Morby: My friend Meg Baird is reading that. That's a passage from O'Connor's book, The Violent Bear It Away, which I happened to be reading while writing this album. So many things evoking a "city" theme were coming at me at once. When I read that passage, it spoke to one of the themes I'd already been thinking of, pointing out how these man-made cities are larger than life.
AD: She's got such a distinct grasp of language. Nobody writes about ignorance the way Flannery O'Connor writes about ignorance. She wrote so beautifully, but also about brutality.
Kevin Morby: It all hits you at once. In that scene, it's about a kid who burns his house down…he's with his grandfather and going to the city for the first time. He's never seen a city at all, and he sees the lights and he's confused. "Why are we going toward the fire? We're supposed to be going away from the fire."
We actually ran into a copyright issue with that. We had to get it cleared with her estate. We kept asking and got no response. We were going to have to leave it off, which I was really bummed about. I was like, "If I have to leave that one-and-a-half minute thing off the record, I don't know if I even want to put out the record." [Laughs] My record label probably though I was insane. But I wrote a heartfelt letter and they got back right away. They loved it and said they'd be happy to have it on there.
AD: The idea of cities having many moods — containing a lot of different feelings, cultures, people — seems to thread its way through the record. Cities contain multitudes. As a storyteller, does that idea feel important to you, to always remember that people and places are more complicated than they might seem from the outside?
Kevin Morby: That's important to everything I write. This is probably tooting my own horn a bit, but that's a very midwestern thing in a way. There's something about being from the Midwest: you're very neurotic and very aware of your surroundings at all times. You're very aware of how people feel and what's going on around you. I really relate to that.
Any time someone talks about midwesterners, you hear people use words like "sincere." I think that comes from understanding that things are very complicated. Sometimes people will say [about me] "Maybe he sounds like Bob Dylan because he's from Minnesota." Or they'll say similar things about Conor Obesrt [being from the Midwest]. I really admire his songwriting, and his sentiments are very similar to mine. [But] I can't help but think about that having something to do with where we come from. Living in the Midwest shapes you in a very particular way. Bob Dylan came to New York, and his head exploded. And Conor Obert, his record I'm Wide Awake, It's Morning, that's his New York record — it's written from a very Midwestern point of view.
But cities have their own character and energy. When you're in New York, you know you're in New York. When you're in L.A., you know you're there. When you're in Cincinnati or Louisville, you know you're there. They're all just like these big sets off the highway. You take an exit and all the sudden you're in this big crazy playground. words/j woodbury
Lagniappe Sessions: Kevin Morby Covers The Germs, Dylan, and Silver Jews