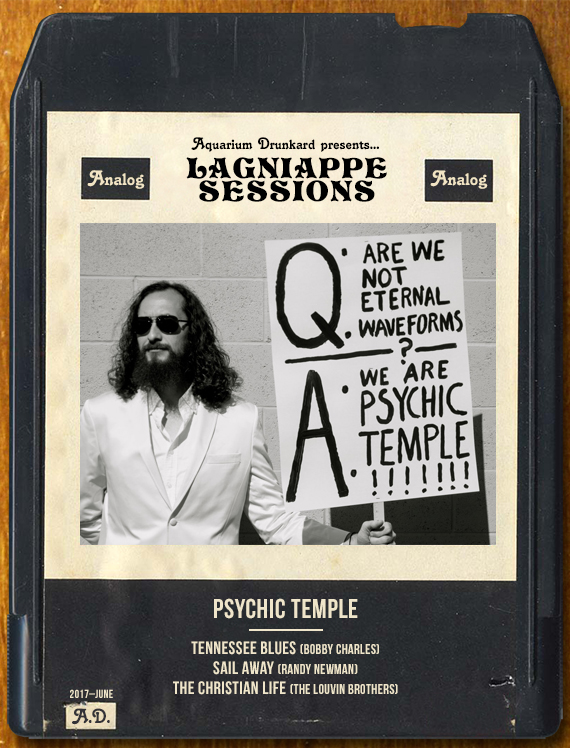 Lagniappe (la ·gniappe) noun 'lan-ˌyap,' — 1. An extra or unexpected gift or benefit. 2. Something given or obtained as a gratuity or bonus.
On its new record IV, Chris Schlarb's Psychic Temple expands and blooms. Inspired by Brian Wilson's "Teenage Symphonies to God," the record spans generations, featuring Joni Mitchell bassist Max Bennett, the legendary Terry Reid, and Mick Rossi (Philip Glass Ensemble) alongside young players like Nedelle Torrisi (Cryptacize, Advice from Paradise), Tabor Allen (of Cherry Glazerr), and Arlene Deradoorian (Dirty Projectors), all of whom find unique paths into Schlarb's big screen, West Coast pop epics. It's a remarkable album, its credits list sprawling and its sounds a blending of pop, jazz, and avant-garde. For his Lagniappe Session, Schlarb shares a set of songs recorded in Nebraska as a stripped-down trio. Bathed in organic noise and dreamy vibes, the songs serve as an appetizer for Psychic Temple IV, out July 14 via Joyful Noise Records. Listen below and read Schlarb's thoughts on the recordings.
Psychic Temple :: Tennessee Blues (Bobby Charles)
Psychic Temple :: Sail Away (Randy Newman)
Psychic Temple :: The Christian Life (The Louvin Brothers)

"We were two and a half weeks into tour and driving west from Iowa. I found a place for us to stay on a goat farm in Nebraska and took out the microphones. A week earlier we played Shuba's in Chicago and they gave us a bottle of Bulleit Bourbon. We were tired and in the middle of nowhere. The bottle came out and we polished it off. I set up a couple microphones and we played some of the covers we'd be doing on tour. That house was incredibly small. There were bugs everywhere. I cooked eggs and bacon for the guys. It was wonderful.
Yours truly on acoustic guitar and vocals. Eamon Fogarty on electric guitar and backing vocals. Jay Hammond on mandolin and backing vocals."
Lagniappe Sessions Archives / imagery via d norsen