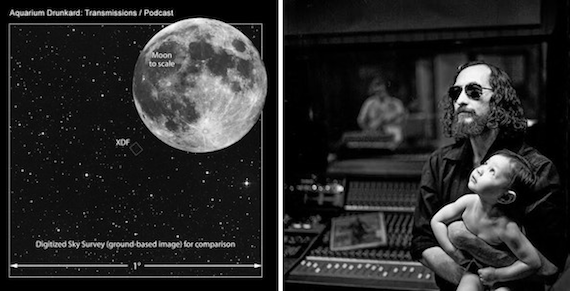 Welcome to latest installment of Aquarium Drunkard's Transmissions podcast, a recurring series of discussions with the creators responsible for some of our favorite art. On this episode, we sit down with Chris Schlarb of Psychic Temple to discuss Psychic Temple IV, a melange of West Coast pop magic, sophisticated textures, and exploratory rock & roll. It's a record that finds Schlarb commanding a vast ensemble of players — including Max Bennett (Joni Mitchell, Frank Zappa, the Wrecking Crew), Terry Reid, current and former members of Cherry Glazerr, the Philip Glass Ensemble,  Cryptacize, the  Dirty Projectors, and many more. Schlarb is a true journeyman, whose work spans country, gospel, gangsta rap, avant-garde, and jazz, and here he discusses it all, elucidating his unique approach to music making.
Then, M.C. Taylor of Hiss Golden Messenger  explains why 1972's Bright Phoebus: The Songs of Mike and Lal Waterson  is one of his favorite LPs. Recently reissued by Domino Records, the album's blend of country, rock, folk, and psychedelia, has served as a sort of emotional compass for Taylor, whose new album, Hallelujah Anyhow, due out from Merge on September 22, will be the topic of our next episode.
Transmissions Podcast :: Psychic Temple / Hiss Golden Messenger on Bright Phoebus
Dig into the podcast archives, which include interviews with Eileen Myles, Strand of Oaks, Ryley Walker, Daniel Lanois, Damien Jurado, Eleanor Friedberger, Idris Ackamoor, Bonnie "Prince" Billy, and more.