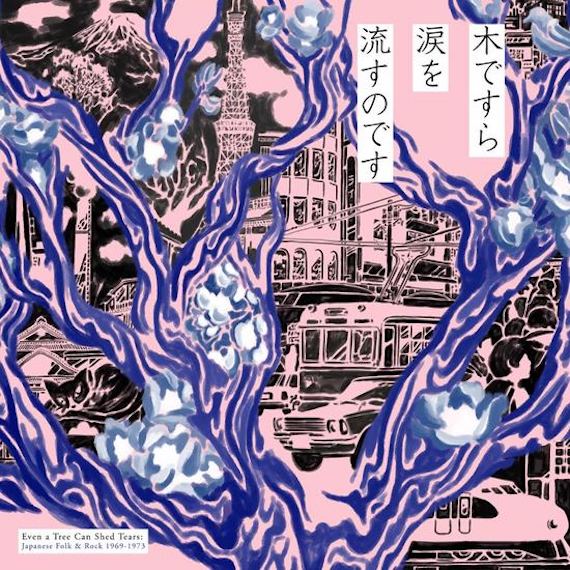 The best compilations peel back the curtain, offering a glimpse at obscured musical traditions, and leave the listener wanting more. No matter what kept American ears from hearing the varied music featured on Even a Tree Can Shed Tears: Japanese Folk & Rock 1969-1973 in the first place — distance, distribution, or general unknowing — the new collection from Light in the Attic introduces a wide breadth of transcendent and sublime musicians. As an introduction and primer to the genres it addresses, Even a Tree leaves a listener clamoring for more from its host of artists. As a master-mixtape, it creates an aesthete and palette that lends itself to repeated listens. And as a historical document exploring a single five-year period, it elicits near-non-stop supplemental web searches, deep dives and YouTube k-holes.
What the compilation is not, is exhaustive. And it is better for it. The biographical and contextual write-ups that accompany each song provide ample information. It also delicately finds a balance between honoring and extolling the featured artists, but not so much as to infer that these were the only artists of the time, or as if they were the only ones worth hearing. The history of the period is learned not through an exhaustive essay (though Yosuke Kitazawa's serves as an illuminative introduction to both the comp and period as a whole), but through the songs themselves, contextualized within the various scenes across Japan which the artists were reared in.
Kazuhiko Kato :: Arthur Hakase No Jinriki Hikouki
Additionally illuminating and appreciated are the translations. Quality, or any quantity of, translations from artists of the era are few and far between online. Some tracks read as poetry, such as Sachiko Kanenobu's "Far Away From You," "The indigo sky / Is overflowing from the foggy windows / The warm wind brings the rain clouds … I lie down alone / And forget to sleep / I'm thinking of you… The indigo color turns white and wraps around me/ The whimsical wind/ Doesn't make me cry and leaves."
Others, like Kenji Endo's "Curry Rice," are near comical ("You chop up the potatoes and carrots / Tears well up as you slice the onions / You're so clumsy / You even cut your finger / I'm just sitting around and playing guitar.") Themes emerge across Even a Tree…, but in vastly different contexts. There's a lot of offers to go on walks, a strong current of a desire to fly… parasol's are mentioned twice. What's consistent is an openness to address emotionally weighty subjects.
Musically, many of the artists may elicit comparison to Western contemporaries. Yet it's critical to remember that while the trade of music may have been mostly one-directional, these artists were indeed contemporaries of artists working in the West. Any comparison of Sachiko Kanenobu to Joni Mitchell must come with the caveat that Kanenobu's seminal LP, Misora, was recorded in the first half of 1972, placing it alongside For The Roses. The artists on "Even A Tree…" were not aping their Western counterparts, they were contributing to a world-wide phenomenon: folk-rock was being spoken and sung and played across the globe, by artists acting in isolation and in cahoots. Even the compilations sole cover song, The Dylan II's "Otokorashiitte Wararukai," is a dialogue on what it means to reinterpret another artists work (Dylan's own "I Shall Be Released," is given new lyrics, only in melody and structure do they share a sound – literally, the only words the two songs share are "I shall be released").
In that reworking, with the translated title of "Do You Know What It Means to be a Man," the narrator is not the same as Dylan's. Instead of the forlorn resignedness to fate, awaiting release from its grips, the Dylan II are redemptive, "But I'm going to live my life / on my own terms / the sun is about to rise / little by little / at that moment, on that day / I shall be released." It's typical of the nature of the featured songs on Even a Tree – confronted with a changing culture, a changing and expanding world, these artists chose self-expression and creativity. But with outlets and opportunity comes inner, and outer, confrontation. The ability artists to express what is in their hearts and minds is a tenuous handshake agreement, one that says you can share your energy and efforts with the world, but the price is self, and cultural, reflection. In compiling these artists, the compilation shares the output of a national scene and time, as well as the struggles and triumphs of a generation that forged its own identity and opened their collective minds, and culture, to new forms of expression. words / b kramer