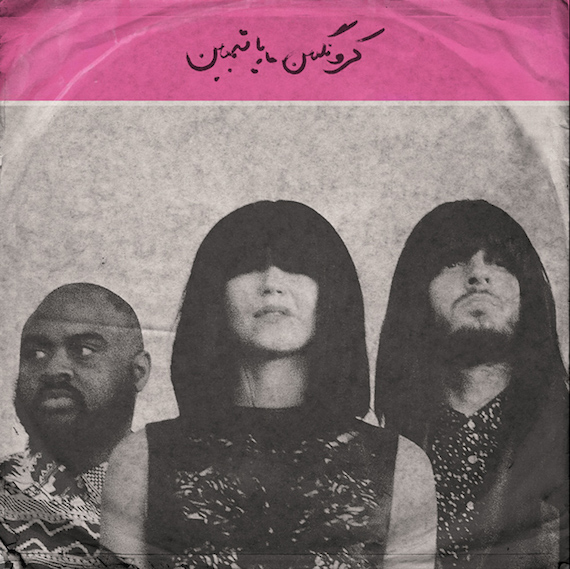 The well from which Khruangbin drink is deep. And wide. While geographically based in Texas, sonically, the trio's aesthetic is global. An atmospheric masala of funk and soul, strained through a lucent scrim of psych, the group draw from a bold and eclectic set of influences of which they synthesize a sound wholly their own.
This installment of Diversions catches up with the group on the heels of their new lp, Con Todo El Mundo, out now via the Dead Oceans label. Here, Khruangbin pull back the curtain, guiding us through a sampling of records that have played a role in their development, consciously or otherwise. As expected, it's a heady brew. Dip in, below.

Scientist – Scientist Wins The World Cup: The core tracks of this album were recorded by the Roots Radics, a first call session band in Jamaica when this was recorded. Laura Lee learned how to play bass by playing along to this record, since its melodic bass lines are so easily heard and sound so good. But aside from the music, it's the sonic treatment by Scientist that really makes this record shine. It's so expansive and spacious. Nothing gets in the way of anything else, even while there's such a deadly groove keeping the songs firmly grounded. Instead of full vocal lines and verses, the singer's voice comes through in fragments–putting less focus on the vocals and making them become atmospheric. It's a sonic approach that Khruangbin utilizes often. Given that there's only three of us, we try to use space as its own instrument.
Sutrak Aksonthong – Rak Rop Ramphan: This was one of our first favorite Thai records. We love Sutrak's vocal melodies. Although some of the singing seems just a little out of tune, there's an incredibly infectious quality to the whole thing. And the band (and Sutrak in particular) sounds like they are having a blast. The horn arrangements had Mark screaming with joy when he heard it for the first time.
Not only did Thai music have a huge influence on our early playing, but we also try to take this approach of quality to our recording. With everything we've put out so far, it's all been recorded live in the barn. It's usually imperfect. And we usually have a blast.
Ennio Morricone – The Good, The Bad & The Ugly: We love this soundtrack. It's no coincidence that the title track to this movie is instantly recognizable even by people who've never seen it. Allegedly, the budget for the music was very modest, leading Mr Morricone to employ a much smaller orchestra, a small wordless choir, inexpensive percussion, and newer instruments like electric guitar. The result is a soundtrack like none that had come before it. Sergio Leone famously shot the movie to the music, like making a movie in reverse. The overdubbed sound effects and dialogue almost melt into the music itself, since no audio was actually recorded during filming, and all sound and music were reinserted later.
Not only is Ennio Morricone's score a master class in space and restraint that Khruangbin looks to for lessons, but we try to take a similar approach to limitations and use the resources available to our most effective ends. We've got three instruments, a barn, and voices to melt in with overdubs.

Arthur Verocai – Arthur Verocai: This record is beautiful from start to finish, and is a standout Brazilian record from this time. His use of beautiful dissonance is inspiring. We found this record right around the time that Pandora came out, and started "Arthur Verocai radio" which basically led us to much of the Brazillian music we know and love. We've heard no other records from Brazil in this era that hit this balance of psychedelic and mellow. The use of textured and sporadic vocals in this record definitely make their way onto the Khruangbin formula.
Pharoah Sanders – Karma: Where to begin on this record… this is music that takes you somewhere. Overwhelmingly moving. Higher plane sonic wizardry. It's really cosmic and super intense, and somehow deceptively simple. It feels like the kind of mastery that you could only achieve as a complete expert or a total beginner. For years, Mark would listen to this album every morning immediately upon waking up. People often ask us if our music is intended to be spiritual, we think our music is intended to be thankful. Required listening.
ESG – A South Bronx Story: It's that record that everyone knows regardless if they actually know it. It's been sampled like crazy, and there's a reason for it. Simple, groovy and all feels. For Laura Lee, it was a lesson that playing is about feeling rather than about expertise. The playing on the record is brilliant because it just purely feels good. The influence is pretty obvious–what you can do with funky drums, melodic bass, spacey guitar and the feeling of family. Not to mention, they're a group of totally boss women.

Serge Gainsbourg – Jane Birken & Serge Gainbourg: This was probably the first record Mark and Laura Lee first really bonded over, and it was one of the first examples Mark showed her on how to approach bass and music in a playful way.
The bass sounds more like a low register guitar, with a focus on the treble and midrange rather than bass–something we try to incorporate. The restrained arrangements of Jean-Claude Vannier are effortlessly groovy and open at the same time, a perfect vehicle for Gainsbourg's talk-singing and Birkin's delicate French-as-a-second-language vocals. The album doesn't really sound like it was recorded in a dry, soundproofed, sterile recording studio. It sounds like a room in a house. We want to put the listener in a place in time, rather than a studio.
Googoosh – Nimeh Gomshodeh Man: We don't know much about the recording of this incredible record, but almost every song on it became a favorite of ours. From the jubilant voices on Shaer to the dark, determined pulse of Ma Be Ham Nemiserim, everything is so intentional. We can only guess what the songs are about, but the way she sings is simultaneously tragic and hopeful. And the passionate vocals over the tough rhythm section creates the type of romanticism we've only heard from Iran.
It was this album that led us down a path of finding other music from this part of the world that largely influenced our new record. Googoosh is basically the Persian Michael Jackson, incredibly famous and loved by Iranians, but she had to stop singing in her country due to the revolution. Not only has her music had a profound effect on us, but we feel even luckier to be able to play our music freely.
Marvin Gaye – Here, My Dear: Marvin is definitely a common thread between all three of us. We all grew up hearing his music, and it's had a huge impact on how we play and approach songs. Marvin began work on this record as a way of paying for his divorce settlement with Anna Gordy, daughter of the boss of Motown. Initially, his intention was to make a lackluster record and be done with it, but the chance to pour his heart out on record was something he couldn't let go of. There's a kind of unfinished quality to some of these tracks, as well as a painfully honest approach to the lyrics. Still, he still finds time to have fun and be playful, especially on "Funky Space Reincarnation" which was part of the inspiration for our latest, "Evan finds the Third Room". Marvin's delicate placement, layering, sophisticated chord voicing, and improvisational approach to writing is a huge influence for us.
Mahmoud Ahmed – Soul of Addis: One of the most famous singers from Ethiopia and a living legend. Most listeners may be familiar with Mahmoud Ahmed through the excellent Ethiopiques series, but this record is my favorite by far. Killer 80's era Ethiopian grooves, mostly in 6/8 time, with some of the sickest basslines in recorded history. We love the dual tenor sax horn section, punctuating Ahmed's soaring vocals throughout the record. Khruangbin can't get enough of this style – there's simply not enough material from this incredibly funky period in Ethiopian music available in the West. Standout tracks include "Titesh (Don't Worry – Forget It)" and "Abet (Yes Please)".


Previously: Khruangbin :: Maria También
Aquarium Drunkard has launched a Patreon page, which allows readers and listeners to directly support our online magazine as it expands its scope while receiving access to our secret stash, including bonus audio, exclusive podcasts, printed ephemera, and vinyl records. Your support will help keep an independent cultural resource alive and healthy in 2019 and beyond.