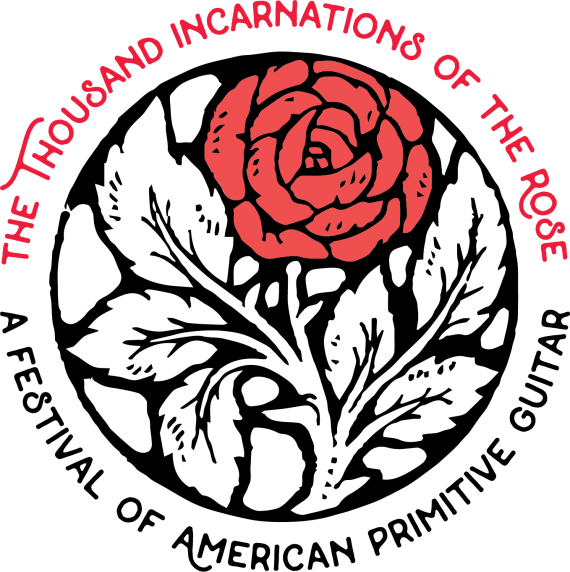 On April 13th, over twenty guitarists will descend upon John Fahey's boyhood home of Takoma Park, Maryland, for an event called The Thousand Incarnations of the Rose — A Festival of American Primitive Guitar.
The three-day festival–the first of its kind–is the brainchild of guitarists/scholars Glenn Jones and Jesse Sheppard, and features, in addition to the performances, a panel discussion, rare film screenings, and a social room with community vendors. The festival coincides with the compilation The Thousand Incarnations of the Rose —American Primitive Guitar & Banjo (1963-1974), to be released on CD and triple vinyl via the Craft label on March 23rd.
James Jackson Toth of Wooden Wand recently spoke with co-organizer Jesse Sheppard about the event and the enduring legacy of American Primitive.
Aquarium Drunkard: Tell me how this idea originated. Who came up with the concept of staging the first ever American Primitive festival? How long has such an idea been gestating?
Jesse Sheppard: It seems like the idea of getting all the American Primitive players together has floated around in the backs of a lot of people's minds over the years. I know some players got together in New York after Fahey died, but since then I don't think it's been discussed much. For me, this music is a family and the thought of bringing everyone together was enticing but never seemed practical. It wasn't until a series of overlapping conversations took place around the middle of last year that the concept of The Thousand Incarnations of the Rose Festival came into existence. The start of it all was really the evening my band [Elkhorn] played RhizomeDC in Takoma Park last June. I was sitting out back with Steve Korn (co-founder and president of the space) and he asked if I'd be interested in doing some kind of solo guitar festival with him. I think he knew that I was close to a lot of the players from the video work I've done and setting up and playing shows over the years. The funny thing was that only a few days earlier I had heard from Glenn Jones (guitarist, writer, friend of John Fahey and Robbie Basho and Jack Rose) that he had just completed the liner notes for a 2 LP compilation album of early American Primitive players that was coming out on Craft Recordings. His essay (over 6,000 words) was a deep dive into the history and meaning of the music that had been such an animating presence in his life and in the lives of so many others. So I connected Steve with Glenn and at that point the festival was definitely becoming more real.
What really pushed it into existence were conversations that Steve had with Laura Barclay at Main Street Takoma (the local business association) as well as others. They were aware that Takoma Park was Fahey's childhood home (in fact Takoma was referenced in a lot of his early song titles and obviously gave its name to his record label), and were excited to help support an event that would bring attention to the creative history of the town. The last piece of the puzzle was the conversation that Kathy Harr was having with her husband, Josh Pfeffer (who is also the festival's webmaster and graphic designer), about selling their house in  Berkeley and moving east. Kathy had run her own booking agency (where she had booked tours for Glenn's band Cul de Sac) and had been one of the organizers of the Terrastock festivals, but her life had taken a turn into local politics. The move was sort of her return to the music world and she was looking for a cool project to sink her teeth into. So Glenn put Kathy in touch with me. Suddenly there was a team and a concept and some support… we were on our way.
AD: Obviously, holding the event at Takoma Park is a tribute to the legacy of John Fahey, who moved there with his family when he was six and has been closely associated with the region ever since. For those of us who have never been to Takoma Park, what's it like? Lotta turtles? I'm expecting turtles.
Jesse Sheppard:  Well, I live in Philly so I'm only a visitor in Takoma. I'd say it's the classic affluent suburb: diverse, progressive, creative. The Rhizome space, a truly open and artistic environment, serves all of DC but it makes sense that it's in the heart of Takoma Park. And when you walk around — and it's all very walkable, which is a major component of the festival because we have performances spread out across downtown Takoma — you do get a sense of what it felt like in the 50s when Fahey was catching turtles down in the Sligo. According to Claudio Guerrieri's Fahey Handbook (he's going to be one of our panelists along with Byron Coley and Glenn and a bunch of other amazing folks including your wife, Leah Toth), the pool hall used to be where the train station parking lot is now, and the festival marks the 60th anniversary of Fahey's first recording for Fonotone Records, "The Takoma Park Pool Hall Blues." Claudio was telling me that in the 60s, when Fahey was in his prime, everyone in town knew who he was and how he was connected to Takoma Park; but that sort of evaporated over time, and I am proud to think that we are bringing Fahey home in a way. This month the auditorium of the Community Center where the festival's main space will be, is going to be renamed for John and dedicated to him, which is a nice idea.
AD: What does the name "American Primitive" mean to you? How do you think Fahey would regard such an event, and the many young musicians inspired by his work?
Jesse Sheppard: Lemme start by saying that this festival is not a John Fahey tribute. I think you need to examine Fahey closely in order to see what he was mixing together to develop "American Primitive," and he's such a powerful enigmatic force that it's hard to separate him from the music; but in the end I think this experience is going to be about all the different facets — incarnations — of the solo guitar style that he pioneered, not him per se. What exactly it is or what it means is hard to define. I've been thinking about it pretty seriously since I stumbled into the music of Jack Rose 12 years ago and the process of planning this thing has definitely made me think about it a lot more. It can mean different things to different people, and even some of the players we've invited have expressed that they aren't sure how they fit into the concept of "American Primitive." The term is a bit of a gag that Fahey used because he didn't want to be put into any preexisting categories.
At its most basic, I suppose it refers to an untaught approach to music. Grandma Moses on guitar. I think on some level it's all based in folk forms, whether they be African or Indian or Spanish or Middle Eastern. It has a pulse, but that pulse can be very fluid. It's inherently difficult to describe something that is influenced by so many things and yet is not any of those things. For me, it is essentially an evocative form of solo fingerstyle guitar music. It is technique in the service of emotion. It is incredibly honest music, because if you are up there faking it there's nowhere to hide. As for what Fahey would think? I mean the guy threw shade on Basho and Bull so I assume he'd deride and mock us. But I gotta imagine that down deep he'd be tickled that the city is going out of its way to honor him.
AD: That's the best and most convincing definition of "American Primitive" I've ever heard, so thanks for that! Though the festival is a celebration of an idiom closely associated with steel string fingerpickers like Fahey, Basho, and Kottke, the individual styles of the festival performers are refreshingly broad: you have banjo players, songwriters, electric blues guitarists, and improvisers alongside artists whose debt to Fahey's music is much clearer. What do you see as the unifying thread running through these acts?
Jesse Sheppard:  Every one of the artists performing has contributed a body of work to the solo guitar movement. What they bring to the stage for the festival is 100% up to them, but they are all there for the same reason. For example, Chuck Johnson is working with pedal steel textures these days, but there's no denying that he released 3 albums of genre-defining steel-string fingerstyle playing (A Struggle Not A Thought, Crows In The Basilica, and Blood Moon Boulder). Or take Mark Fosson, who has played his share of blues and has lots of great singer-songwriter material, but listen to one minute of The Lost Takoma Sessions or his most recent Solo Guitar album and it's clear why he had to be at the fest. Or Sarah Louise, who's first two albums are instant classics, but plans to play as an improvised duo with bassist Luke Stewart for her festival set.
I could go on and on because lots of players move in and out of the genre, and that's intrinsic to this music; but essentially we're putting on a festival of pickers who are in the direct line of all the artists on the compilation album Glenn curated. That leaves a lot of room, but it also gives us a pretty clear path. I mean you could say that half the bands that play Hopscotch are influenced by Fahey whether they know it or not, and conversely, you could stage a festival of Fahey-inspired drummers that I would love to attend. Sometimes it feels like the term "American Primitive" is a sauce that music writers slather indiscriminately. But one thing that Glenn said early in the process has stuck with me throughout: "If American Primitive can be everything, then it isn't anything."
So without saying "this is right way to do it" or "no one else should try this ever again," we wanted to take responsibility for making a certain set of bold decisions about what we were programming. For me what's amazing about this festival is not that we are putting so many solo acoustic guitarists on the stage, but how much variety you can hear in the playing when you put all these folks side-by-side. Think about the cascading notes of Alexander Turnquist compared to deep country roots of Will Csorba or Max Ochs' deconstructed blues versus Marisa Anderson's electric skronk… All so different while clearly fitting into the same framework. And another wonderful thing I've noticed after getting to hang out with some of these players over the years, is how the their playing so clearly reflects their personalities. For better or worse, whatever it is or isn't, American Primitive reveals all.
AD: Why do you think Takoma-style instrumental acoustic music continues to not only resonate but thrive? In the late nineties, you could count the practitioners of guitar soli on two of Django Reinhardt's hands, but there now seems to be more than ever, with players seeming to get younger all the time.
Jesse Sheppard: Well, we wanted to represent a cross-section of different styles but also different eras of the movement. You go from players like Harry Taussig and Peter Walker that were close contemporaries of Fahey and Basho, to the younger dudes who came right on their heels like Don Bikoff. Then you have players like Nick Shillace who were touring extensively in the early aughts alongside Jack Rose. And then there's the incredible outpouring of creative energy that we've seen more recently that's embodied by folks like Kayla Cohen (Itasca) and David Shapiro (Alexander). I think the music keeps going because each of these individuals has something to say through the guitar or banjo, and these instruments are so expressive that they say something completely different in each player's hands. That said, the reason that the players seem to be getting younger is because you are getting old, James.
AD: Ha! No argument there, you bastard. Is the festival something you're planning to do annually? Every few years? Too soon to tell?
Jesse Sheppard: Nope. This is a one-off as far as myself and the other organizers are concerned. Get your ticket now or it's gonna be done gone. words/j jackson toth