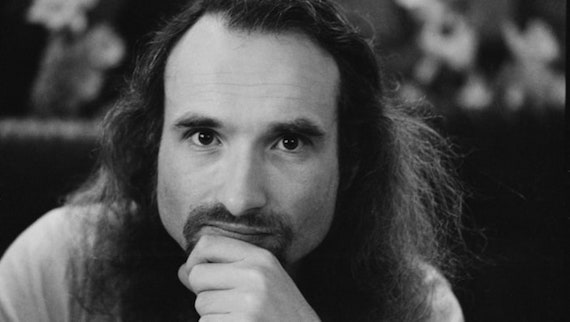 Holger Czukay was a genius of rhythm of the highest possible order, on par with Fela Kuti, James Brown, Steve Reich, and pretty much anyone else to ever braid together a few pulses. The founding member of Can has long been celebrated for his bass playing, which can be as melodic as Paul McCartney's and as slow-mo sticky as Robbie Shakespeare's, and for the experimentalist glee of his production on the German band's first ten album, lacing together Michael Karoli, Irmin Schmidt, and Jaki Liebezeit's crossfire. But as a solo artist – both before co-founding Can in 1968 in Cologne and after departing ten years later – his personality and practically giddy sense of aesthetic dabbling were given more space to do their very particular thing.
Cinema, which collects five LPs' worth of solo material from 1960 to 2008, is a crucial reminder of just how distinctive that aesthetic was, and how deep a well of ideas we lost when Czukay passed away last year at the age of 79. Czukay came by his sense of musical curiosity honestly, having spent the mid-'60s studying with Karlheinz Stockhausen, just as the composer was on the verge of becoming as close to a household name as a German practitioner of musique concrî¨te can possibly become. The lessons must have been effective, as  Cinema's first disc makes a compelling case that Czukay himself might have found similar renown in the classical world.
The previously unreleased "Konfigurationen," which he recorded with his early jazz group the Holger Schüring Quartet, ambles through some contemporaneous Coltrane-esque sounds, but a pair of tracks he recorded with fellow Stockhausen disciple Rolf Dammers under the name Technical Space Composer's Crew demonstrates the pair's sophistication and comfort in the studio, and the level at which Czukay was already working in 1969 while Can was recording their first album.
"Boat Woman Song" is built around a vocal pattern similar to the opening measures of Philip Glass'  Einstein on the Beach, which wouldn't premiere for another seven years, and offsets it with sampled voices from Vietnam that are all gently nudged along by Czukay's bass. It prefigures ambient music in some ways, but the samples – and a deflating line that repeats throughout the song – make it difficult to ignore, particularly as it builds into the same sinister swirl that winds its way through the first two records Nick Cave made with the Bad Seeds.
While Cinema is filled with  interesting moments that arrive, do their dance, and leave the stage, Czukay's particular genius was for the macro. His basslines – and the samples he'd deploy and loop – act more like pulses that, over the course of a song, shuffle together in a kind of pointillist ballet. It's why the best songs here – "Oh Lord, Give Us More Money" "Hollywood Symphony," "Ode to Perfume," and practically everything he recorded with Liebezeit and Public Image Ltd.'s Jah Wobble – are the longest ones, the ones that unfold and give him plenty of space in which to play.
In fact, Long stretches of Cinema argue that Czukay's primary achievement as a solo artist was the invention of a particularly teutonic form of dub, a precise and well-articulated series of repetitions and excursions that build to obscure conclusions (when they build at all). Along with the chattering thrum of krautrock, Czukay avoided the moist reverb of Jamaican dub, and he uses the sound to cultivate an interesting interiority that, far from the ecstasies of Lee "Scratch" Perry, suggests a sense of contented – even entertained – solitude.  "Solitude" probably isn't the right word to describe someone who was such a voracious collaborator, whether in Can, with Brian Eno and Cluster, with his wife U-She, or with Stockhausen himself, who appears on "Breath Taking" via sample. But despite the range of musicians who show up here – and the ill-fated supergroup with Wobble and The Edge is nowhere to be seen – Czukay's singular personality remains the driving force, the sole center of a vast and disorienting and largely benevolent world. It occasionally popping up for a lark when he sings in his accented English or stormy German, but it largely makes itself known softly, in long, gregarious nods. words / m garner