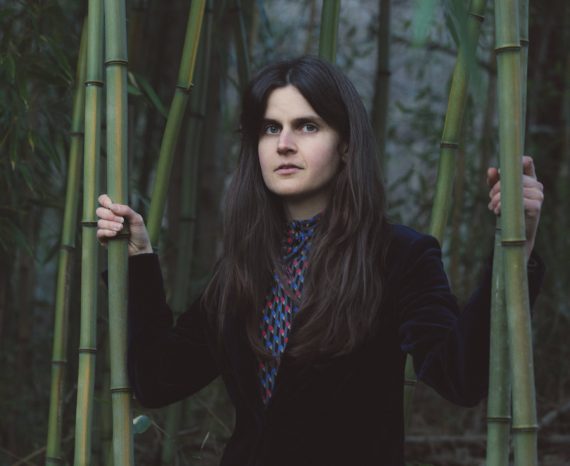 On Deeper Woods, Sarah Louise wanders deep into the woods seeking a sense of awe. Over the course of the album's seven songs, which blend Appalachian folk melodies with droning ragas, she finds it over and over again. "There, I sat in wonder," she sings on opener "Bowman's Root," over her fluttering 12-string guitar and pulsing percussion. "There, I sat listening."
Best known for her stellar solo guitar work, the new lp unites various strands which have long fascinated the North Carolinian songwriter, from a cappela singing to looped minimalism. Louise's guitar playing rests at the center of her ambitious arrangements, but it's adorned with touches of flute, echoing distortion, synthesizer, electric piano, flute, and steadily thumping drums. At times, it feels something like Robbie Basho in a session with Pentangle, but chiefly, it establishes Louise's own personal voice. She produced the record herself, and while it features tasteful contributions by drummer Thom Ngyuen and bassist Jason Meagher, it always feels like an intimate, revelatory statement. Singing of metamorphosis, the solace of nature, and inner and outer wildernesses, Louise ventures into spaces where anything can happen. Spooky and arcane, it's a magical sounding record, a transformative piece of art. Go looking for wonder in these songs, and you'll find it in abundance.
Deeper Woods is out May 11 via Thrill Jockey Records.
Aquarium Drunkard: Deeper Woods is centered around the language of the woods, evoking both creatures ("Pipevine Swallowtails") and plant life ("Bowman's Root" and "Fire Pink And Milkweed"). Have you always been an avid outdoors person?
Sarah Louise: I have always felt a connection to nature and am grateful that my parents nurtured that impulse in me. It's one of the threads that runs through my entire life and has led me towards a lot of interesting things.
AD: Did you grow up in North Carolina?
Sarah Louise: I went to middle school in North Carolina, but before that lived in Atlanta.
AD: What was the terrain like?
Sarah Louise: I used to go to the creek in my neighborhood every day and catch mudpuppies and cranefly larvae. The water was rust-colored from algae overpopulation and oil floated on the top, but it was where I was happiest. The plants are different down there. Wild ginger has leathery leaves in the Piedmont and fuzzy in the mountains, but a lot was similar, at least in those interstitial wild places in the city. If it wasn't for touring I would definitely miss other aspects of cities too!
AD: The idea of the woods as a setting is intriguing to me. When I think about "deeper woods," I think about how my experiences in some of the densest woods in Arizona, on the Mogollon Rim, and about how the deeper you go into the forest, the more you feel removed from "ordinary life." It's a strange notion, the feeling we exist outside of nature. What do you feel when you're surrounded by trees in North Carolina?
Sarah Louise: Yeah, it's so recent that humans have been this separate from nature. I often feel wonder, connection, and gratitude in the woods. This time of year is so magical. Wood thrush are singing again at dawn and dusk. Tadpoles are swimming in every still body of water. Spring ephemerals like dwarf larkspur, large-flowered bellwort, and golden alexanders are adding purples and golds to the poplar coves. Our planet is so incredible!
AD: At the same time, Deeper Woods works as an apt metaphor for a person's inner life. You sing, "I've lived in woods deeper than these," and I wonder: does that allude to deeper states of mindfulness or modes of being?
Sarah Louise: It may be true in some cases that landscape acts as an imperfect mirror to my inner states on this record, but even I'm not exactly sure what I meant when I sang that. The words just fell out of my mouth. But it obviously resonated with me, and when I think about it within the context of the music, it evokes a particular time in my life. When I am singing and playing at my best, I'm not thinking or worrying about anything else. I have known for a long time that I need a mindfulness practice, and music is a big part of that medicine for me.
AD: You sing about "wonder" on this record. What role does natural "awe" place in your work?
Sarah Louise: I think it's huge. Even my more composed work begins with the pure joy of following impulses, which stems from wonder at sound. A lot of the lyrics depict scenes in nature that moved me. I am continually in awe of the land around here, and I hope this record captures some of that.
AD: In addition to guitar, this record incorporates synths, piano, rhythm instruments, flute, and notably, lyrics and vocals. What was it about this set of songs that led to you including vocals in such a forward way?
Sarah Louise: Deeper Woods feels like the record I've been working up to for a very long time. One of the biggest musical questions I have had is, "How do I combine my a capella singing with my solo guitar pieces?" This record offers some possibilities that came out of explorations I have made for as long as I have composed for guitar.
AD: I feel like there's a sort of new vernacular emerging among a group of like-minded artists, people like yourself who are drawing from varying traditions — Appalachian folk, American Primitive guitar, noise, drone, jazz, experimental music — and creating this new sort of form. Do you have a sense of that, a sense that along the edges of this music, there are new traditions forming?
Sarah Louise: Yeah, totally. I think increased accessibility has shaped people's listening habits, which helps artists to naturally resist externally defined genre boundaries. I also think many of these scenes have been naturally fluid with one another for a long time. You've got Billy Higgins making records with Sandy Bull, Terry Riley playing with John Cale and learning from Pandit Pran Nath, jazz artists from Ahmed Abdul-Malik to Alice Coltrane exploring global drone connections, Swedish Progg, Tony Conrad and Henry Flynt. I think the new forms are continuations of these interconnected histories. It's so cool that there are artists and writers engaging with all of this. I am hopeful that it reflects a zeitgeist of breaking down barriers and honoring connections. words/j woodbury