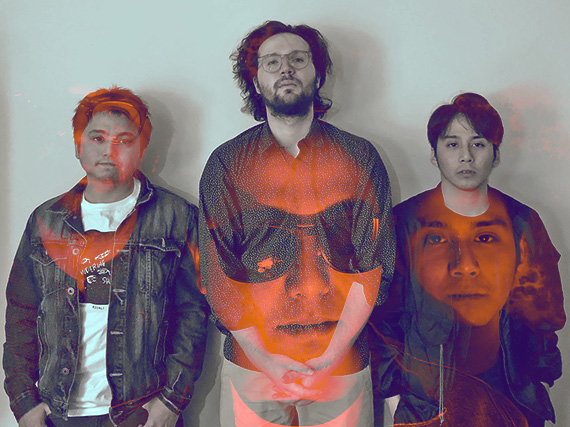 On their debut LP Cosmic Cash, New Jersey's Garcia Peoples  funnel  the energy of their live shows into a cohesive full-length statement. Originally a quartet featuring Tom Malach and Danny Arakaki on guitars, Cesar Arakaki on drums, and Derek Spaldo on bass, they recently added Pat Gubler (PG Six, Wet Tuna) on keys to fully flesh out the group as a deep groove machine, capable of turning on a dime. Built on dueling twin leads, barrelhouse keys, and bubbly rhythms, their songs recall the melodic glory of  NRBQ and Little Feat,  approximating AM golden radio at it finest. These songs beg to be blasted with the windows rolled down while you  cruise backroads trying to avoid the fuzz and have a good time. On your own terms, man.
We asked the band to tell us a bit about their first single "Show Your Troubles Out" out now in advance of the band's full album release this summer on Beyond Beyond is Beyond Records.
"The original thought about this song was for it to be super heavy while maintaining a solid groove, î  la Steppenwolf – née 'American Rock n' Roll'. Since we don't have the amazing rasp and gusto in our voice like John Kay …[this is] more or so what came out, that dictated the mood of the melody and vocals. Kind of like, how the Band says in an interview that they 'sang what they could.' So you can say this song is Canadian-American at its core.
This song lyrically, now bereft of all cool vocal-rasp, motors, highways, and adventures, evolved into what could be interpreted as a relationship between two living things and the simultaneous fear of losing that. Yet, knowing that an end is imminent. Yet on top of all this, still wanting to be the main character in 'your own' story.  As the song progresses it becomes sort of a joke how the persons who know something is going to end, keep playing along just to fulfill some story. Or you can take it all un-sinister like and it could be a story of free love, and want, and feeling of peace in the end." words/d norsen