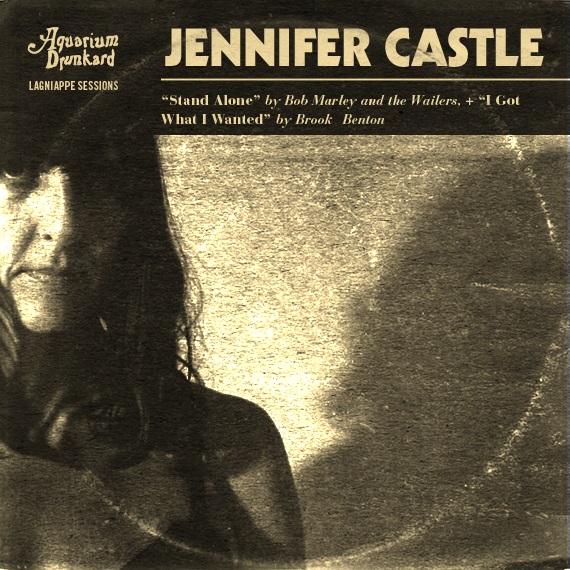 Lagniappe (la ·gniappe) noun 'lan-ˌyap,' — 1. An extra or unexpected gift or benefit. 2. Something given or obtained as a gratuity or bonus.
On her recent album Angeles of Death, singer/songwriter Jennifer Castle feels out the concept of grief, turning it over like a wet stone in her hand. It's a remarkable record, both pained and celebratory, the work of a writer whose words are direct and sharp.
"It mourns and it celebrates, embracing the transformation of time, the eternal constellation of growth and decay and growth again," our own Chad DePasquale wrote in his AD review. "Like some sacred text, it is a scriptural paean to the loved ones lost and the indelible mark they've left on our lives." For her second Lagniappe Session, Castle selects two songs with similarly poignant lyrics, Bob Marley's "Stand Alone" and Brooke Benton's "I Got What I Wanted."
Jennifer Castle :: Stand Alone (Bob Marley)
"Stand Alone" by Bob Marley and the Wailers (1971) is a perfect heartache song. Reggae is the best during the Canadian winter to help motivate general living, with its inherent messages of power, endurance, love, and positive resistance. I love this song as it focuses in on the dilemma of blame. The Wailers carry it all by their special backing vocals, and the melody gives me heart-stoppage each time.
Jennifer Castle :: I Got What I Wanted (Brooke Benton)
I found an old mixtape tape recently while trying to record on my four-track for this session; it was a mixtape from 2006-ish when my friend Davida Nemeroff (who took the  Angels of Death  cover shot, and made the "Texas" video) lost her dog to a streetcar accident. She had a gathering in the park to commemorate her dog, which ended up being young Toronto versions of ourselves on blankets, swaying drunk in the summer, singing along to a small handheld tape player (RIP Beatrice: Too Young To Die). This song (from 1963) was on that tape, but it was the Ted Hawkins version (incredible).  
It was nice to hear it again recently. I hadn't listened to it since those days, but I started to sing it like an old familiar around the house last month. Then I remembered   Woolly Leaves used to sing it (Will Kidman from the Weather Station's solo stuff) and it reminded me of that time too, 'cause we used to hang out a lot back then 'cause I hung with the Constantines a lot, and he is in the Cons. Victoria was roommates with Will at that time back then too.   Will and Davida were best friends. When I brought it up to sing for these sessions Victoria and I reminisced about the good old days like a perfect jam will allow one to do.   A great tune about regret that gets swaying blanket people singing together. Love how Victoria's vocals chime in at the very end like a broken-hearted drunk angel alone at a table, who finally lifts her head to sing along,   just as the song is done.   Closing time, etc. Regret touches us all.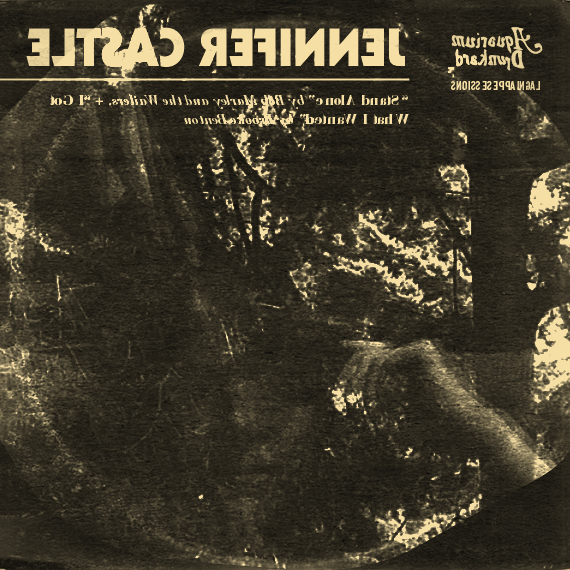 Recorded and mixed by Victoria Cheong, May 2018. Thank you to Victoria who let me into her Toronto studio and recorded these songs for me late-night style, whilst gently singing along. Thanks to Jonny for the piano. – JC
Previously: The Lagniappe Sessions :: Jennifer Castle covers Bob Dylan / The Flatlanders
Lagniappe Sessions Archives / imagery via d norsen.