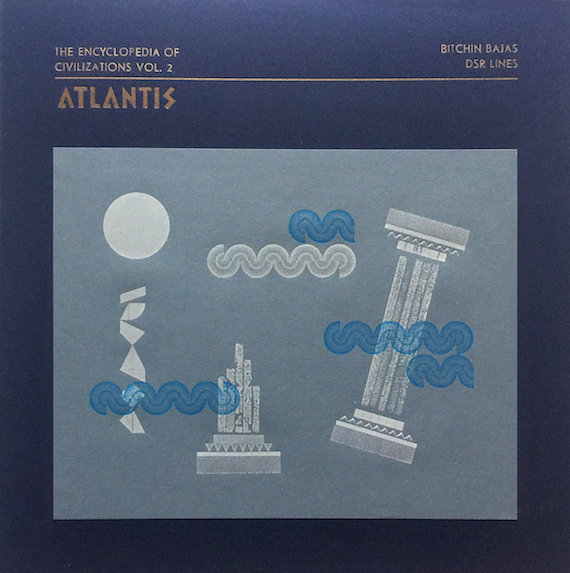 More buried treasure to check out. As a digital institution it's hard to beat Bandcamp. It's ridiculously easy to use, it puts money directly into artists' (and labels') pockets and there's a seemingly endless amount of music to discover there – new, old and in-between. Of course, that endlessness can be a little overwhelming. Here are 10 more recommended releases — old, new and in-between.
Bitchin Bajas / DSR Lines — The Encyclopedia of Civilizations vol. 2: Atlantis: A split LP inspired by the lost city of Atlantis! Hell yeah. The contributors here are Bitchin Bajas Chicago's finest kozmik kosmische collective and DSR Lines, the brainchild of Antwerp electronic music wiz David Eldren. Together, they're absolutely perfect, plunging into the depths to find a spacey sonic dreamscape.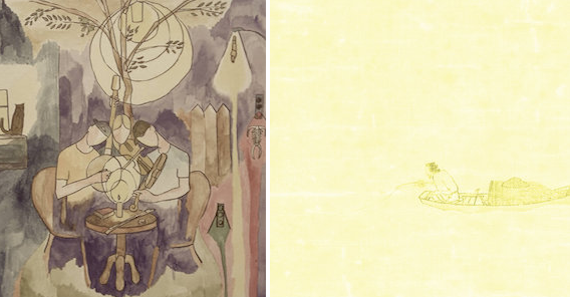 The Fossil Lickers: You could easily call The Fossil Lickers' debut effort "old-timey" — the trio's music definitely conjures up visions of front-porch picking sessions from days gone by. But there's a freshness and liveliness to the 15 tracks here that take it out of the throwback realm. The players (violinist James Trimble, banjo player Cameron Knowler and guitarist Will Csorba) have an easy, joyous rapport; everything flows beautifully from moment to moment.
Matthew De Gennaro – Conversation With A Roadside Skull: Not entirely sure what to call the latest effort from Matthew De Gennaro … mystic loner folk? There are moments when I'm reminded vaguely of Vic Chesnutt or Howe Gelb, but De Gennaro has a distinct/unique vibe, accented by his gorgeous viola da gamba and easygoing guitar work. A mix of instrumentals and vocal numbers, Conversation With A Roadside Skull feels personal and deeply felt, a little universe of its own.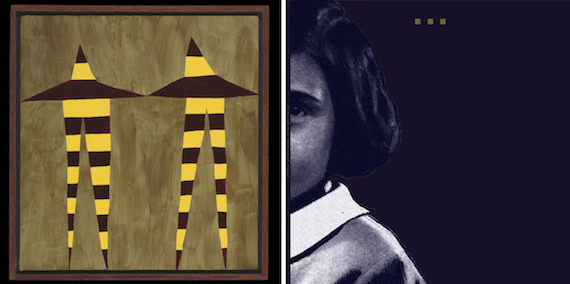 Donnie and Laurie: Who knew that Don Christensen (drummer in James Chance's Contortions) collaborated with electronic music pioneer Laurie Spiegel in the late 1970s? Not I! But the Unseen Worlds label has dug up "Donnie and Laurie" a downright thrilling drum/synth jam. Really cool stuff. It's paired with an alternate version of Spiegel's always amazing "Patchwork," which bubbles along for almost 10 glorious minutes.
Kyle Bobby Dunn / Wayne Robert Thomas – KBD / WRT: Dig in/bliss out to two deep droners from Kyle Bobby Dunn and Wayne Robert Thomas (both RIYL Stars of the Lid, Tim Hecker, etc). Both clocking in at over 20 minutes, these meditative, glacially paced compositions are just the thing to kick the work week off in celestial fashion.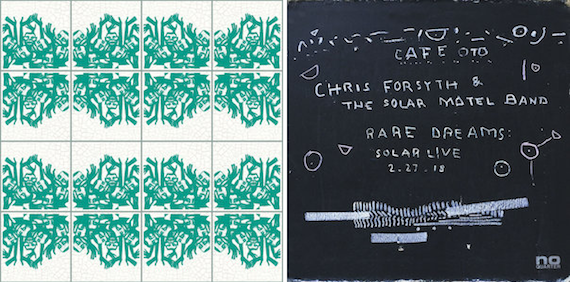 Spiritual Jazz 7 — Islam: This fantastic comp uncovers the fertile blend of Islam and jazz from the 1950s through the 1980s. Recorded by Muslim jazz musicians (some of which are well-known names and others of which are very obscure), the tracks here avoid Middle Eastern "exotic" clichés, but still manage to conjure up a dreamy landscape of rich, transporting sound worlds.
Chris Forsyth & The Solar Motel Band — Rare Dreams: Live 2.27.18: Recorded at London's Café Oto earlier this year, this digital-only EP captures Chris Forsyth's SMB in lean/mean trio mode, tearing through extended/righteous renditions of "Dreaming the Non-Dream" and "The First Ten Minutes of Cocksucker Blues" — the latter of which achieves some kind of unbelievable lift-off in its last few minutes. And don't miss the choice Neil Young cover, either.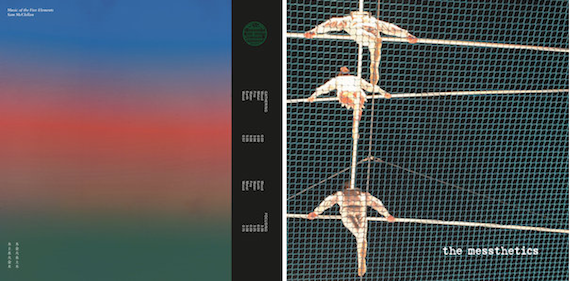 Sam McClellan — Music of the Five Elements: A masterful song suite that unfurls beautifully over the course of 50+ minutes, with 12-string guitar, Riley-esque acoustic piano, Chinese flute, wordless vocalizing and gently droning synths blending and drifting and dreaming. So nice — Music of the Five Elements can be as heavy as a thunder cloud or as light as a summer breeze.
The Messthetics: You know the Messthetics' rhythm section — Joe Lally and Brendan Canty from a little band called Fugazi. No surprise, they sound fantastic here, rock solid yet flexible, totally locked in. Guitarist Anthony Pirog is new to me, but he is very fun here … I'm getting a bit of an Adrian-Belew-in-King-Crimson vibe?
Duck Baker — Les Blues Du Richmond | Demos & Outtakes 1973-1979: Duck Baker put out a bunch of excellent LPs on Stefan Grossman and Eugene "ED" Denson's Kicking Mule label in the 1970s, and these previously unheard recordings come from that halcyon era. Baker is a ragtime specialist, expertly translating the complicated syncopations of that genre to acoustic guitar – though occasionally he sounds as though he's drawing from Ornette Coleman as much as Scott Joplin. A total pleasure from start to finish.
words / t wilcox
Previously: Bandcamping :: Spring 2018