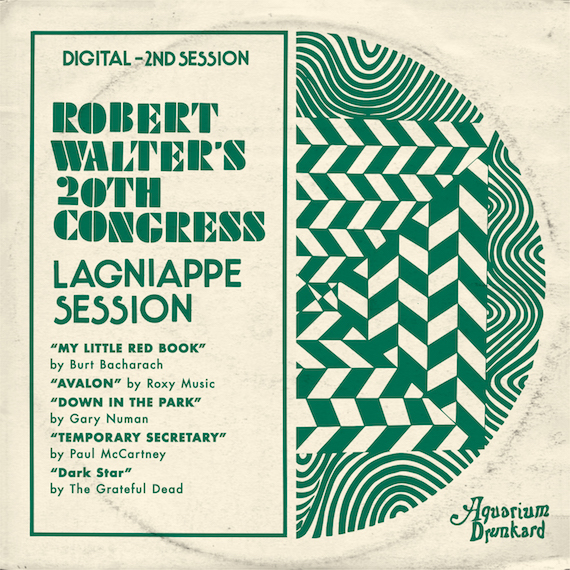 Lagniappe (la·gniappe) noun ˈlan-ˌyap,' – 1. An extra or unexpected gift or benefit. 2. Something given or obtained as a gratuity or bonus.
Hammond B3 composer and bandleader Robert Walter sees the release of his next full-length, Spacesuit, out next month, September 21st. An album influenced by early Fusion, Krautrock, Dub Reggae, the films of Alejandro Jodorowsky and Stanley Kubrick, and the imagery of Chris Foss, Moebius and H.R. Giger, Spacesuit finds Walter and co. exploring and improvising on a new palette of both sound and texture.
Walter's 2013 Lagniappe Session remains a favorite in the series, and here the artist follows it up with another genre-bending set of covers, kicking off with a dubbed out version of Roxy Music's "Avalon" and culminating with a take on the McCartney II enigma that is "Temporary Secretary". Walter on the selections, below . . .
Robert Walter's 20th Congress :: Avalon (Version) (Roxy Music)
80's Roxy Music. I remember watching the video for this song on MTV as a kid. I was confused and fascinated by its weird romanticism. Shawn Everett was talking about the album a lot while we were recording Mike Gordon's OGOGO last year. I bought a copy and got really into it, and Greyboy Allstars guitarist Elgin Park suggested doing a dub/reggae version. *
Robert Walter's 20th Congress :: My Little Red Book (Burt Bacharach)
I love Burt Bacharach/Hal David songs. My dad used to play this version from the first Love record for me when I was a kid. The opening riff supposedly influenced Syd Barrett to write "Interstellar Overdrive." It's a fun way to jam on a major 7 chord in a completely non-jazz way. This is an outtake from the Spacesuit recording sessions. **
Robert Walter's 20th Congress :: Down In The Park (Gary Numan)
Gary Numan's dystopian synth-pop was a big influence on my writing for Spacesuit. He creates so much atmosphere and drama with relatively simple ideas. The eerie futurism feels relevant to me.  *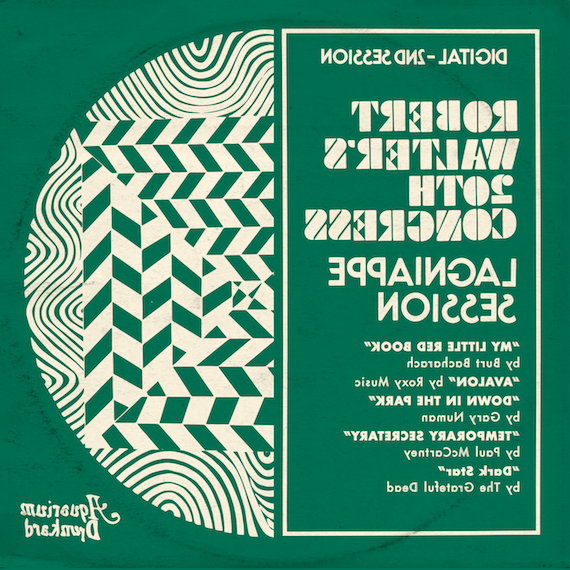 Robert Walter's 20th Congress :: Dark Star (Grateful Dead)
This is an old recording from 1999 during pre-production for my album Money Shot. We used to play "Dark Star" at the early 20th Congress gigs. It was a good vehicle for long improvisations and actually reminded me of a lot of the jazz and funk records I was listening to. Cheme's electric sax adds some Eddie Harris influence to it. I didn't really know too much the Grateful Dead at the time, despite my parents putting them on quite a bit. Playing this song was a gateway for me to get into their vast and unique catalog. I included this to add a little perspective to what I'm doing now.
Robert Walter's 20th Congress :: Temporary Secretary (Paul McCartney)
This is a particularly strange Paul McCartney tune. I think it's him trying to do New Wave and coming up with something totally different. I love the little sequencer pattern and the angular melody. *
*Personnel: Robert Walter-All instruments **Personnel: Robert Walter-Keyboards, Simon Lott-Drums, Victor Little-Bass, Chris Alford-Guitar, Mike Dillon, Percussion. ***Personnel: Robert Walter-keyboards, Cochemea Gastelum-electric saxophone, David Carano-Bass, Jake Najor-Drums
Lagniappe Sessions Archives / imagery via d norsen