Lagniappe (la·gniappe) noun ˈlan-ˌyap,' – 1. An extra or unexpected gift or benefit. 2. Something given or obtained as a gratuity or bonus.
In the introduction of his new autobiography, Let's Go (So We Can Get Back): A Memoir of Recording and Discording With Wilco, Etc, Jeff Tweedy confesses: I wish this book was about the Raccoonists. "If you're not familiar with the Raccoonists, I'm not sure where you get the nerve calling yourself of a fan," Tweedy writes. "How have you not heard of the band I started with my kids, Spencer and Sammy?"
Spoiler alert, the book covers much more than the exploits of Tweedy's least prolific side project — previous to today's installment of the Lagniappe Sessions, the Raccoonists only had only one release to their name: a seven-inch split with Deerhoof. But nonetheless, Tweedy's connection to his family, including his Raccoonists bandmates and wife Susan, is one of the primary focuses of the new book. And for the Tweedys, music is part of the fabric of their shared life. Whether record shopping or jamming — jamming is the preferred nomenclature for the trio — music serves an important function in their family life. "I didn't have to push them at all," Tweedy says of Spencer and Sam's interest in music. "Yeah, they listen to so much music. We are constantly, all day long, throughout the day, sending links to songs and stuff that we are discovering and rediscovering."
In that spirit, the Raccoonists return, with covers of George Harrison's "Awaiting on You" and Skip Spence's wounded Oar composition "Broken Heart." The Tweedys, in their own words, below.
"We like to record the way some families like to play catch or go to the movies. It's just kinda something we do. But we usually play our own songs or just make stuff up, so this session is the first time we really set out to cover songs we love."
The Raccoonists :: Awaiting On You All [Early Take] (George Harrison)
"We picked the Early Takes version of this song because it's so much more powerful than the full-on, Phil Spector-produced one from All Things Must Pass. Both are great but there's something more emotional and badass about hearing George (and now Sammy) so clearly. A lot of what we do on other records is the Early Takes approach: stripping things down, letting the song do the work, recording before we really have any idea what's going on. It usually doesn't matter that you don't know the song yet as long as you can feel it."
The Raccoonists :: Broken Heart (Alexander "Skip" Spence)
"We had thought it was weird for a young person (Sammy) to sing Skip Spence lyrics. But it turns out that Skip Spence was twenty-two when he made Oar, so we're not sure what's going on there. In any case, it's a scary, sad, great song. This is actually the second time a Raccoonists member has covered "Broken Heart," since Jeff (Dad) recorded it in Beck's Record Club project in 2009. But it's nice to have our own version now."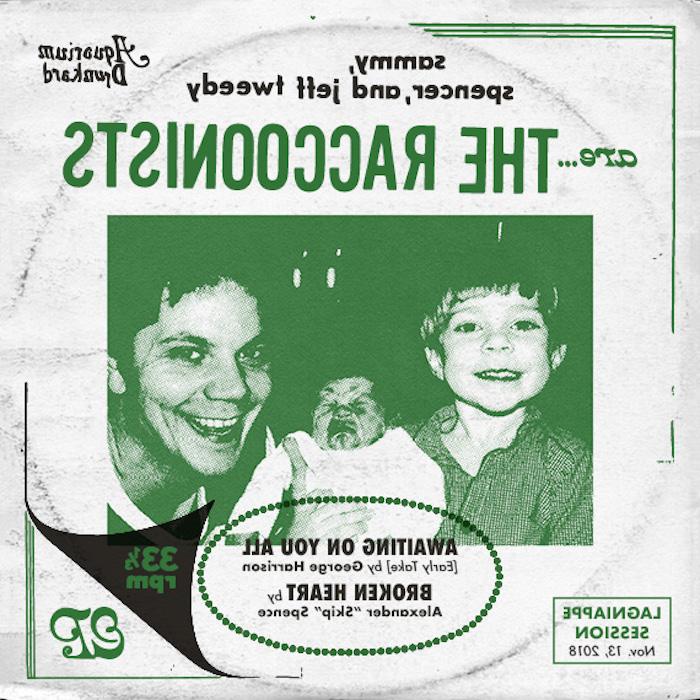 Jeff Tweedy's Let's Go (So We Can Get Back): A Memoir of Recording and Discording With Wilco, Etc is available now; his new solo album Warm will be released via dBpm Records November 30.
Lagniappe Sessions Archives / imagery via d norsen / photo: Susan Tweedy