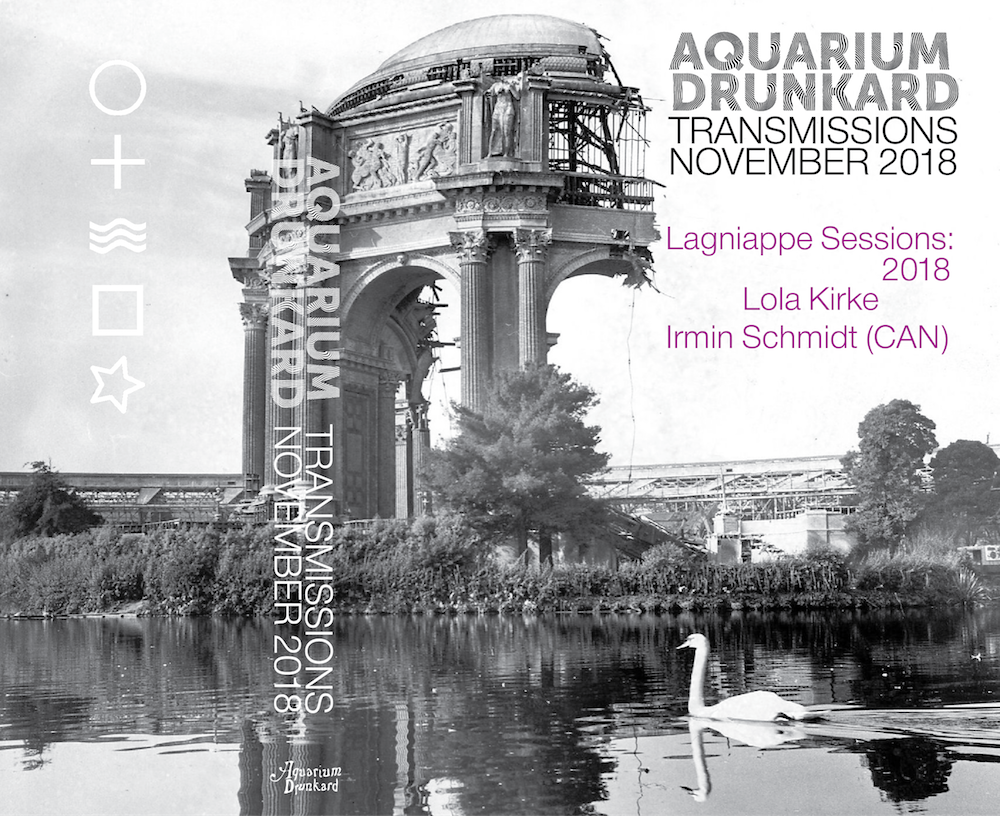 Welcome to the November edition of the Aquarium Drunkard Transmissions podcast. It's nearly the end of the year, and we're looking back on 2018's Lagniappe Sessions. Launched in 2011, the Lagniappe Sessions is an audio series that features artists covering songs that mean something to them. Hailed as "an amazing deep cut creation factory" by Jesse Jarnow, author of  Heads: A Biography of Psychedelic America and Wasn't That A Time: The Weavers, the Blacklist, and the Battle for the Soul of America, the series is one of the most popular elements of Aquarium Drunkard. This episode, we look back on the memorable installments published this year. Then, our interview with Lola Kirke. The Mozart in the Jungle and Gemini star just released a new Christmas single, "Cross You Off My List/Little Drummer Girl." And rounding things out: an interview with Can founder Irmin Schmidt. A pivotal figure in the world of experimental music, Schmidt recently co-authored a book with Rob Young, All Gates Open: The Story of Can, and he's got a new album out of minimalist piano pieces, 5 Klavierstücke. Aquarium Drunkard contributor Kyle MacKinnel brings us a talk that finds Schmidt reflecting on his creative process and modern sounds by the Wu-Tang Clan. 
Transmissions Podcast :: Lagniappe Sessions/Lola Kirke/Irmin Schmidt (CAN)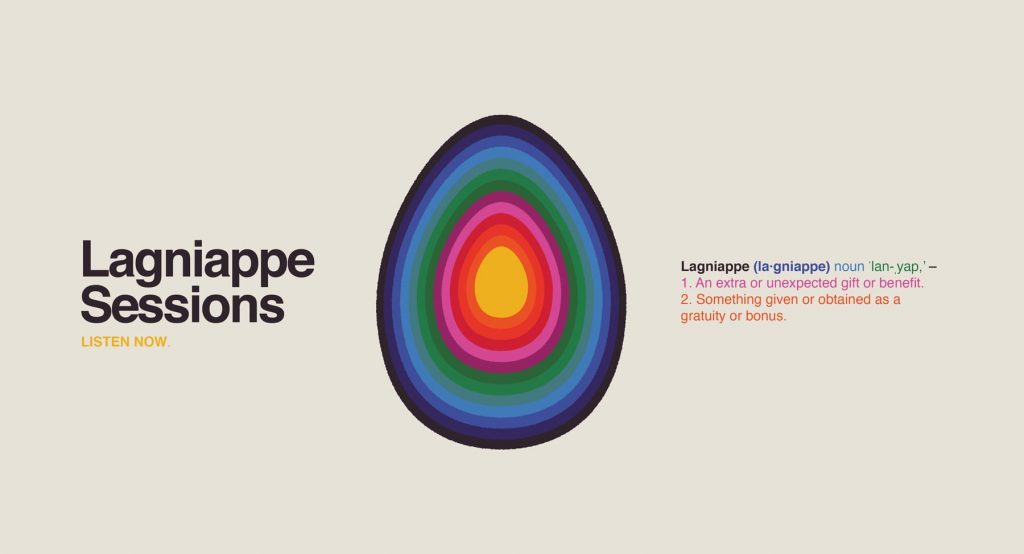 Launched in 2011, the Lagniappe Sessions is a regular recording series on the website and the weekly Aquarium Drunkard Show on Sirius/XMU featuring freeform selections, songs culled from artist's record collections and inspirations. In 2016, AD teamed up with Light in the Attic Records to release the first volume of the Lagniappe Sessions on lp; in 2019, a second volume will follow. But first, we look back at the 2018 installments in the series, featuring Sunwatchers, Kacy & Clayton, Kevin Morby, Nap Eyes, Cut Worms, Jennifer Castle, Michael Rault, Rosali, Sam Evian, Wilder Maker, Cornelia Murr, Jess Williamson, RF Shannon, Robert Walter's 20th Congress, Mountain Goats, Sarah Louise, Mary Lattimore, Anna St Louis, Mountain Man, the Racoonists, and Hollow Hand.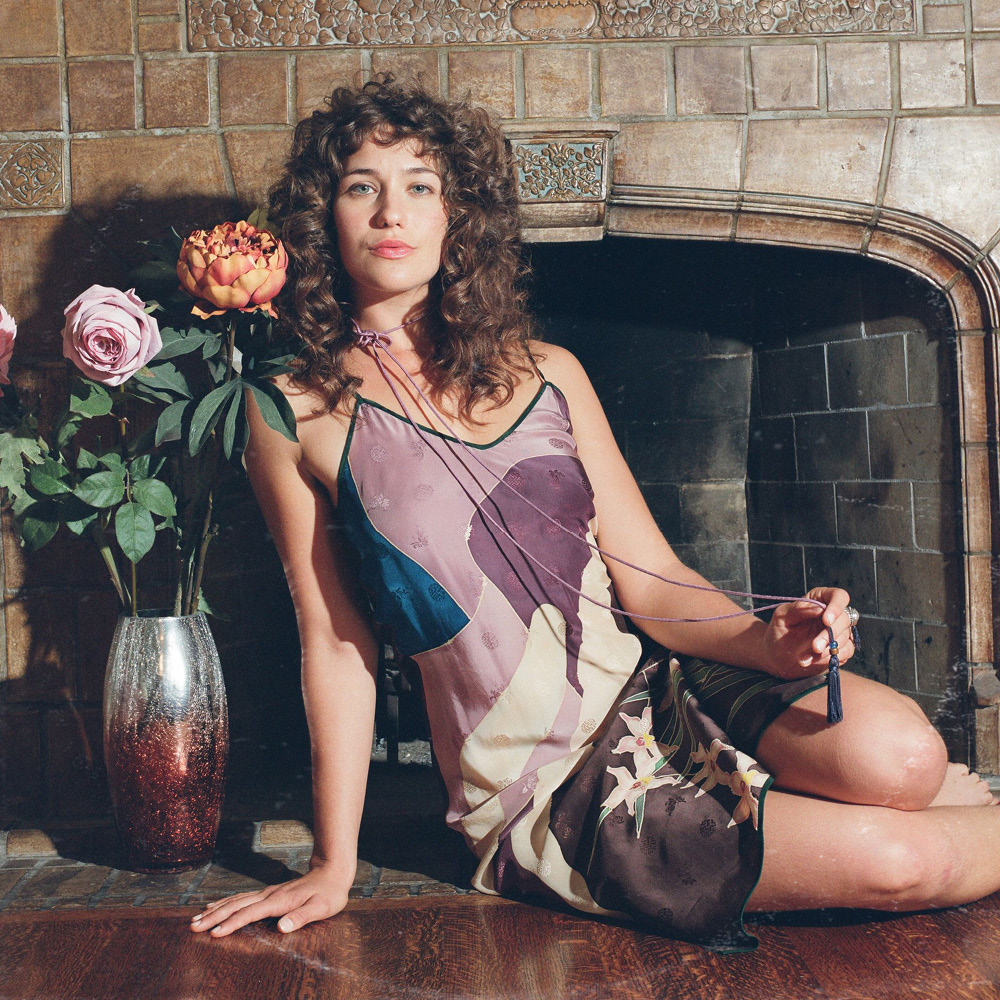 You've likely seen Lola Kirke on her Amazon series Mozart in the Jungle and Gone Girl, but music is in her blood. Earlier this year, she released her debut long player, Heart Head West, and she's already followed up its country noir sounds with a pair of new recordings: her original Christmas song "Cross You Off My List" and a gender-swapped yuletide standard, "Little Drummer Girl." "The Christmas records I love, I really really love," Kirke says, but she's keenly aware that there are a lot of bad ones. For her own, she blends bleak inspiration — it was originally written following the 2016 election— with upbeat cheer. "That's the pressure of holidays in general. They're supposed to be this perfect thing that occurs once a year that we dare not mess up with our humanness, but at the end of the day, we are human and we might feel some inconvenient things."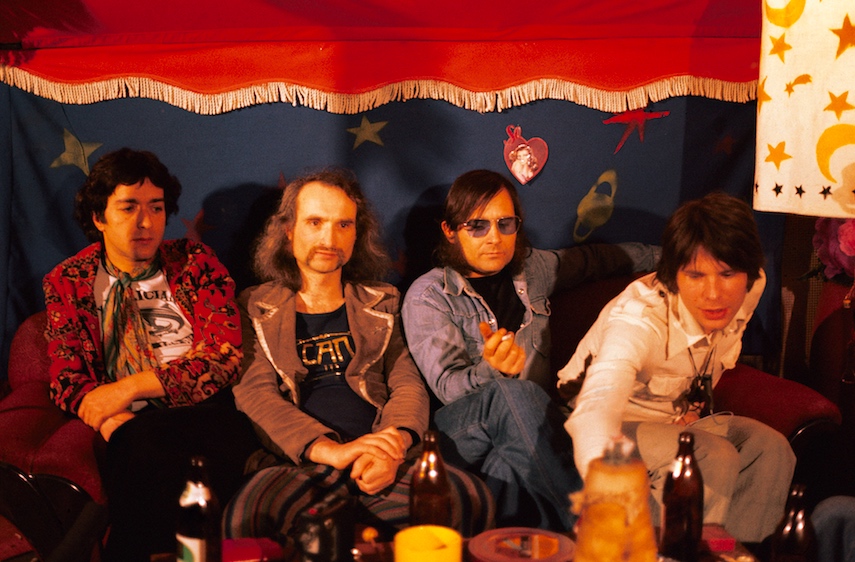 As a founding member of Can, keyboardist Irmin Schmidt helped create a new framework for experimental rock music. A student of "new music," the kind championed by John Cage and Karlheinz Stockhausen, Schmidt joined up with Holger Czukay, Michael Karoli, Jaki Liebezeit, and vocalists Malcolm Mooney and Damo Suzuki to create a dynamic sound that inspired creators as varied as Brian Eno, Sonic Youth, the Red Hot Chili Peppers, and Kanye West. On his new album, 5 Klavierstücke, Schmidt returns to his early, improvised roots. "I wasn't writing it, I was spontaneously playing it, like these Japanese painters on paper," he says of the minimalist piano compositions featured on the record. "You don't even think, you don't reflect, it's merely like some force, some energy, [takes] possession of you."
Episode playlist:
Pierre Henry, "Machine Danse" (Philips, 1973)
Mountain Goats, "Blood Bank" (2018)
Sarah Louise, "Journey Into Satchidananda" (2018)
Lola Kirke, "Cross You Off My List" (Downtown, 2018)
Lola Kirke, "Little Drummer Girl" (Downtown, 2018)
Irmin Schmidt, " Klavierstücke III" (Mute/Spoon, 2018)
Irmin Schmidt, "Klavierstücke II" (Mute/Spoon, 2018)
Osamu Kitajima, "Taiyo (The Sun)" (Island, 1976)

If you enjoyed our show, please feel free rate and review on Apple Podcasts. Even better? You can personally tell a friend to check it out — by sharing the show via Spotify, Stitcher, MixCloud, or the TuneIn app. As always, tune into the weekly two-hour show on SIRIUS/XMU, channel 35, which can now be heard every Wednesday at 7pm PST with encore broadcasts on-demand via the SIRIUS/XM app.
Collage image by Michael J. Hentz.
Dig into the podcast archives, which include in-depth looks at the Voyager Golden Record and the Jesus People psychedelia movement, Laraaji's new age public access show Celestrana, how Numero Group revitalized the natural sound series Environments for the app age, and how Art Bell's late night conspiracy theories on Coast to Coast AM influenced broadcasters all over the world.
Aquarium Drunkard has launched a Patreon page, which will allow readers and listeners to directly support our online magazine as it expands its scope while receiving access to our secret stash, including bonus audio, exclusive podcasts, printed ephemera, and vinyl records. Your support will help keep an independent cultural resource alive and healthy in 2019 and beyond. Pledge today, and find us on Facebook, Twitter, Instagram, Spotify, and Mixcloud, and sign up to receive our weekly (Sidecar) newsletter.