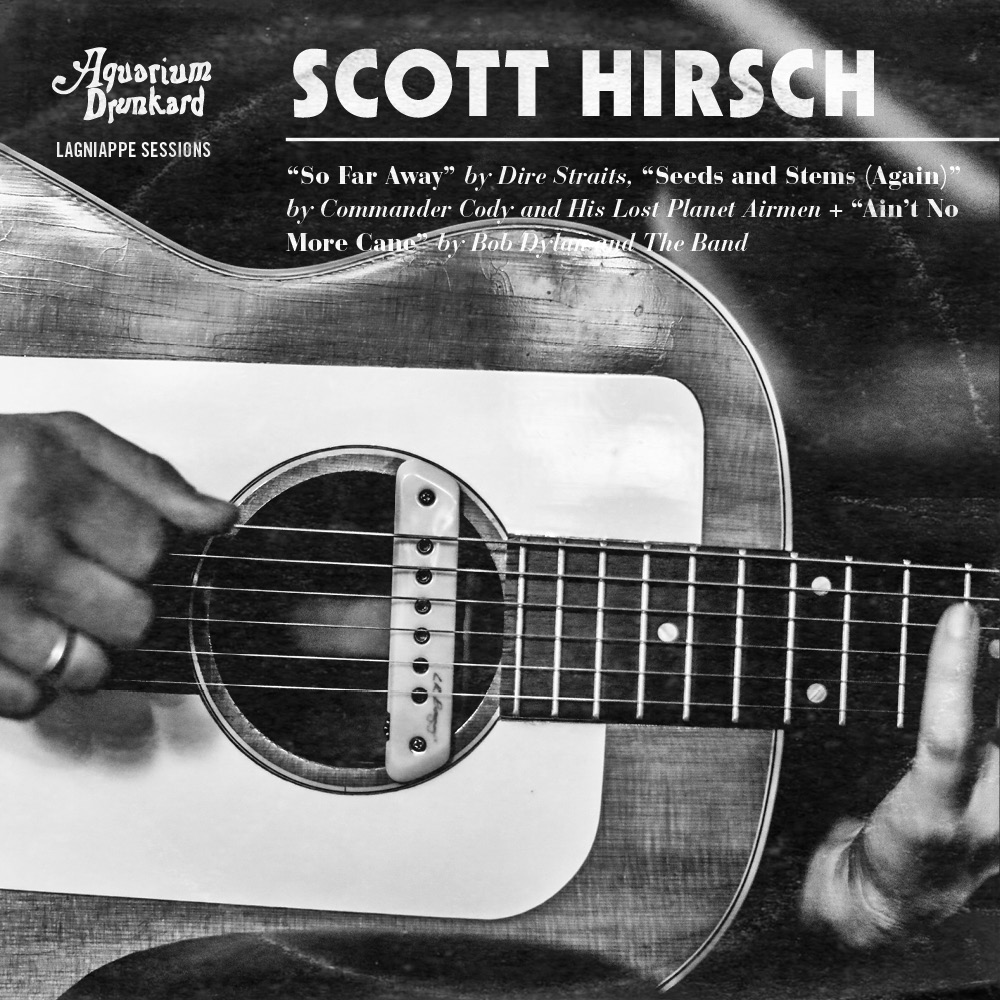 Lagniappe (la·gniappe) noun ˈlan-ˌyap,' – 1. An extra or unexpected gift or benefit. 2. Something given or obtained as a gratuity or bonus.
Cut from the same dank and swampy cloth as JJ Cale and Bobby Charles, Scott Hirsch has paid his dues over the past two decades; both solo and with The Court & Spark / Hiss Golden Messenger. Last year's Lost Time Behind the Moon found Hirsch mining languid, back porch Americana coupled with humid country-funk. Or: JJ Cale on cough syrup.
This installment of the Lagniappe Sessions finds Hirsch at his Ojai, CA studio, Echo Magic West, laying down three wildly emotional covers by the likes of Dire Straits, Commander Cody and Dylan – all of which will leave you wondering if the term "Slawrock" should be more widely adopted…
Scott Hirsch :: So Far Away (Dire Straits)
One of the first tapes I received from the Columbia tape club in fourth grade was Dire Straits' Brothers in Arms. I remember the clear tape case and clear plastic cassette, which was a novelty in tape packaging at the time. Somehow tapes with this new packaging sounded brighter, cleaner, and fuller than the traditional white tapes with their black plastic cases. Or maybe it had something to do with the fact that the liner notes stated the cassette was a "Chromium Dioxide" tape, which I have no idea what this means to this day. Regardless, the music within was an epic mind-expanding journey for a pre-teen on the cusp of puberty. It was days, maybe weeks, before I stopped fast-forwarding past the first song to get to "Money for Nothing." But then one day I played the tape from the beginning and honed in on a particular lyric Mark Knopfler sang on "So Far Away:" "I'm tired of making out on the telephone." Whoa! What? What did it mean? Making out? On the telephone? Throw in a couple burning Knopfler Stratocaster hooks, an unbelievable coda, and "So Far Away" got me for life.

My version here is an exercise of a term my bud William Tyler hilariously coined, "Slawrock." It's like the American version of Krautrock (get it, coleslaw?), which is even funnier considering the 1970s Krautrock pioneers were actually aping American music, and here I am covering a bunch of British blokes aping Americana. Whatever… it sounds cool to me.
Scott Hirsch :: Seeds and Stems (Commander Cody & His Lost Planet Airmen)
I first encountered this song on a mix from my bandmate and collaborator MC Taylor. We were entering an obsession, one that has not ended yet, with hippie country musicians. That is to say, musicians who smoke as much weed as others drink whiskey while they escort the high lonesome sounds into the blue smoke. As it turns out, this is most of country musicians I love anyway, even unsuspecting ones on first impression, such as Merle Haggard. Regardless, if you are the hunt for such things, when you encounter a group of longhairs like Commander Cody and his Lost Planet Airmen, you pay attention. "Seeds and Stems" is just one of those great songs, the most poignant of the sad bastard genre. Long live the wah-wah cowboy.
Scott Hirsch :: Ain't No More Cane (Bob Dylan & The Band)
I know now that this song is a traditional prison work song going back to the early 1900s, and has had many iterations, lyrics and meanings, but I first heard it on the Basement Tapes. My drummer friend James Kim and I played it over and over again because we were obsessed with Richard Manuel's drumming and groove. Flash forward years later when we got to see Rick Danko, wasted into oblivion trying to teach the song to Jerry Garcia and Bob Weir while Janis Joplin sings along on the Festival Express movie. In my mind, I always imagined before the camera rolled, that an inquisitive and slightly less wasted Jerry was as obsessed with the song as I am and asked Rick to play it with him. Like many before me, I have been carrying the torch for this song, playing it for years, and I wanted to put it down on tape.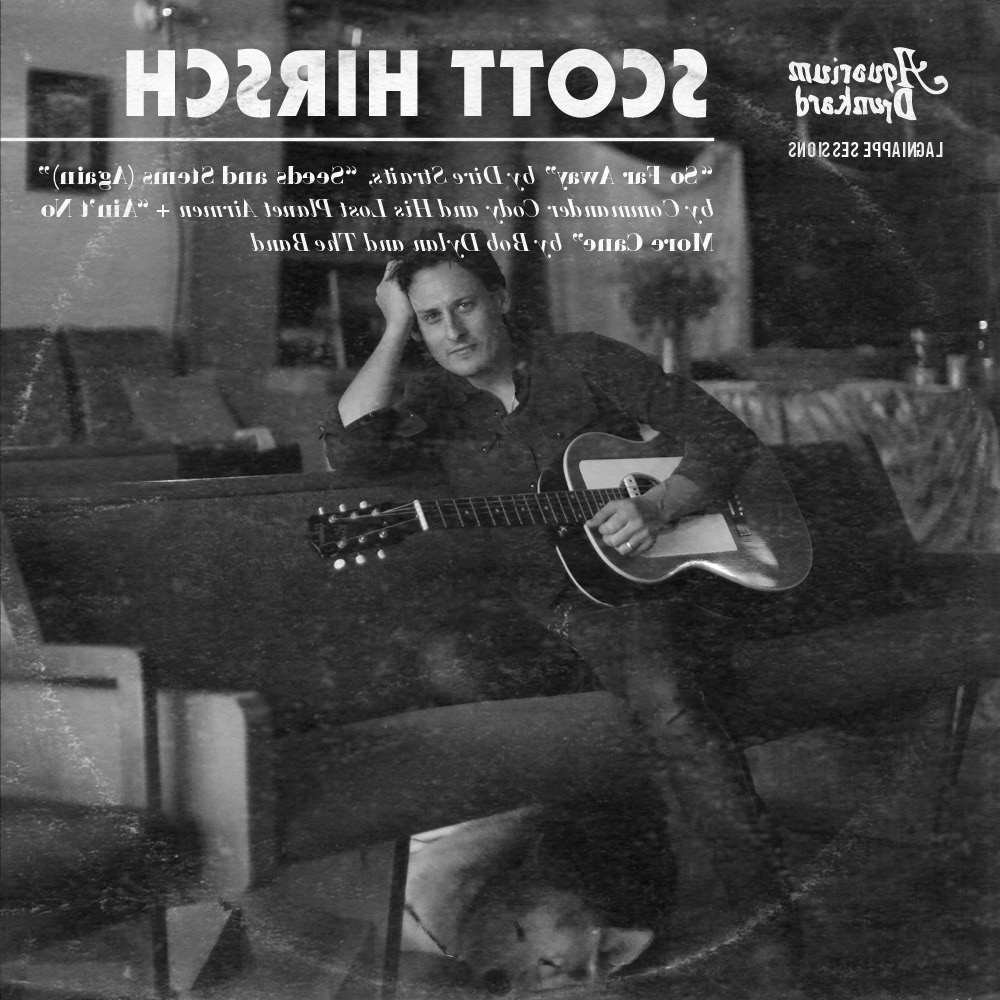 Credits: Imagery via d norsen | Scott Hirsch: Guitars and Vocals, Erin Syd Sydney: Drums, Daniel Wright: Bass and Vocals, Eric Sullivan: Pedal Steel, Gabriel Maroney: Vocals. Recorded at Echo Magic West, Ojai CA.
For heads, by heads. Aquarium Drunkard is powered by its patrons. Keep the servers humming and help us continue doing it by pledging your support via our Patreon page.