Like every other armchair Dylanologist with access to Netflix, I sparked up Martin Scorsese's Rolling Thunder Revue: A Bob Dylan Story at my earliest possible convenience, armed with a cool drink and a healthy skepticism. I'd avoided spoilers, but even before word filtered out about "fictionalized elements" the singular "a" in the title smacked of an episodic Star Wars adventure. But I'm here for that, too. And, in a sense, that's exactly what Rolling Thunder Revue: A Bob Dylan Story turns out to be, the latest installment in a multi-decade movie franchise rebooted yet again. Or maybe it never went away.
There's a lot to love in Scorsese's film, which repurposes an enormous trove of backstage and concert footage into a representation of the fall 1975 iteration of the Rolling Thunder Revue tour. Considered as a traditional documentary, Rolling Thunder Revue is fairly embarrassing. Considered as a Bob Dylan movie in the tradition of the films the songwriter has had his hands in over the years, it's a grand achievement. The project swerves from fact in similar ways that Dylan's Chronicles swerves from traditional memoir, with fictional constructs serving the biographical needs of the moment, just as they have since the largely bullshitted notes to Dylan's 1962 debut LP.
Unmentioned throughout Rolling Thunder Revue is the source of all the magical footage: Renaldo and Clara, the five-hour cinematic boondoggle Dylan released in January 1978, shot on the Rolling Thunder tours, and never released in any VHS, DVD, or streaming format. Cannibalized for Scorsese's project, the original film is unwatchable by most conventional measures, mixing transcendent performances with interminable scenes improvised by Dylan and the touring ensemble, speaking in period psychobabble. Its absence from Rolling Thunder Revue, as well as any substantial historical framing, constitutes fairly serious historical erasure on the part of the filmmakers. Unmentioned throughout Rolling Thunder Revue for that matter are most of the musicians in Guam, Dylan's backing band, including Mick Ronson (liberated from the Spiders From Mars), T-Bone Burnett (not yet a movie licensing legend), and bassist Rob Stoner (the uninterviewed band leader).
Renaldo and Clara itself has many scattered charms, many of them musical, few of them linear. The same might be said of Eat the Document, Dylan's previous foray into directing, in which he and Howard Alk edited footage from Dylan's 1966 European tour into a cryptic documentary intended for ABC. It, too, was scrapped, similarly cannibalized for No Direction Home, Scorsese's previous Dylan documentary, a project worthy of prizes in high journalism compared to Rolling Thunder Revue.
Dylan's other forays onto the screen as an actor and screenwriter didn't fare terribly well, either, including his turn as washed up rock star Billy Parker in 1987's Hearts of Fire, and his turn as washed up rock star Jake Fate in 2003's Masked & Anonymous. Written by Dylan and Larry Charles, Masked & Anonymous is more successful than anything else on Dylan's filmmaking CV, like one of his million-verse epics set into surrealistic onscreen motion. But, like the others, it's not a good movie by any conventional cinematic standards. At it's best, though, it's bitingly and weirdly hilarious, with smart performances by John Goodman, Jeff Bridges, and other star accomplices. But, putting aside D.A. Pennebaker's Dont Look Back and Sam Peckinpah's Pat Garrett and Billy the Kid, the most successful Dylan movie doesn't actually feature Dylan himself.
Less critically reviled than Renaldo and Clara, but only marginally, is Todd Haynes's experimental 2007 biopic, I'm Not There, featuring a cast of a half-dozen Bob Dylans, including Cate Blanchett, Christian Bale, Richard Gere, and Heath Ledger. Maligned by critics, the imaginative movie explores several emotional cores through a reference-crammed script, by Dylanlogists for Dylanologists, and channeling the vibes of several Dylan periods. Haynes constructs a Möbius strip between fact and myth, a non-linear plot that loops around itself, jumping between periods. In doing so, he (perhaps intentionally) creates a key to all of the on-screen Dylans accrued over the past half-century, and any still to come.
I'm Not There also suggests that perhaps the best way to assess the many Dylan films isn't to parse any single one for facts, writing, or acting, but to assemble them into a Los Angeles Plays Itself-like supercut that encompasses all: Dont Look Back's 1965 Dylan cruelly dumping Joan Baez, then awkwardly making up with her in a scene featured without much context in Rolling Thunder Revue (and filled out with further Renaldo and Clara interactions). Cate Blanchett's thin, wild mercury Dylan can converse the real thing. The movie might even find a home for the wandering b-movie soul of Billy Parker, and fit it all into the melodramatic frame of Masked & Anonymous.
Any footage of Dylan, real or fake, can splice into the master scheme, whether it's Dylan's apocalyptic 1991 Grammy speech or Dylan impersonator Joel Gilbert reenacting Dylan's motorcycle accident and trying to convince Woodstock burnouts that he actually is Dylan (as he does during one of his DVDs). Allen Ginsberg's charming turns in Rolling Thunder Revue might be intercut with David Cross's scenes in I'm Not There. Soy Bomb says hello.
This imaginary never-ending documentary might complement Dylan's Never-Ending Tour, a recursive Borgesian tangle of bullshit, earnest interviews, impenetrable hubris, and some of the richest songs of the past century. Perhaps it could be arranged into something resembling chronological order, starting with Marcus Carl Franklin's Woody in I'm Not There, Dylan reimagined as a small black boy, and stretching to the present Sinatra-loving Bob, not forgetting his 1999 sitcom appearance on Dharma and Greg. Without doing the math, there's probably enough Bob to translate into something like Christian Marclay's The Clock, a magpie epic to match Dylan's late (and early and middle) career love of appropriation.
Rolling Thunder Revue: A Bob Dylan Story contributes over two hours of new or severely upgraded footage. The musical highlights are legion, especially when the band gets quiet, highlighting the improbable combination of Mick Ronson and David Mansfield, the feather-haired Spider From Mars meeting the beatific-looking teenage C&W virtuoso. There are interviews with some of the tour's participants, including a charming Dylan. There's some insight to be had, but many still-living participants don't get a say. On the whole, it's far less definitive than it might be, which is a shame — certainly less definitive than No Direction Home, by comparison. More (or less) than a documentary, Dylan's guiding hand can almost be felt in the way its footage came to arrive on Netflix.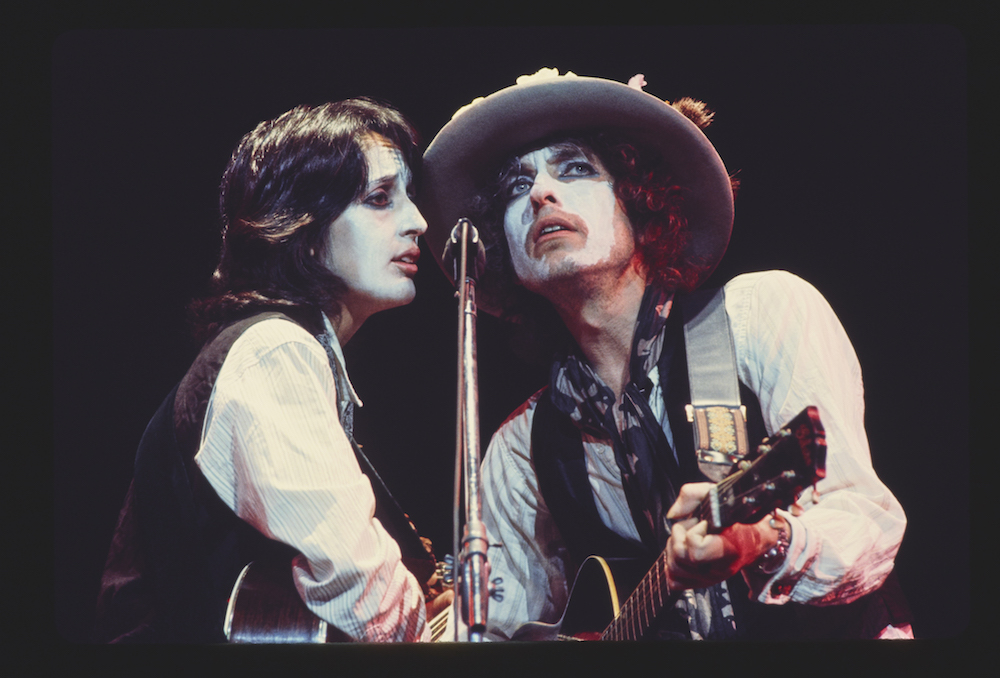 For Bobologists and even casual fans, nearly every second will be a delight, but many will be puzzles, too. But it was ever thus, and there will always be more to explore. The new 14-disc Rolling Thunder Revue box set is one new entry, too, including several discs of rehearsals, partially shown in the documentary. Tour manager Louis Kemp, Dylan's one-time summer camp buddy, has a new long-in-the-works memoir coming soon — perhaps the reason why his only mention in the film comes off as a bit disparaging. There are also contemporaneous tour books by Larry "Ratso" Sloman and Sam Shepard, plus a host of other rabbit holes for aspiring obsessives.
Left unseen is the tour's well-filmed second leg, which spawned the live album and television special, Hard Rain. There are plenty of talking heads, but few of them say much about the arc of Dylan's career, the music on stage, the music scene at large, or reveal anything terribly juicy. What's left unexplained is Bob Dylan himself, suspended between the broken heart of Blood on the Tracks, recorded less than a year earlier, and the slicker post-divorce directions of Street-Legal and Live at Budokan. His religious conversion would come three years later. There's a "documentary" for that, too–2017's Trouble No More–with fictionalized scenes starring Michael Shannon.
Unlike superhero movie franchises or serial television, there's no worry that the plot will crash and burn in the next installment, because the plot crashed and burned a half-century ago. Bob Dylan's career is an avant-garde movie whose soundtrack is consistently more successful than its action. And somehow, for those still locked in, that soundtrack remains rewarding, its alternate takes and new angles sometimes making familiar songs sound breathtakingly new. But Rolling Thunder Revue: A Bob Dylan Story isn't a sequel, a prequel, or a standalone, so much as another box of frames tossed across the floor like puzzle pieces, ready for reassembly.
Jesse Jarnow is the author of Heads: A Biography of Psychedelic America (Da Capo, 2016), Wasn't That a Time: The Weavers, the Blacklist, and the Battle for the Soul of America (Da Capo, 2018), and Big Day Coming: Yo La Tengo and the Rise of Indie Rock (Gotham, 2012).
Pssst…Aquarium Drunkard has launched a Patreon page, which allows readers and listeners to directly support our online magazine as it expands its scope while receiving access to our secret stash, including bonus audio, exclusive podcasts, printed ephemera, and vinyl records. Your support will help keep an independent cultural resource alive and healthy in 2019 and beyond. 
Related: The Aquarium Drunkard Bob Dylan Archives (2005-2019)