Bob have mercy! Just about eight months after More Blood, More Tracks comes another massive Dylan archival haul. The Rolling Thunder Revue: The 1975 Live Recordings weighs in at a hefty 14 discs, giving listeners a front row seat (and a backstage pass) at the traveling road show Bob threw together in the months following Blood On The Tracks' release. Three discs of rehearsals! Five complete Dylan sets! A bonus disc of curios and oddities! (Oh and hey, there's that Martin Scorsese doc to absorb as well). The good news? This box is very reasonably priced at just about $80 — a whole lot of bang for your buck. The bad news? Come on, dude, there is no bad news.
Still, casual Dylan fans might be safe sticking with the two-disc Bootleg Series Vol. 5 covering this tour, which came out back in 2002 (and has been freshly reissued this year on vinyl). It's a handy sampler. But the hardcore among us will revel in immersing themselves in the Rolling Thunder Revue's many delights. After all, how else are you going to be able to track the astonishing metamorphosis of "Isis"? We first get to hear Dylan rehearsing it with his band at NYC's SIR Studios, trying to pick up the pace from the slow, stately lope of the Desire version. As the group begins to play "Isis" live, a decidedly harder-edge emerges, with the fluid rhythm section of bassist Rob Stoner and drummer Howie Wyeth uncovering explosive dynamics to play with, their leader finding new ways to tell the song's story, from a whisper to a howl. By the time we reach the Forum de Montreal (just a month after those initial run-throughs), "Isis" is a pure motherfucker, with Dylan raving maniacally, his band barely keeping up. "Deep in his heart, the poet is always surprised at where his poem has gone," wrote author John Williams in Augustus. In the fall of 1975, Dylan was chasing that sense of surprise like a man possessed.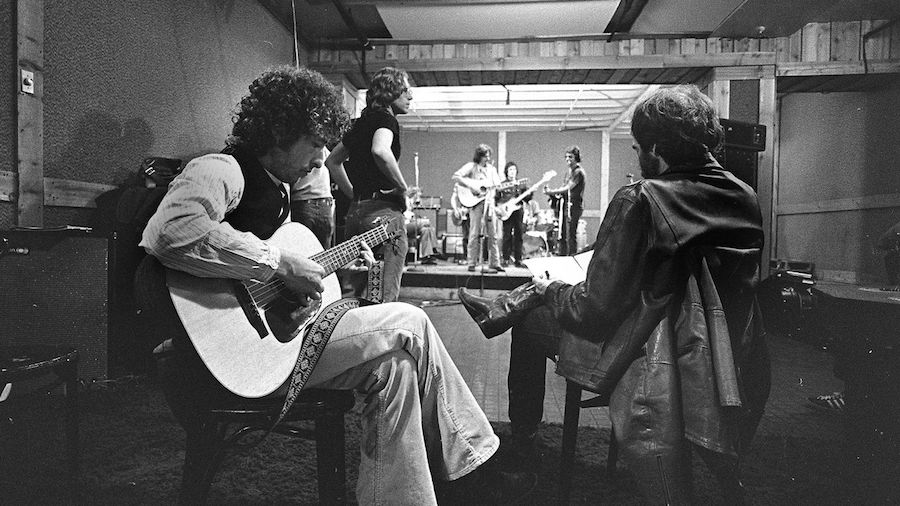 And speaking of that Montreal show, it has to be one of the most powerful performances in the man's career. The energy level is unbelievable, but never at the cost of soul or subtlety. From reimagined classics (revved-up renditions of "A Hard Rain's Gonna Fall," "Tonight I'll Be Staying Here With You" and "The Lonesome Death of Hattie Carroll") to surprisingly strong duets with Joan Baez (a swooning cover of Johnny Ace's "Never Let Me Go" generates real sparks) to brand-new Desire material, Dylan and co. soar throughout. This was a band like no other, with room for Scarlet Rivera's keening violin, Mick Ronson's glamtastic lead guitar work and Bobby Neuwirth's shambolic antics. It's all perfectly weird (and not a little bit cocaine-y), but it all hangs together miraculously. The music of the Rolling Thunder Revue blended personal with political, reality with fantasy, past with present until one was indistinguishable from the other. A magic trick in the truest sense.
But maybe we're getting ahead of ourselves. Those first three discs of rehearsals are worth the price of admission alone, letting us hear how the tour (barely) came together. Just about a week before the Revue started rolling, they're still fiddling about and fucking around, trying out arrangements and rewriting lyrics on the spot. Dylan sounds almost supernaturally relaxed as the chaos coalesces – check out his ridiculously beautiful vocal on "Spanish Is The Loving Tongue," or his casually brilliant improvs on unfinished/enigmatic originals like "Hollywood Angel" and "Gwenevere." It's all very Basement Tapes-y – except that a tour was looming. Disc three captures a bit of a dress rehearsal. It's still pretty loose, but you can hear the group figuring out how it's all going to work. Then, we're off and running. Setlists for the 1975 remain generally static with a few exceptions, but one of this box's main pleasures is hearing the same songs snap and crackle over the course of several shows, Dylan trying out bonkers phrasing, the band charging ahead fearlessly, the arrangements coming together and falling apart. For a die-hard, it's pretty much nirvana. The 1975 Live Recordings give us Dylan at his weirdest, his warmest and his wildest. You don't need no ticket, you just thank the Lord. / t wilcox
Aquarium Drunkard has launched a Patreon page, which allows readers and listeners to directly supportour online magazine as it expands its scope while receiving access to our secret stash, including bonus audio, exclusive podcasts, printed ephemera, and vinyl records. Your support will help keep an independent cultural resource alive and healthy in 2019 and beyond.
Related: Why Rolling Thunder Revue is a Terrible Documentary But A Great Bob Dylan Film