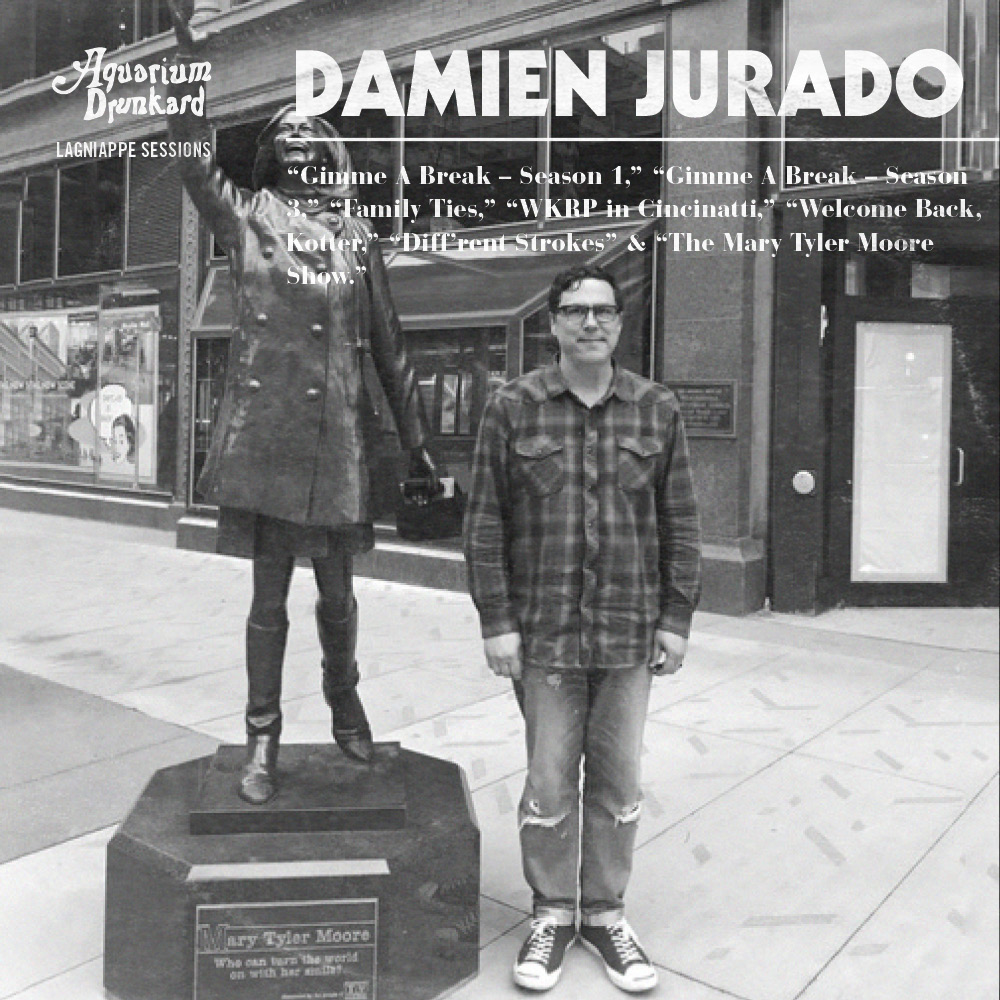 Lagniappe (la·gniappe) noun ˈlan-ˌyap,' – 1. An extra or unexpected gift or benefit. 2. Something given or obtained as a gratuity or bonus.
When we sat down with Damien Jurado a few years back, the conversation turned to television. The Twilight Zone, Elvira's Movie Macabre, The Outer Limits, Kung Fu…For a young Jurado, these shows formed a kind of cultural tapestry, one that would eventually find its way into his quiet and mysterious folk songs. "It all comes back," he said. "There's the spiritual influence, there's the television influence as a young kid. It all plays into it."
Jurado's latest, In The Shape of a Storm, finds him once again pulling elements out of the nostalgia slipstream. Though less science fiction and supernaturally informed than the records he made with the late, great Richard Swift, it's no less evocative. Its songs often play out like half-remembered episodes of a forgotten sitcom, transmitted through the static and picked up by ever sensitive antennae.
For his first-ever Lagniappe Session, Damien selected a number of classic theme songs. What he uncovers in them he explains here, in his own words.
Damien Jurado :: Gimmie A Break (Season One)
First of all, the Gimme a Break theme song is one of my favorite theme songs probably ever. It packs a punch, it is in your face, and really shows off the power of actress Nell Carter. Carter was not only a star of TV and screen, but also of stage. She received a Tony for her role in Ain't Misbehavin' (1978).
As you could tell by this list, there are many versions of the Gimme a Break theme song. I prefer season one because it's the original. There's no fanfare as one will notice in later versions of this song. It's raw and almost demo-like in quality. With this song, as with other songs on my list, I am not trying to duplicate but instead honor and give praise where praise is due. And Nell Carter deserves all the praise she can get.
Damien Jurado :: Gimme A Break (Season Three)
The season three version of Gimme a Break changes in style. The new stylistic approach to this version gives a nod to popular groups of its time. For example, the Pointer Sisters, who were dominating the charts in the early to mid 1980s. Carter was not only a fan of the group, but I believe close personal friends with the Pointer Sisters, who make an appearance in Season two, Episode 17. I like this version.
Where to begin? How about with one of the most recognizable TV theme songs ever. Many people may not know this, but Family Ties too has many versions of its theme song. I chose, yet again, season one. It is schmaltzy soft rock at its finest, and I am absolutely in love with it. I mean, come on! How could you not be?
Damien Jurado :: WKRP In Cincinnati
For me this song is such an ear worm. You hear it once, and it never leaves your head. Try to find me another song with more key changes than this theme song, and I'll wish you the best of luck. It'll never happen.
Number one, this show is amazing. Number two, this song is amazing. That's all I can really say. Eternal praise goes out to my friend and collaborator Josh Gordon for nailing this guitar solo. Not an easy feat for even the bravest of players.
P.S. If anybody out there reading this knows how to get this song in the hands of Howard Hesseman, please do immediately tell him I am forever and eternally grateful for what he brought to the character Johnny Fever.
Damien Jurado :: Diff'rent Strokes
This song is funky. My version is not.
Damien Jurado :: Love is All Around (Mary Tyler Moore Theme Song)
Hands down, the most timeless and beautiful TV theme song of all time. This show's theme song matches lead character Mary Tyler Moore so spot-on, and you don't see that happen very often if ever. It's as if the producers went to songwriter Sonny Curtis and said, "You see this person? Write her soundtrack." Very reminiscent of other songs of its time like the Midnight Cowboy theme song and Jimmy Webb's "Galveston." This song is a timeless classic to which I have always wanted to give a nod. Believe it or not, it is a huge influence on my own catalog. 
Damien Jurado :: Welcome Back, Kotter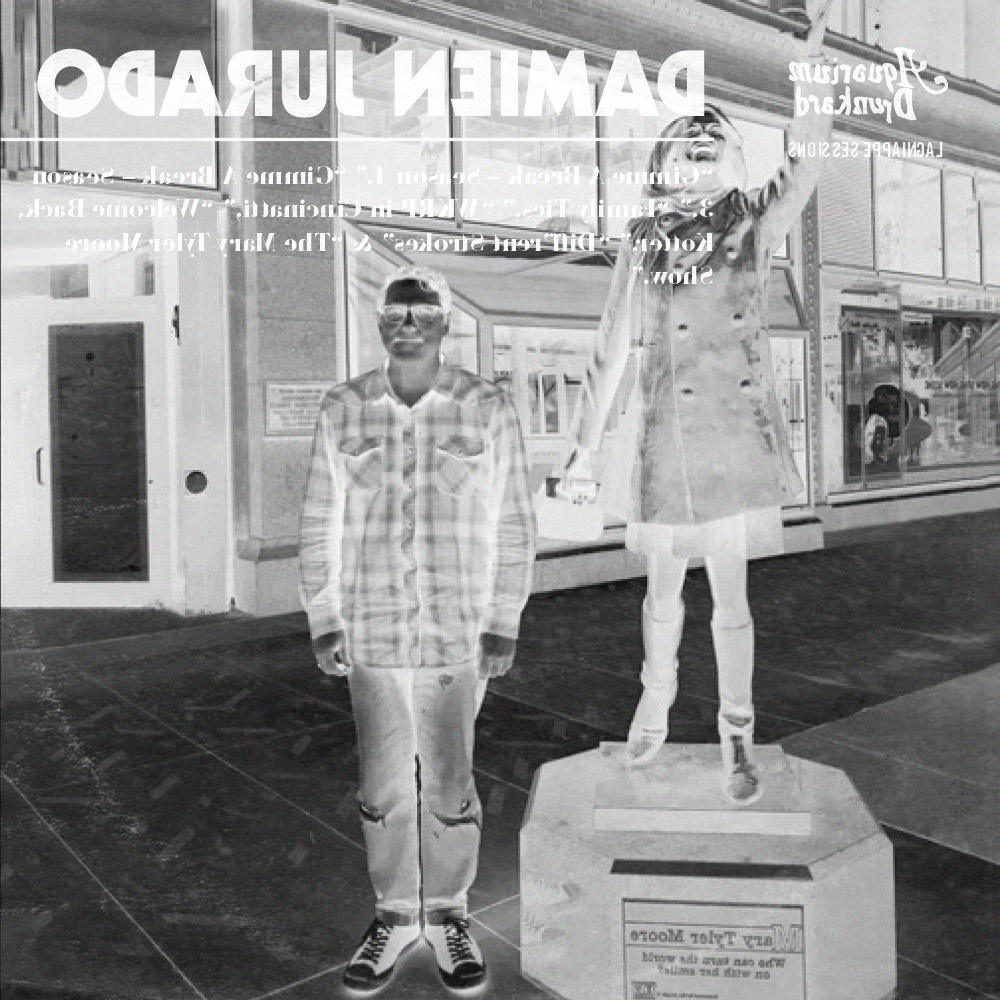 A huge thank you to the folks at Aquarium Drunkard for allowing me to take part in this very fun project. Please look forward to my next installment of TV show theme songs should they allow me.
Pssst…Aquarium Drunkard has launched a Patreon page, which allows readers and listeners to directly support our online magazine as it expands its scope while receiving access to our secret stash, including bonus audio, exclusive podcasts, printed ephemera, and vinyl records. Your support will help keep an independent cultural resource alive and healthy in 2019 and beyond.
Lagniappe Sessions Archives / imagery via d norsen