Compared to some recent Dylan archive releases, the 15th volume of The Bootleg Series looks a little slim – just three discs! But if you think of Travelin' Thru as a prequel to 2013's Another Self Portrait, it brings us to a total of six discs dealing with Bob's late 1960s/early 1970s period. Set entirely in Nashville, Vol. 15 isn't quite as revelatory as Another Self Portrait – but it's plenty revelatory.
Especially when it comes to the seven previously unheard (even on bootleg) John Wesley Harding alternates that kick Travelin' Thru off. Bobcats who have been jonesing to hear these elusive late-1967 recordings for decades might be slightly underwhelmed at first. But these glimpses behind the curtain of one of Dylan's most enigmatic works are fascinating, nonetheless. Some songs seem to be full formed – the title track and "All Along The Watchtower" aren't terribly different here. But there are some very cool variations. "I Pity The Poor Immigrant" is given an oddly jaunty reading, with an almost completely different vocal melody than the previously released version. The slowed-down "As I Went Out One Morning" is the true gem, boasting an exquisite Dylan performance that brings the Britfolk vibes of the song to the fore. Overall, the best thing about finally hearing the John Wesley Harding material is just getting more of this band – one of the most stripped-down and skeletal ensembles Dylan ever recorded with. Charlie McCoy's almost funky basslines locking in with Kenny Buttrey's buoyant, inventive drumming, plus Bob's guitar and harmonica … it's a magical and mysterious sound, to say the least.
From there, we move on to the lusher zones of Nashville Skyline, with a wider selection of Nashville cats (including such ringers as Norman Blake, Charlie Daniels and Pete Drake) filling in sweetly behind Dylan's increasingly smooth late 60s croon. This stuff is less exciting than the JWH outtakes, but it's still very pleasurable to get more from the era. A previously unheard highlight is the seemingly off-the-cuff blues workout "Western Road," which shows off the laid-back chemistry this group of musicians had with Dylan. Has Bob ever sounded so relaxed in the studio as he does here?
The second disc will be familiar to dedicated Dylan heads. A fair amount of the 1969 studio session with Johnny Cash (from whence Nashville Skyline's "Girl from the North Country" duet came) has been available on bootleg for decades. The idea of these two giants of American music collaborating is definitely enticing – but it's not all that great. Entertaining, sure, but probably not something you're going to want to listen to more than a few times. Bob doesn't sound very focused, barely able to get through a song without several screw-ups. And – surprise! – Cash and Dylan aren't exactly born harmony singers. But there are a few things that stand out here: the incredibly doofy "Wanted Man" illustrates the brotherly rapport these two guys shared. June Carter Cash chiming in with words of encouragement is nice. The gospel "Amen" almost gets to a wonderful place. It's a little bit amazing how the iconic "Girl from North Country" arrangement seems to appear out of thin air. And hey, just hearing Cash say "Yodel one more time me, Bob" is worth the price of admission alone. But for a somewhat more enjoyable listening experience, check out the two rambunctious Cash covers that Dylan laid down a little while later during the Self Portrait sessions (without Cash) –they're both extremely feisty.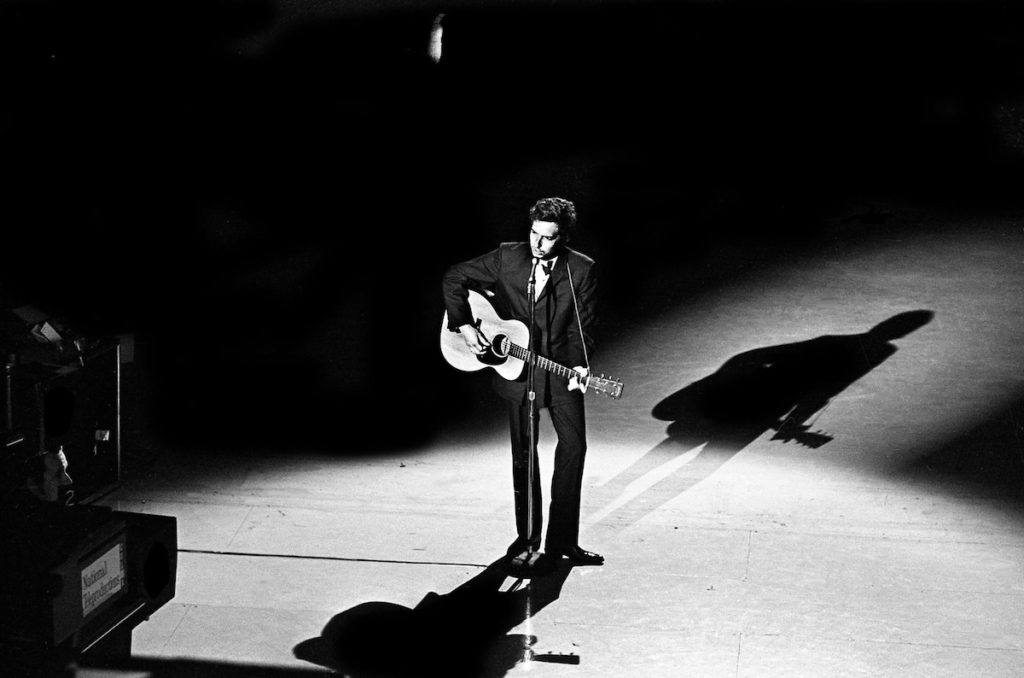 Travelin' Thru is capped off by a collab with another roots music giant – banjo wizard Earl Scruggs. Taped for a Scruggs documentary, these informal recordings are very nice, with Bob (his country croon long gone) leading a small bluegrass ensemble through a few easygoing covers and Dylan originals. Essential? Not exactly. But good to have added to the official canon nonetheless — and the almost audible smile on Dylan's face during "East Virginia Blues" is priceless.
As a whole, Travelin' Thru doesn't quite inspire the effusive praise that other Bootleg Series volumes have received. But looking back at the last decade or so of Dylan archival hauls, it's another wonderful addition to this unbelievably rich alternative timeline. The fact that there's probably another 15 volumes of this stuff (at least) lurking in the vaults is nothing short of astounding. Dylan, now pushing 80, has left innumerable puzzle pieces behind. Who knows what the final product will look like – and who cares? Dylan himself would probably agree: the fun lies in the process of putting it all together. words / t wilcox
Dig into AD's Dylan archive and help support independent media. Aquarium Drunkard has launched a Patreon page, which allows readers and listeners to directly support our online magazine. Patronage includes bonus audio, podcasts, printed ephemera, and vinyl records.