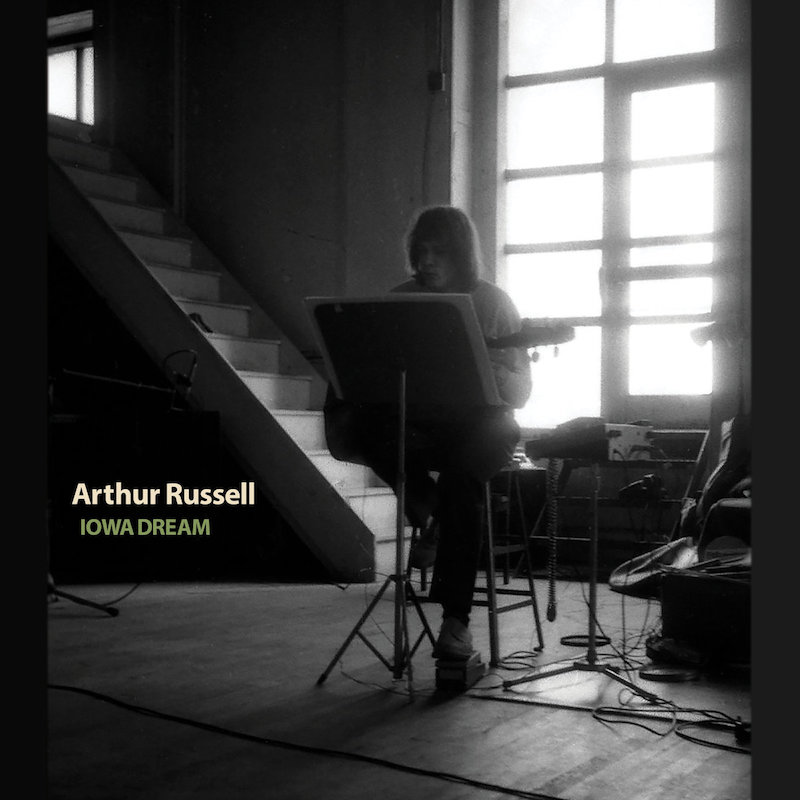 Though reason might suggest an eventual end to the steady stream of brilliant work from the Arthur Russell archives, thankfully they haven't been exhausted just yet. Since his untimely passing in 1992 from complications relating to HIV-AIDS, Russell's partner Tom Lee and Audika Records' Steve Knutson have combed through his unreleased recordings to deliver dazzling selections from one of the world's most tender-hearted souls. Like an art-rock Tupac, these posthumous collections have not only broadened Russell's audience but also revealed far more sides of his sonic imagination. From the wistful country of Love Is Overtaking Me to Tower of Meaning's orchestral minimalism or the mutant disco of Dinosaur L, he sought to knock down genre borders and simply see all his friends at once.
After a decade-long dig through Russell's library, Audika has now presented fans with Iowa Dream. This 19-song collection pulls from a variety of sources including demo sessions for Mercury and Columbia in the mid-1970s (neither of which resulted in a record deal) and folk songs written during his time in Northern California several years earlier. Russell loved to collaborate with his peers from the downtown New York scenes, and recognizable names attached here include Rhys Chatham, Henry Flynt, and the Modern Lovers' Ernie Brooks, who also joined Russell in short-lived power-pop band the Necessaries.
Iowa Dream's opener "Wonder Boy" is an instant classic with its lamp lit piano bolstered by shimmering vibraphones from David Van Tiegham. They would team up again as members of Peter Gordon's Love of Life Orchestra, resulting in one of the strangest songs Russell ever wrote, "That Hat." Wonder is an apt word for his lyrical output throughout this collection, making it easy to imagine plainspoken songs like "The Dogs Outside Are Barking" and "I Wish I Had A Brother" coming from the mouth of Daniel Johnston or Kermit The Frog. "I'm riding my bike/I'm doing what I like" he joyfully exclaims on Iowa Dream's title track, pushing past red houses and the waving hand of the town mayor (his dad).
This vibrant hootenanny of sounds returns on "Barefoot In New York" with a funky drummer and chorus of voices propelling his stuttering observations on Buddhism, shoes, and the Stones. "I Kissed The Girl From Outer Space" zooms away to another planet of ZE Records rump-shakers with Russell's voice cycling through a variety of effects as he hopes to avoid looking like a "dumbo dumbo" before proclaiming himself "water man." Yet as Iowa Dream comes to a close, he returns to earth on the heartbreaking "In Love With You For The Last Time," describing the experience of sitting with an ex-romantic partner who now treats him like a stranger.
"You Did It Yourself" is perhaps the most striking collision of Russell's intimate reflections and musical ingenuity. First heard in a tantalizing snippet in director Matt Wolf's 2008 documentary, Wild Combination, the song has now been unveiled in its stunning final form with burbling bass that sounds like Mick Karn sitting in on a fantasy MTV Unplugged session. Its lyrics welcome listeners into the singer's head with diary-like lyrics on a film watched the night before: "Understood all of it very well/I didn't like the ending though/Maybe I'm crazy but it just seemed tacked on." Perhaps this is the lesson we can all take away from the musician's Buddhist beliefs in reincarnation. Though his body has long left this world, Arthur Russell's spirit most certainly lives on. words / j locke
Aquarium Drunkard has launched a Patreon page, which allows readers and listeners to directly support our online magazine as it expands its scope while receiving access to our secret stash, including bonus audio, exclusive podcasts, printed ephemera, and vinyl records. Your support will help keep an independent cultural resource alive and healthy in 2019 and beyond.