"You can't shine if you don't burn," read the handwritten note found next to his deathbed — apropos given that British psychedelic crooner Kevin "Take Me to Tahiti" Ayers often retreated to the tropics whenever the spotlight of fame shone a little too brightly. A new book Shooting at the Moon, curated by his daughter (musician Galen Ayers), gives fans an enticing peek behind the palm fronds and champagne bubbles into the personal notebooks of a musician quite accurately characterized by his 1974 press kit as possessing "Apollonian grace, svelte physique, cosmopolitan airs, and a voice that melts hearts… the natural consummation of a life of travel, underwater fishing, and the pursuit of elegance in food, wine, and the higher planes of thought."
The book features song lyrics in Kevin's own handwriting along with loads of glamour shots, family photos, collages, musings (my favorite: "the best amount of anything to hold is too much & too many"), concert flyers, news clippings, quotes from friends, and recipes that are as delightfully bizarre and boozy as you'd expect from the Champagne Cowboy, like this failsafe recipe for a good time, or utter disaster:
Breakfast After a Speeding Night:

Two or three glasses of best Champagne
5 mgs Valium
A close friend
Go to bed
Ayers was born into a world where his beloved Valium had yet to exist, champagne was scarce, and the peace and love soon to be exalted by his generation were under siege by Nazis and fascists. Peace and love were also in short supply in the Ayers household, and at age 6, Kevin departed Kent, England on a multi-day journey to Malaysia, where his mother started a new life with her second husband, a district officer. Following Malaysia's independence from Britain, Ayers went straight from the beaches and jungles that had become his natural habitat to the grey skies and dreary rigor of British boarding schools. It was here he would discover rock 'n roll, and the first real family he'd ever known in Canterbury band The Wilde Flowers. Soon, along with Flowers drummer Robert Wyatt, he found success in the boundary-pushing, jazzy prog-rock act Soft Machine, penning some of the band's most enduring songs. Galen told me her father taught her, "If you write a song that you believe in and rings true to you, there is a big chance that someone else will also feel that way about that song too. Humans are very similar when it comes to emotional needs." Often the greatest artists are the ones whose emotional needs weren't met – nothing fuels songwriting like longing.
Emotions ran high during Soft Machine's 1968 stateside tour with the Jimi Hendrix Experience, nearly steering Ayers away from the music business forever. He went macrobiotic and sold his bass, horrified by the grind of endless gigging. Fortunately, Hendrix's parting gift to his disillusioned young road-mate was an acoustic Gibson — a gift Kevin soon utilized to pen the delightfully odd ditties that would form his first solo album, The Joy of A Toy. It was the start of a decades-long musical journey that skirted the lines between melody and mayhem, Dadaism and dandyism. Though perhaps a little too melodically oriented for Soft Machine's indulgent jamming, Ayers retained some of that experimental sensibility in his own music. Robert Wyatt told UNCUT, "He was 10 years ahead of punk in seeing no particular reason why one should tune a guitar," and Ayers held onto a similarly skeptical punk rock view of success and its trappings. In the song "Star," he cautions listeners, "Unless you are prepared to die / Don't try / For a star." When I asked Galen what she thought was most misunderstood about her father, she answered, "He never felt the need to explain himself, so I guess he couldn't be misunderstood. He had no real interest in what 'others' thought of him."
Although he refused to court a mainstream audience, it seemed that nearly everyone who crossed Kevin's sandy path fell in love with him. With shaggy blond hair falling over big, emotive eyes, an everlasting tan highlighted by flowing white clothing, a boundless reservoir of knowledge on French wines and the language d'amour, plus that low, sensual voice purring poetic, philosophical pillow talk, Ayers stole away many an unsuspecting rival's significant other, including John Cale (whose misery is graphically immortalized in the song "Guts" as well as his pained expression on the cover photo for their June 1, 1974 live concert album made with Nico and Brian Eno). Most significantly, the wife of the very head of Virgin Records traded her life of luxury to run away with Ayers. His persuasive powers also extended to charming a parade of ridiculously talented, like-minded collaborators into his musical orbit, including original Pink Floyd singer and psych legend Syd Barrett, Mike Oldfield of "Tubular Bells" fame, folk singer Bridget St John, and Patto guitarist Ollie Halsall.
As glam and then punk covered airwaves and audiences in glitter and safety pins, and music became less about earnest creative expression and more about flash, image, and attitude, Kevin's gently strange songs became increasingly further out of step with the times. His manager attempted to dress him up in sparkling glam-y clothes. He looked fantastic in them, of course, but as usual he just wasn't interested in playing the fame game. In between drags on Gitanes and wine recommendations, he told NME in a 1974 article entitled The Kevin Ayers Consumers' Guide to Fine Wines, "I'd start drinking first thing after I'd woken up" and that "At my worst, I really didn't care what followed the first bottle down." The pop-driven eighties found Ayers trading wine bottles for darker dalliances alongside Ollie Halsall, who succumbed to a heroin-related heart attack in 1992 – a heartbreaking loss and a wake-up call for Kevin. After steadily releasing new records every few years for decades, Ayers didn't release another album until what would be his final recording, The Unfairground, in 2007.
For all his island hopping, he couldn't ever really manage to outrun his problems, nor could he outdrink them. Pouring over 15 albums worth of lyrics at once in this new book reveals the full range of Kevin's "blond and twilight dreams," with a few nightmares lurking among them. Ayers projected a breezy island air with lyrics like, "If you're carrying nothing it won't weigh you down," but for every cheeky "Let's go to my chateau" line, there's a heartbreaking pronouncement like, "Only sadness seems to last forever" or "Tonight I'm full of doubts and fears / Looks like another night of tears" that makes it sound like Ayers might have been carrying around a little more than nothing after all. Perhaps unrest is the price to be paid for a bohemian existence, especially in our increasingly un-bohemian times. "Sign away your freedom on some dotted line / Stick to the rules, you're guaranteed peace of mind, babe," he jeered in "That's What You Get." In "Money, Money, Money," he asks a lover pining after "buttons and bows and never-ending clothes," "You get moonlight in the evening / Sunshine by day / That's all you get for nothing / You want more?"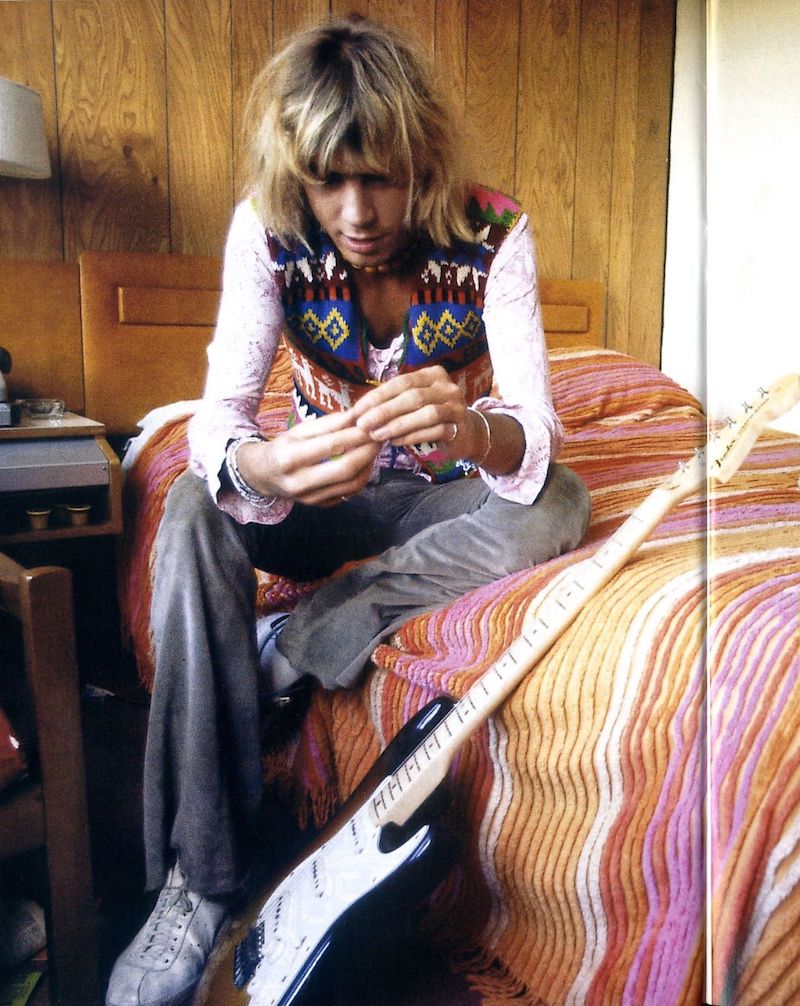 Ayers never really needed much more than that – moonlight, sunshine, love. His "crazy gift of time" ran out when he passed away in his sleep at 68. Galen shares, "I finished the project feeling very proud that despite all the difficult challenges that the different stages of his life presented him with, he still managed to be very prolific and give his fans a steady output of good work. I also discovered that my dad truly was following his star and that there are not many artists out there anymore you could produce such a rich, long book about. I leave this project with a new found respect for the importance of legacy and keeping it healthy and alive for generations to come." words / d kern
'Tis the season. You can help support independent media. Aquarium Drunkard has launched a Patreon page, which allows readers and listeners to directly support our online magazine. Patronage includes bonus audio, podcasts, printed ephemera, and vinyl records.