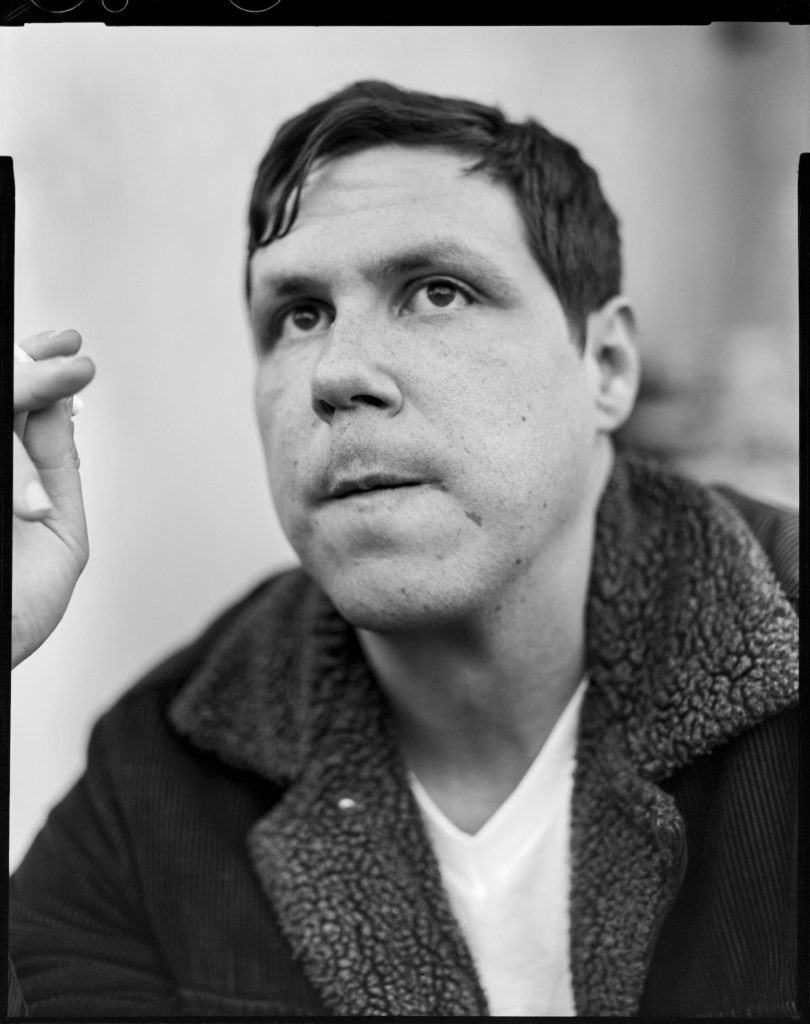 Damien Jurado doesn't like to write setlists. Instead, he prefers to provide a point of departure, choosing the opening song for his concerts, after which he ventures wherever the moment or mood takes him. Thing is, neither the audience nor the singer knows where the journey will end on any given night.
Interviewing Jurado works in a similar fashion. Prepared questions fall by the wayside, giving way to a narrative arc that is seemingly haphazard but also organically fluid. And so it is that we find ourselves in a 13th-century church vestibule in the Dutch city of Nijmegen during Jurado's recent two-week tour through Europe. He's accompanied by partner Robyn O'Neil, a talented and acclaimed visual artist in her own right. Tonight is the first show of the tour, but before we leave our hero stuck in the Dead Zone betwixt soundcheck and gig—idly munching on bits and pieces of the rider and attempting to pick up a strong signal on his phone—there's business to attend to.
What's New, Tomboy?, Jurado's 15th album, is on its way to us May 1st. After the last record, In the Shape of a Storm, the new work signals a small, but perceptible move back to more expansive instrumentation. Thus, the upcoming album provides a sort of halfway house for Jurado's songs, straddling the county line with the colored-in landscape of his Maraqopa saga. Indeed, the ten compact songs that make up What's New, Tomboy? are more sketches than the technicolor dreamscape and the geodesic domes we have recently encountered Jurado in.
The record is preceded here by "Birds Tricked into the Trees," which the singer describes as one of his "rare upbeat songs" during the next evening's concert at De Roma in Antwerp, Belgium (quite possibly one of the world's most beautiful and unique concert venues). Clocking in at a little over two minutes, it displays a directness that manages to be produce one of Jurado's signature observational aural polaroids.
But before we are able to return to the shoreline from the galaxy (to steal a cue from Jurado's own lyrics), we encounter many conversational stiles and checkpoints along our path: why touring is a slog, how Little Richard and the Circle Jerks can be musical lifesavers, coming to terms with the death of a friend and musical partner, moving to LA… and back again, and—finally—why "music to Nick Cave is a dog; music to me is a cat." words / a tobin
Aquarium Drunkard: You've often said in the past that you hate to tour and that you "do it as a 'thank you' to the people that bought the record." Do you still hate being away from home?
Damien Jurado: Very much so. I'm just a homebody. I do see touring as a way to give back to the fans who have given so much to me—in the way of buying records or even covering my material. I'm a music fan too; I'm no different than they are. I know how it is to attach songs to my own personal life, and I know that people do that with my songs—whether it be someone passing away, their son or daughter being born…
AD: Your albums sometimes come with lyric sheets, but more often than not they don't. Are you worried that people will feel the urge to overinterpret your lyrics if they're printed out?
Damien Jurado: I think so, yeah. Any time a lyric sheet has appeared with my albums, it's because of pressure from the record label. I think there's something to be said about mystery. In this day and age, there's no mystery anymore. Growing up, from an early age, I bought records by Black Flag and Joy Division. I never understood a word these guys said. Now, of course it isn't like I'm the Butthole Surfers, Big Boys, or Circle Jerks; I think I'm a pretty clear vocalist. There's something to be said about when you listen to a person talk as opposed to when you read along when a person talks. Sometimes at home, Robyn may want to watch TV with the subtitles on, even if it's in English…and I don't. There's something about it that takes away from my listening experience.
AD: Your attention is split between two activities.
Damien Jurado: Yes, and I can't do both. That's actually one of the reasons why, for the most part, I don't enjoy foreign movies. I end up reading instead of listening or watching. When I was a teenager, I didn't really care if a record came with a lyric sheet or not—I never read along.
AD: All of the bands you just mentioned mostly recorded songs that were over in two minutes flat. They said what they had to say, and they moved on. Your recent songs are a lot more compact and shorter than some of the stuff on the Maraqopa trilogy of albums. Is it a conscious decision on your part to refrain from anything all too weighty or epic?
Damien Jurado: It all depends on the song and what the song calls for. I never try to dictate how long the song will be; the song tells me how long it will be. That being said, I think there is something to be said about shorter songs. The first single taken from the new album, "Birds Tricked into the Trees," is just verse/chorus/verse/chorus. That's it. This is kind of embarrassing to admit, but I recently—this last year—got into the Beatles for the very first time. I became a Beatles fan at 47 years old!
AD: That influence comes to the fore on the new album, What's New, Tomboy? Josh Gordon's bass parts, for example, are McCartney-esque all throughout the new songs.
Damien Jurado: But that's the thing: Josh grew up listening to the Beatles, and I didn't. The neighborhoods I grew up in were predominantly black, and the music was either soul music or early disco. We're talking about stuff like Teddy Pendergrass, Chic, Michael Jackson's Off the Wall. Not too long after that, you're hearing Grandmaster Flash & The Furious Five, Whodini…I did hear stuff like [sings the chorus to "Silly Love Songs"] "I… love… you" by Wings. I was more familiar with Wings than I ever was with the Beatles. By 1979 or 1980, I was hearing bands like Kiss, Joan Jett & The Blackhearts…
AD: How were you—as a seven- or eight-year-old—discovering these acts?
Damien Jurado: Due to the neighborhoods being predominantly black, I didn't hear rock 'n' roll music at all. I had a cousin who was about 17 years old, and she was really into glam, into David Bowie, Roxy Music, the Ramones…Growing up in the seventies, you couldn't escape a band like Kiss. Kiss were everywhere, Kiss were like a boy band. Young kids loved Kiss, and I was one of them.
AD: Who was your favorite member?
Damien Jurado: Oh, Ace Frehley. In fact, I just bought an Ace Frehley lapel pin the other day. Dude, do you remember in Kiss, when they all did their own solo albums? That first Ace Frehley record had that song, "New York Groove." Fuck man, that album is so good! To me, it was better than any Kiss album I'd heard at that point. He just had this really cool element of soul and spaced-out rock 'n' roll.
AD: Do you think, growing up, you benefited from the mix of ethnicities around you when it comes to forming your musical tastes?
Damien Jurado: That's definitely the case. I remember being the only non-black kid in my school. The first time I ever heard Little Richard was when I was in second grade. I got a bathroom pass to go to the bathroom, and I walked down the hall. Suddenly, I could hear—I didn't know it then, of course—the song "Jenny Jenny" by Little Richard coming out of this janitor's closet. Instead of going to the bathroom, I followed the sound of Little Richard's voice. "What the hell is that?" So at that point, I was just really, really interested in being submerged in the sounds of music.
By the time I got to be a teenager and had moved to Seattle, I first heard hardcore music. I was like: "This… is… amazing!" It was short, it was so fast. Right before I discovered hardcore, I heard Metallica for the very first time. I thought that was the hardest thing I'd ever heard. Master of Puppets had just come out. And just two months later, I was in a friend's bedroom, and I heard Damaged by Black Flag. Then I heard Golden Shower of Hits by the Circle Jerks. And I was…floored. I was like: "Fuck Metallica! This is the shit!" Hardcore was quick, it was fast. They were talking about being poor and having no money, and the government's horrible. I believed them! "My parents don't get me, my peers suck." This was my kind of music.
AD: And it was very direct, honest music that punched you in the gut. How much of what you write contains those transparent autobiographical bits and pieces of yourself?
Damien Jurado: For the most part, there is me coming from the standpoint that I was the filter in which these songs show up in. I can't say that I personally identify with most of the things that I sing about—I don't for the most part.
AD: After 33 years, you left Washington and moved to L.A. Now you're back, living north of Seattle. Was there any sense of feeling like a fish out of water in California?
Damien Jurado: I was ready for that move. I was ready for a new location. I was ready for a whole new experience, life, love…and story. A new chapter, a new beginning. I was only a fish out of water because it was summer every day. That was odd. But I really wanted to be there. You've got to imagine this: I got rid of all of my shit—everything I owned—and just moved. Everybody was like: "What are you doing?" Well, I knew what I was doing. I knew why I left.
AD: And now that you're back in Washington, is there any sense of "I told you so" from these people?
Damien Jurado: Most of them don't even know I'm back. Well, they will now! And that's fine. I don't care what they think. I'm not even back living in Seattle; I'm living outside of Seattle. I want to be clear about this: I loved California. If you would've told me five years ago that I would move to California, I would've thought you were crazy. I was the kind of musician where, if I was playing a show in L.A., I would immediately get the hell out of there after the show. I'd drive to San Francisco if I had to, to get out of there. Number one: As a Washingtonian, you don't really like California anyway. Number two: It's just not what I'm used to. It never ends, it's busy, it's crowded…You're living in your car. It's a nightmare to get anywhere. I could never connect with Los Angeles like I could with Chicago or Minneapolis.
AD: One of the reasons it was undoubtedly good for you to be down there is that you were closer to where you currently do your recording, Sonikwire Studio in Irvine. And although you never work with a large Robert Altman-type cast of characters when recording your music, you always seem to thrive when closely collaborating with someone. Recently, of course, that was Richard Swift, and now it's Josh Gordon. Do you find bouncing ideas of one another to be a fruitful process for you?
Damien Jurado: I think so. Historically speaking in my life, I've always done better when I have someone else to spar with—not just in music. With Robyn, I do have that sparring partner who I can bounce ideas off of. Growing up, I never had a lot of friends. I always had one, maybe two at the most. Creatively speaking, it's the same. Richard [Swift] and I were very different. We were also very much alike, especially on the music level. And there's nobody like him at all. He was crazy, he was a godsend. But with Josh, it's next-level. Richard and I sparred on this level, with production and creativity. Josh comes in at a soul level, and I refer to him as being my "interpreter." If I have something to say to the world, but I don't really know quite how to say it, Josh will figure out a way.
AD: How long did it take you two to develop that kind of sixth sense when working together?
Damien Jurado: Not long at all. When you meet your soulmate, you just know. You can communicate on a level that you don't with anyone else. To have that on a creative level is so incredible. But again, like with Richard, Josh and I are very different people. Josh is all internal thought, and I'm like the heart. The brain and the heart are very different functions, but they work together. That's what Josh and I are. I am the heart of this operation—the core, the center—but Josh has a way of being technical and on task that I could never go to.
AD: So he's like a conduit?
Damien Jurado: He is a conduit, yes. He is my translator; he is my filter.
AD: OK, stick with me on this one, but as weird as this may seem, your recent albums remind me a little of the way the Velvet Underground progressed. After leaving Maraqopa, the John Cale-like figure has left the band, making way for Doug Yule. And the sound changes: It's less experimental. The Exploding Plastic Inevitable years have passed. It's the same band, but different—reborn in a way.
Damien Jurado: Wow, that's a very correct assessment. It's very spot-on.
AD: We need to talk about the singing on this album is some of the best I have ever heard from you. You're very up in the mix.
Damien Jurado: Very much so. Josh would say uncomfortably so. See, I spent so long living in a cavern with Richard. That's cool, but you don't know what you sound like, what your own voice sounds like. When Richard passed away, I got very familiar with my internal voice. The difference between this album and other albums—not just in production or sounds—is that this is a record coming from an introvert. Maraqopa, on the other hand, is very extraverted. The whole trilogy is very extraverted. The Horizon Just Laughed is a mixture of both of those things: "Florence-Jean" is very extraverted, and you have things like "The Last Great Washington State" and "Lou-Jean" which are very introverted.
This album is a very introverted record. My internal voice is a million times louder than my external voice. One of the things I deal with…I have these manic episodes where it's like my voice is so loud in my head, and it's the only thing I can hear. I thought, production-wise, wouldn't it make sense to make a record that reflects what I'm hearing in my head? My voice is the loudest thing in the mix. But I also knew I wanted to do things differently with things like the bass. I love the bass guitar—why not have it as a lead instrument, maybe double it?
AD: It's very much playing a melody part.
Damien Jurado: Yes, it is, and that very much has to do with Josh. Again, what he brings to this album… it floors me. He's such a talented player. Richard was too. Richard was an insane musician, but Josh is as well. They're very different musicians and very different artists.
AD: There's a track on What's New, Tomboy? about Richard ["Ochoa"–Richard Swift was born Ricardo Ochoa]. Is that one going to be tough to sing live, or are you able to disconnect yourself from the words that come out of your mouth?
Damien Jurado: I try sometimes to disconnect from my own posture, but I don't think it will be hard for me to sing it. I think it would have been hard had I sung it six months ago. That's not to say I'm over grieving. I'm not over grieving. I've been grieving Richard since before he passed away. That hasn't stopped. I think, if anything though, that I'm able to come to peace with it. I'm now aware that I'm not just singing it about him; I'm singing it to him directly.
AD: You've said you listen to a lot of music, but nothing that could be classified as "singer/songwriter." And you also don't read fiction at all. Are you afraid other people's methods of storytelling will unduly influence your own?
Damien Jurado: Hell yes. The advice I give to upcoming singer/songwriters—and they always ask the same thing—"go home and delete or throw away anything with an acoustic guitar on it… immediately. Do not listen to that fucking music!"
AD: I've actually wondered… You've been remixed before, you've done Kraftwerk covers, etc. Have you ever been tempted to go the "full electronic" for a project?
Damien Jurado: I would love to, but it's not who I am. Here's my analogy about me and about listening to other music "outside." It will never have a chokehold on what I do creatively. What I do creatively, it is "home." It's who I am, and, oddly enough, it happens at home. If I'm listening to a Kraftwerk record or a Miles Davis record or a Grateful Dead record, that's almost like stepping outside of the house and going to work and you're conversating with all of these people that you have a surface-level relationship with. All of these bands are very surface-level to me… but when I go home, to my wife and kids and the cat, all I'm left with is us and me. And at the end of the night, when Robyn's asleep, all I have is me and my own voice. It's also just knowing that this stuff is cool, but it's not who I am. It's like having a bunch of friends who you have nothing in common with, but you love hanging out with them.
AD: It's like seeing a beautiful painting, and you can enjoy it for what it is, but you have no aspirations to pick up a brush.
Damien Jurado: Exactly! I may love Picasso, but I have zero interest in becoming Picasso. Because… at the end of the day, I'm not Picasso, I'm… Jackson Pollock.
AD: You just mentioned the end of the night. Is there a certain time in the day or night you feel the need to put pen to paper and write? Or even a routine?
Damien Jurado: [to Robyn] You should answer this question!
Robyn O'Neil: It's so sporadic and unpredictable. Damien had just gotten back from his last tour, which he was on with the comedian Nick Thune, and I could tell he was sort of in a writing mode. That just means he's a little bit distant—not in a bad way. You can tell there's something else going on, and he's never rude. It's almost like he's living with another person in his body. Apparently, at 3 AM that night, he woke up and wrote an entire new song. He played it for me the next morning. I had no idea he even got out of bed. Oftentimes, it happens after a drive or at the grocery store. It comes out of nowhere, but when it happens, that's the only three minutes it's ever going to happen. If he doesn't do it then, it might be lost.
Damien Jurado: I always say this: In order for my songs to show up, I have to avoid the process as much as possible.
AD: So you're not like Nick Cave, who—and I realize I'm simplifying slightly here—will go to the office daily, get behind a typewriter, and sit there from nine to three banging out songs.
Damien Jurado: No! [Laughs] Nick Cave and I could not be more polarized. It is like heaven and hell, fire and ice, water and oil. I think Nick Cave is an amazing songwriter, and I have the utmost respect for him. I will say that until the day I die. One of the most insane performers, frontmen, I will ever see. But where we split…Music to Nick Cave is a dog; music to me is a cat. My songs show up when you ignore them; his songs seem to show up when he entertains them. [Clicks fingers] "C'mere boy, c'mon." He sits down at the typewriter. That's him calling the dogs in, and they show up, and they worship the ground he walks on. Me? We have a cat. Our cat Frankie…You could say: "C'mon baby," and the cat will just look at you like you're a total idiot. But the moment you just ignore her completely, turn the TV on, she will just hop on your lap and love on you. That's how it is for me. The best thing for me to do is just go to the grocery store, pick up some prescriptions, do the laundry, cook a meal, go be busy. If I don't, the songs will never happen.
AD: Well, you know, like the saying goes: "Dogs have owners, cats have staff." You're basically in the service of the song.
Damien Jurado: I am a full-time employee, but I am always on call. If that means waking up at three o'clock in the morning, to go into the living room, then that's what I have to do. My songs are also demanding. I have rarely had a song appear when I'm on a tour. My songs demand that I get my ass home. I write best when I'm watching a cop show on TV or videos of someone giving instructions on how to build a camera. Or walking down the cereal aisle, listening to the conversation of the person in front of me at the check-out line, watching the butcher put away the meat.
AD: The mundanities of daily life.
Damien Jurado: The most mundane things…that's where the magic happens for me.
AD: Finally, the last time I talked to you, you were enthusing about the self-titled Jim Sullivan album on the Playboy label, which was still very much a "lost" album at the time. It's since been released by the good people at Light in the Attic. Are there any other lost or hidden gems you'd like to turn Aquarium Drunkard readers on to?
Damien Jurado: Yes! Shira Small. She has a song on the Ladies from the Canyon compilation. There is an album that she put out [1974's The Line of Time and the Plane of Now]. Oddly enough, I recall reading that it was a student project. I don't know where she was living—somewhere on the northeast coast. It was her and her teacher, and they made this album. I think she was a teenager, 15 or 17 years old. I want to say they pressed maybe 50 copies. That was it. Someone uploaded this so hard-to-find record on YouTube. I know that Numero Group has access to it, because they put one of her songs on the Ladies from the Canyon album. And I was obsessed with that song. I played it over and over. If Numero Group or Light in the Attic or someone came to me and said: "What album should we put out?" I would say you need to put the Shira Small album out. Immediately! I love this album. It's so unique and beautiful, her voice is cool. Think Carole King, Laura Nyro, and Nina Simone, but as a teenager. It's the craziest album. It must be good if I took the audio from YouTube, which is horrible. The world needs to hear this.
Keep listening: The Lagniappe Sessions :: Damien Jurado
New decade. Dig what we do at Aquarium Drunkard? Help us continue doing it by pledging your support via our Patreon page. Doing so will get you access to our secret stash—including bonus audio, exclusive podcasts, printed ephemera, and vinyl records—and help us keep an independent publication going.