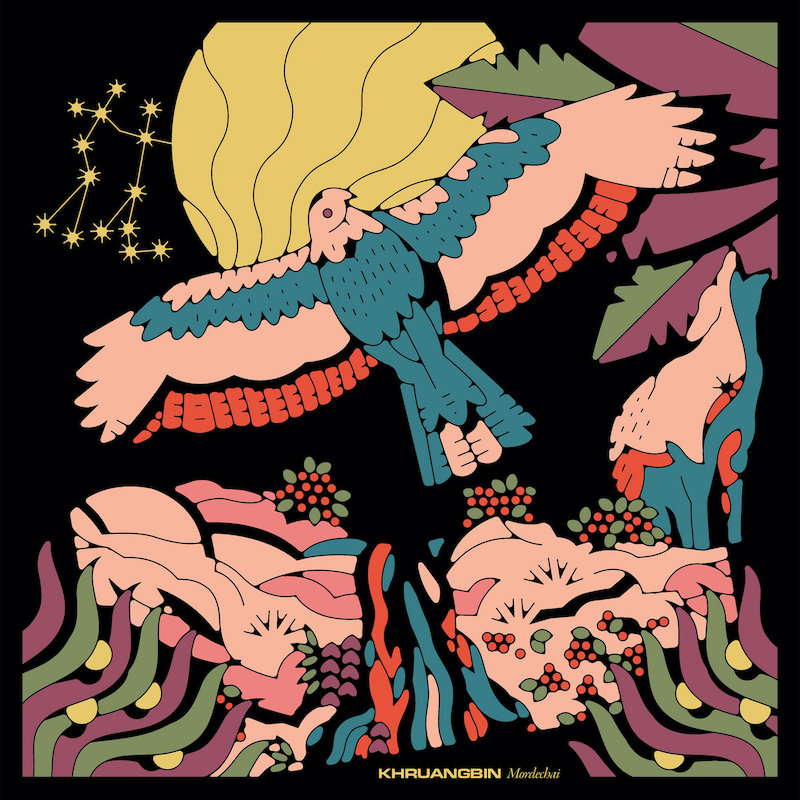 On the heels of this year's collaborative Texas Sun EP with Leon Bridges (featuring the ecstatic title track that no doubt soundtracked countless pandemic road trips this summer), the globe and genre-trotting Houston three-piece Khruangbin recently returned with Mordechai, their third and most adventurous album yet.
From the very onset it's clear this is a new and different Khruangbin. After the pealing vibes and languid groove of "First Class" (a worthy daylight companion to Suicide's "Diamonds, Fur Coat, Champagne") dissipate, "Time (You and I)" finds Laura Lee stepping into the spotlight. Now Laura Lee Ochoa, she leads the once primarily-instrumental trio effortlessly into new territory, an undeniably catchy sort of serpentine and multilingual ESG-style funk. But Khruangbin remains truly a sum of its parts—Ochoa's rollicking bass lines, Mark Speer's mystifying guitar playing, and the metronome-with-unfathomable-soul that is drummer DJ Johnson.
"Connaissais de Face" resembles the group's earlier widescreen cinematic work, though with a newfound bag of narrative tricks—imagine Hailu Mergia scoring Paris, Texas's climactic scene. "Father Bird, Mother Bird" and "One To Remember" continue the dub workouts of Hasta El Cielo (a dub version of their second album Con Todo El Mundo, featuring two additional touchstones from Scientist himself), while the ethereal washes of "Dearest Alfred" brings the devotionalism of familial love into the fold.
All three members contribute to vocal duties throughout Mordechai, but the self-adherence of "If There Is No Question" alludes to the album's backstory rooted in a rejuvenating hiking trip with a near-stranger and his family that culminated in Lee's transformation into Ochoa: "You're wild / But you're not crazy" she tells herself. Prefaced by its own seemingly leftover dub trills that make up "One To Remember," the quiet transcendence of "So We Won't Forget" is where Mordechai soars highest—an ode to memory ("Never enough paper / Never enough letters / So we won't forget") with Ochoa's sugarcane vocals floating above Speer's melancholy desert-baked fingerpicking and a bevy of airy percussion, synthesizers, and pedal steel. 
Hinging on the eternal difficulty that comes with incorporating memory and experience back into your regular, real life, Mordechai presents a truly reborn Khruangbin—reinvigorated and pushing their own boundaries, more emotionally direct and self-assured than they've ever been, and with a newfound sense of purpose and place for their wandering workouts. | k. evans
Aquarium Drunkard is powered by its patrons. Keep the servers humming and help us continue doing it by pledging your support via our Patreon page. For heads, by heads.