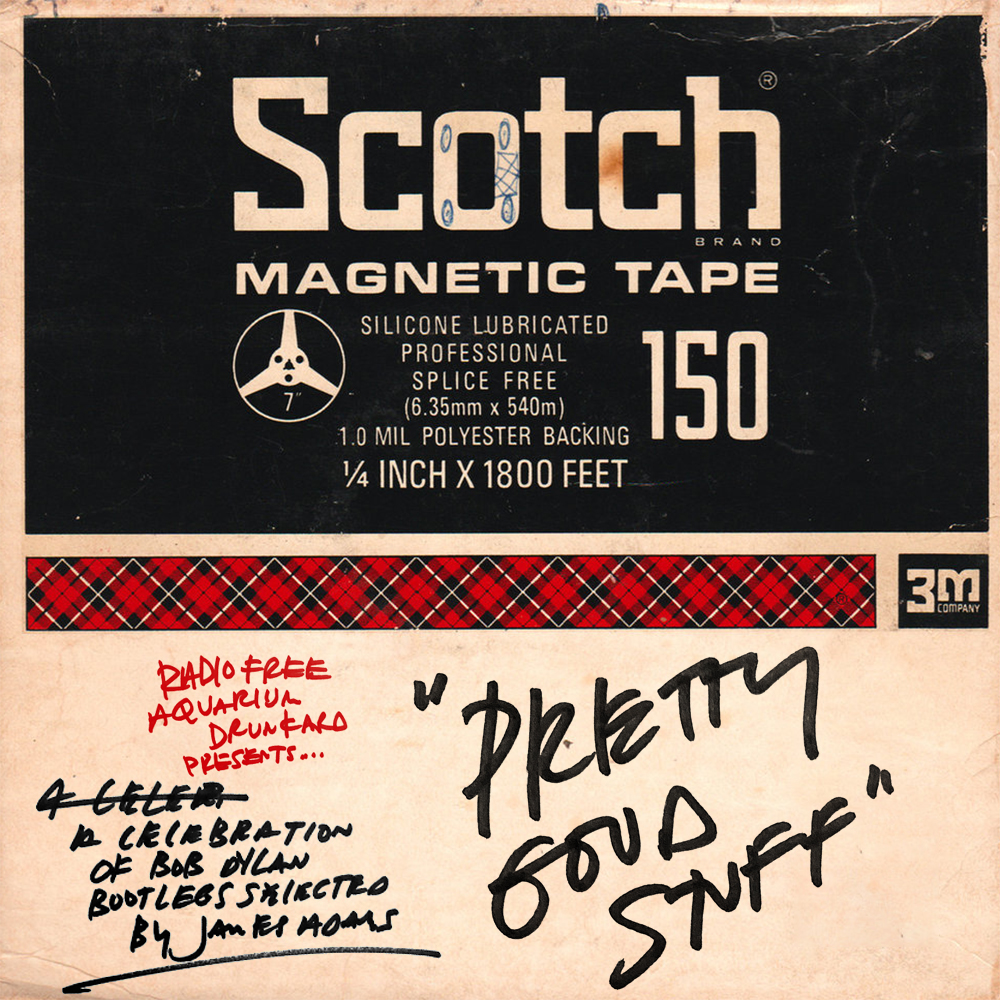 Pretty Good Stuff: Dylan historian James Adams' hour-long, monthly, program diving deep into the depths of all things Dwarf Music. Listen to the show below, and to explore further, support our Patreon for the individual tracks and more.
Bob Dylan :: Pretty Good Stuff | Episode 10
00:00 Tomorrow Is A Long Time (1987-10-17, London, England)
04:10 DJ talk over Heart Of Mine (1987-10-17, London, England)
06:42 Every Grain of Sand (1981-11-21, Lakeland FL)
11:04: Tryin' to Get to Heaven (2000-11-19, Towson, MD)
15:57 DJ talk over Trail of the Buffalo (1991-11-20, Charlottesville, VA)
17:44 Love Minus Zero / No Limit (2005-11-27, Dublin Ireland)
22:58 Ballad of a Thin Man (1978-12-16, Hollywood, FL)
28:31 DJ talk over It's All Over Now, Baby Blue (1995-12-17, Philadelphia PA)
33:01 I Believe In You (1979-12-09, Tucson, AZ)
38:59 I'll Remember You (2002-11-22, Fairfax, VA)
44:03 DJ talk over Mama, You Been On My Mind (1992-11-15, West Palm Beach, FL)
47:25 To Ramona (1980-12-04, Portland, OR)
51:24 DJ talk over Sugar Baby (2001-11-24, Boston, MA)
55:24 North Country Blues (1974-05-09, New York, NY)
1:00:49 Pretty Boy Floyd (1988-12-04, Oakland, CA)
1:04:25 DJ talk over Once Upon A Time (2017-11-25, New York, NY)
1:07:18 It Takes A Lot To Laugh, It Takes A Train To Cry (CUT) (2019-12-08, Washington, DC)
1:09:41 Out
Aquarium Drunkard is powered by its patrons. Keep the servers humming and help us continue doing it by pledging your support via our Patreon page. For heads, by heads.