Jerry Jeff Walker showed up in Austin, TX in the early 1970s having already drifted through just about everywhere else. He'd found the perfect setting for the semi-mythic character that he'd long honed on stages and on the road. He then proceeded to live the myth fully for the next fiftyish years, and lived it right into his passing this October.
New York-born, folk scene-bred–with Florida, New Orleans, "Mr. Bojangles", and passing glimpses at success along the way–Walker's approach was unconstrained by much of what had been played in honky tonks and dancehalls in Central Texas up until that point. But he intuited that no matter what it was, it had to be just as good to drink beer to and to sweat your ass off dancing to.
I Got My Irons In A Fire Down In Texas (scroll for playlist/provenance)
Upon arrival he quickly invented what a country record from Austin was supposed to sound like. Introduced on 1972's s/t on Decca, then refined over eight more albums released over the remainder of the decade, the sound that he and his bands created was as loose and rangy as it was dynamic. The trick he figured out was taking the studio to where the tunes were happening, rather than taking the tunes to the studio. What better way to capture the atmosphere of a Hill Country dancehall on a hot summer Saturday night than to record an album in one on a hot summer Saturday night. So when the label asked him to record an album in New York, he went to New York, found a mobile recording truck, had them drive across the country to Luckenbach, met them there, and started recording.
Each of those albums from the 1970s are represented on this mix. The first half is filled with the rowdy ones – this is music for roarin' into the late night. These are the good-timin' songs that animated the infamous live shows, where his goal was to get "unconscious," as he once told Roy Blount, Jr. More often than not, he (and the audience) succeeded. The back half slows down considerably – these are the quiet ones and the weepers for the late, late night. These are the ones he'd sometimes try to play before those same hootin' crowds, and the ones that caused him to cuss them out and stomp offstage when they wouldn't stop hootin'.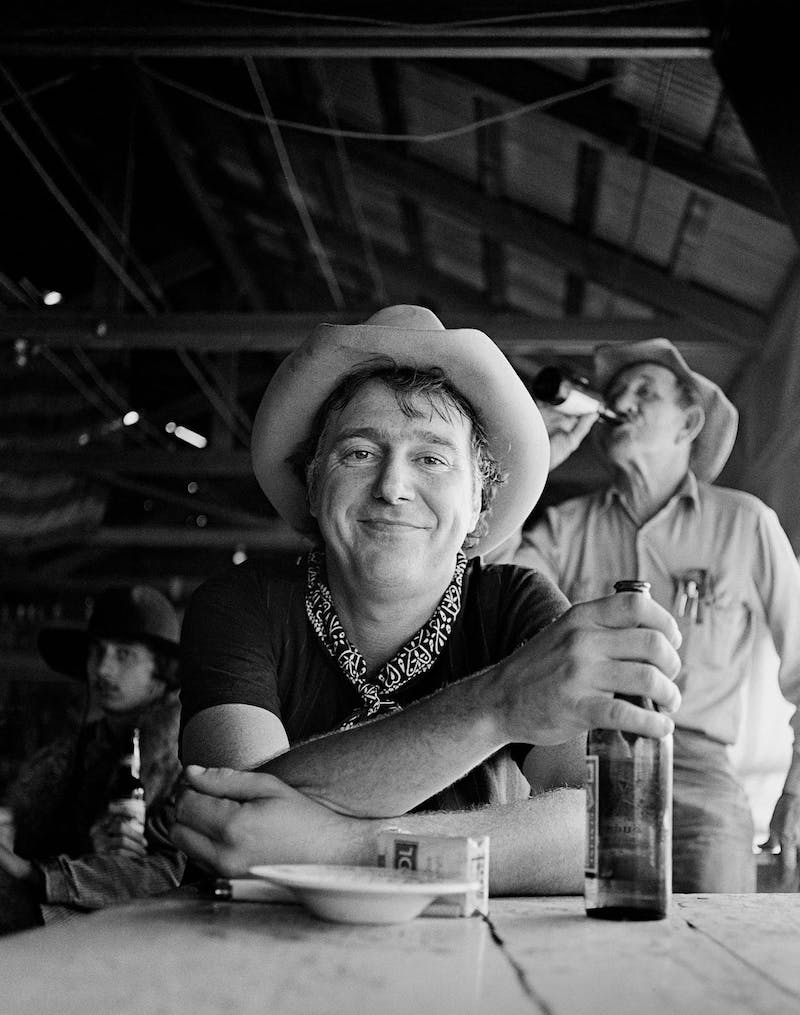 The impact of Jerry Jeff's first decade in Texas is still reverberating around the state. If you grow up down here and you've got the slightest bit of interest in country music, someone is going to pass you one of these records. Might be your folks, or an older sibling, or the guy at the record store, or the head at your summer job in high school. He is one of the few that everyone can agree on.
He was a fine songwriter who sounded most at home in other peoples' songs, even when he didn't get their lyrics quite right. He had an expressive voice that sounded best at its most brokedown and frayed. Somehow, he was as Texan as anyone. It'll never quite add up, but it doesn't need to. As he sings on "Hill Country Rain," the first song of the first side of the first record he released as an Austinite – "It's something that I can't explain." | w furgeson
Public Domain (B. Livingston) | Gettin' By (J. J. Walker) | Roll On Down The Road (G. P. Nunn/B. Livingston) | Old Nashville Cowboy (R. Killough/B. E. McClelland) | Pot Can't Call The Kettle Black (B. Callery) | Stereo Chickens (M. Wilson) | The Heart Of Saturday Night (T. Waits) | Salvation Army Band (J. J. Walker/M. Carroll) | Don't It Make You Wanna Dance (R. Wier) | Hill Country Rain (J. J. Walker) | Little Bird (J. J. Walker) | We Were Kinda Crazy Then (S. Clark) | Old Time Feeling (G. Clark) | Mississippi You're On My Mind (J. Winchester) | Comfort and Crazy (G. Clark) | One Too Many Mornings (B. Dylan) | Hands On The Wheel (B. Callery)
For heads, by heads. Aquarium Drunkard is powered by its patrons. Keep the servers humming and help us continue doing it by pledging your support via our Patreon page.