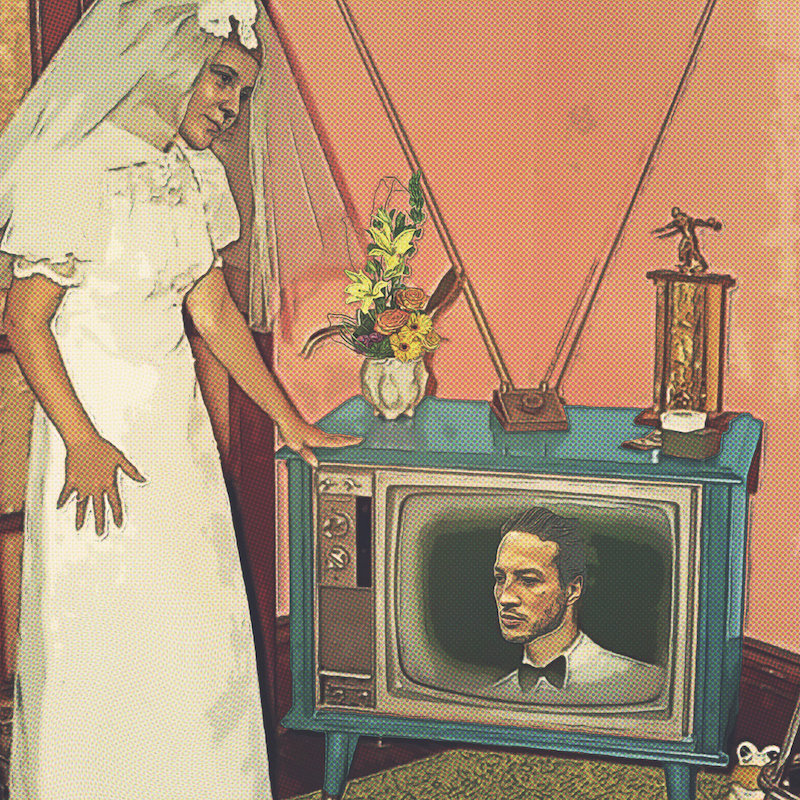 After fortuitously coming across the music of the Kacy & Clayton and realizing they were a current act, not some glorious dissipation from the past, the New Zealand musician and actor Marlon Williams—that's him singing "Pretty Woman" in the recent A Star Is Born remake—soon found himself 8,000 miles away from home, recording a collaborative album in the middle of a brutally cold winter on the Canadian prairies. An unlikely but innate addition to the pair of second cousins and their crackshot backing band, Plastic Bouquet is a natural evolution of the sound Kacy & Clayton have been refining across a handful of albums since 2013—a timeless rural amalgamation of '60s British folk, classic American country, and slight, faded psychedelia that has been especially realized on their most recent pair of Jeff Tweedy-produced LPs. 
Chronicling rural tragedies, shifting mental health, and the travails of love, Plastic Bouquet is built on shared sensibilities. Splitting songwriting and trading lead vocal duties, Williams makes the perfect foil for Kacy Anderson (and vice-versa)—their distinctive and otherworldly voices buoying each other as Clayton Linthicum ditches his usual occasional appearance on vocals to hold it down on a bevy of instruments alongside Andy Beisel on bass guitar and Mike Silverman on drums. Linthicum's playing as diverse and awe-inspiring as ever—from mind-bending fingerpicking to electric, landlocked Richard Thompson licks—devotees will be overjoyed to hear him let loose a bit more than usual. (One can't help but selfishly thrill at the prospect of hearing him stretch out with some solo guitar material when the acoustic fireworks on the jaunty and tragic title track kick in near the end.)
Sheer moments of sublime beauty are scattered about the briskly-paced album, like "Arahura," a New Zealand companion to Kacy & Clayton's earlier "The South Saskatchewan River." Williams's voice at its most mournful, communing with his ancestors and the river known for its pounamau, Anderson provides the siren harmonies while the band steadies the ship. An Augie Meyers organ paves the way on "I'm Unfamiliar," showing just how easily the outfit can slide into rootsy late '60s, early '70s version of American rock in the vein of The Bobby Fuller Four or People Like Us-era The Mamas & The Papas when they want to. "Would you tell me what the winter's like down in the southern hemisphere?" Anderson prods Williams, an exaggerated (or maybe not?) document of the album's creation.
Linthicum's crying pedal steel lifts "I Wonder Why," an impossibly catchy earworm featuring Williams's voice as lithe as ever, and "Old Fashioned Man" finds Anderson in the wheelhouse she's made a career of—a she said, he said kiss goodbye that is the album's most explicitly country moment, even as it brilliantly skewers the genre's patriarchal tropes, all set atop Linthicum's Chet Atkins runs and an ever-changing barroom background. "Last Burning Ember" brings smouldering Emmylou Harris & The Fallen Angels vibes and a stirring electric solo from Linthicum, while "I'm Gonna Break It" recalls Kacy & Clayton's homeland heroes Ian & Sylvia Tyson. "I've been waiting for the rain / To come down on me and justify my mood," is how Anderson introduces the twisting travelogue, her voice soaring atop lyrical fingerpicking and breakdowns of honky tonk piano and pinging cymbals.
A brief bit of studio chatter introduces the intimate closer "Devil's Daughter," which finds Williams and Anderson singing fully together over delicate acoustic guitar and sparse bass and percussion. Recalling Kacy & Clayton's traditional The Day Is Past & Gone and the mellowest parts of Williams's solo albums, this stunning closer stands in for the album as a whole—a communion of like souls from worlds apart, coming together for a thrilling new beginning built on foundations laid decades before. | k evans
'Tis the season! Aquarium Drunkard is powered by its patrons. Keep the servers humming, snag some exclusives, and help us continue doing it by pledging your support via our Patreon page. For heads, by heads.