(…the latest entry of 'blanks and postage'—author jesse jarnow's irregular column for aquarium drunkard highlighting the fringe and beyond.)
Sanjay Mishra's colleague warned him about the corporate spies and that he should be careful. The call for an appointment had come from Washington, DC's Four Seasons hotel, and only corporate spies stayed there. It had to be somebody from DuPont, maybe Exxon. "We're sending them to you, can you deal with it?" his colleague asked. As public information director of Greenpeace, he'd dealt with their like before.
But then the job got easier. Down in the lobby, Mishra recalls, "I see this person walking towards me and I'm like, holy shit, that's Jerry Garcia. That's no corporate spy."
It was July of 1994 and the Grateful Dead were in town playing two sold-out shows at R.F.K. Stadium. Garcia–who'd been playing Greenpeace benefits since the mid-'70s–was tagging along with his wife on a research trip to the organization's national office on U Street.
They talked for a while about environmental issues. But Mishra had to bring it up. "Do you have a CD player?" he sheepishly asked the Dead guitarist. "He just kind of gave me this little half-grin," Mishra recalls, and passed Garcia a copy of The Crossing, his independently released debut album.
A few days later, Garcia got in touch with Mishra and asked if Mishra was signed to a label. "Don't sign anything," Garcia told him.
"That's really easy!" Mishra told him. "I've been doing that very well for years."
Garcia almost immediately offered to play with the younger guitarist. The exchange began an all-too-brief creative partnership between the two, resulting in Garcia's appearance on three tracks of Blue Incantation, Mishra's 1995 album. This January, Jerry Garcia Music Arts released Front Street Outtakes, three unvarnished takes from the December 1994 session. And though the music doesn't reflect Garcia at his peak, it shows him still pursuing new musical directions, even as he struggled with the heroin addiction and physical ailments that contributed to his death the following year at the age of 53.
"I've been waiting for you for 30 years," Garcia told Mishra.
"Really?"
"Well, I haven't exactly been waiting," Garcia laughed, "but it's what I've been wanting to do."
If the pair's meeting was fortuitous, their partnership was hardly unfounded. Born in India, Sanjay Mishra had moved to the United States in the late 1970s, studying classical guitar at the Peabody Conservatory of Music in Baltimore in the early '80s. He was an incredibly accomplished player.
The relationship opened up on the phone, where Mishra asked Garcia why he wanted to play together. "It's the right middle ground," Garcia told him. "I can't do the traditional stuff."
"He was smart enough to know that traditional Indian music was a whole world unto itself, ragas, talas, classical music," Mishra says. "It has a whole tradition. He had that respect, which is that you don't just dabble with it."
The music Garcia heard on The Crossing was a true fusion. While Mishra did play the sitar, he wasn't a sitarist. "I'm not an Indian guy playing a sitar with a turban," he says. "I'm playing a nylon-string guitar that I studied in America. I would show up at little events that I would get invited to play, like people's houses, and there would literally be a groan of disappointment because they thought I'd be bringing a sitar."
Though he played nylon-string classical guitar, Sanjay Mishra was kind of a shredder, nimble and exploratory, outfitting his guitar with MIDI, experimenting with beats, synth pads, and more. Mishra sent Garcia some tapes on the road, "but I don't think he actually listened to them. But we would talk a lot. He was a lot more interested in talking. I think the guy came from a place of so much knowledge that if he talked to me about the music, he thought it would help more."
That Jerry Garcia was even playing with another guitarist was notable. Between the start of the Grateful Dead in 1965 and his death 30 years later, Garcia played with more than 400 other musicians according to the most recent tally by JerryBase. But, once he plugged in and left the bluegrass scene mostly behind, Jerry Garcia didn't really work with a lot of other lead guitarists.
He certainly jammed in San Francisco clubs, and various gunslingers came to sit in with the Dead over the years. Occasionally, Garcia would show up and play with Santana, Los Lobos, or another act with a notable guitarist. But in the studio, as a guitarist, Garcia collaborated with mandolinists, pianists, vocal jazzers, bio-synthesists, saxophonists, songwriters, and more. There are a few Planet Earth Rock and Roll Orchestra sessions jamming with Jorma Kaukonen (plus Garcia's production assistance on Surrealistic Pillow), but when he paired up with other lead guitarists, he would mostly play one of his secondary instruments, like his great pedal steel contributions to Link Wray's Be What You Want To in 1973. (One notable exception is his two-night session with Tony Rice in 1993, recordings never meant to be released.)
After meeting in July, Mishra and Garcia arranged a session in December at the Grateful Dead's Club Front studio in San Rafael. Mishra arrived in the Bay Area the day before and headed to the Oakland Coliseum, where the Dead were finishing up a four-night run and Garcia left tickets and passes. Mishra navigated the small backstage city before Dead keyboardist Vince Welnick pointed the way towards Garcia's trailer, far away from the hubbub, down a long passage, and guarded by a group of surly bikers that wouldn't let Mishra inside. When Garcia popped out, he led his young collaborator onto the side of the stage, with instructions for the monitor engineer to give Mishra a pair of headphones with Garcia's monitor mix.
The next day, December 14th, Misha headed for Front Street with his then-girlfriend along with the bassist in his band, who didn't play but was there to roadie for the day, act as a witness, and to help Sanjay to keep from flipping out. "In the moment, my anxiety level was through the roof," the younger guitarist admits.
The equipment crew hanging out at Front Street didn't help matters, greeting Mishra with their usual crossed arms and raised eyebrows. At least until the boss arrived and the 'quippies snapped to attention and became as helpful as possible.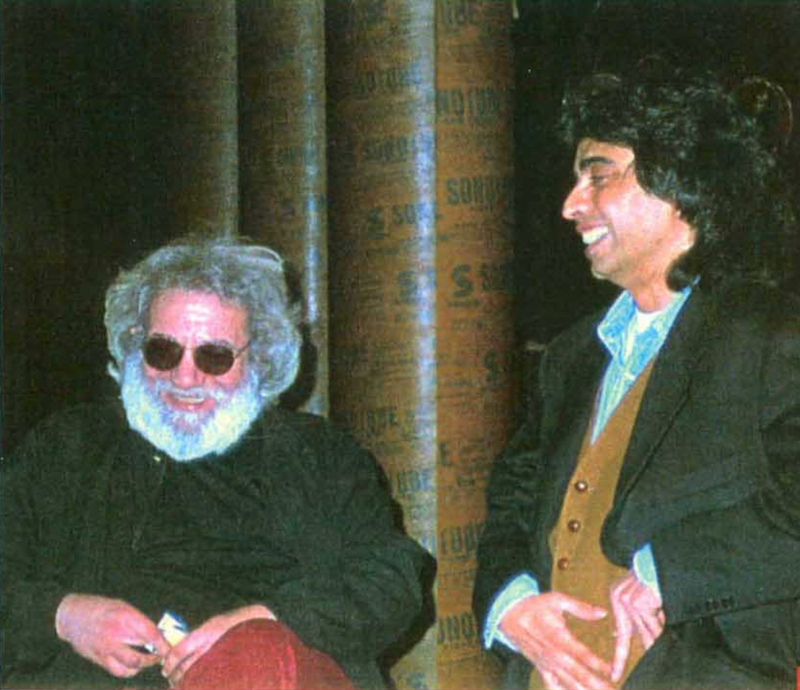 "It looks like a mess because we're moving," Garcia apologized. It was one of the final proper recording sessions–perhaps the last–at Club Front. The Dead had moved into the canal district warehouse in the early '70s, originally using it for storage and occasional rehearsals before Garcia built it into a functional recording studio while making the Jerry Garcia Band's Cats Under the Stars in 1977. But in late 1994, the Dead were packing up to head for a former Coca-Cola bottling plant in Novato.
"I was so overwhelmed by his generosity," Mishra remembers. "I said, 'if there's anything I can do, let me know. Can I pay for the session?'
"He kind of jokingly said, 'Just bring some tape.' But I was really nervous and I took him literally. I carried, I think, four spools of two-inch [24-track] tape in a backpack, which weighs a ton, through all the checks and everything. I didn't want to take any chances with checking it. I showed up the studio with four reels of tape and he's laughing his ass off saying, 'Sanjay, Sanjay, even in the Wild West, we have tape.'"
Garcia did his best to alleviate the tension. "Jerry sort of put it across, like, 'what's wrong with you, stupid? It's about the music. What are you not getting about this?"
Along with a recorded tabla rhythm, Mishra laid down his parts to the songs, "so we could listen on the headphones. He wanted to talk a lot, and we talked through the changes."
At first, Garcia brought out his headless black Steinberger guitar and worked through the tunes. But then something registered with him. "I want to play Wolf," he said, his mostly-retired Doug Irwin custom guitar originally built in 1973, played especially during the Dead's deep jamming years of '73 through '75, outfitted for MIDI in the late '80s, played sparingly in the '90s, and–at that particular moment–in an equipment truck en route to the next Dead show in Los Angeles.
"They already had cell phones, the kinds with antennas and big boxes" remembers Mishra. "And someone called and told Jerry, 'The trucks are already past Monterey by now,' and Jerry just said 'I want that guitar.' And so they stopped the trucks and Steve Parish had to get on a motorcycle and go get the guitar."
Pictured on the front cover of Front Street Outtakes is Garcia's set-up for the session. On the guitar stand is the familiar sight of Wolf. (Though the release's liner notes say the guitar is Eagle, an earlier Doug Irwin iteration, the photo is certainly Wolf, with its asymmetric body, distinct fretboard inlays, and twin inputs.) It's also entirely possible that it's the last time Garcia played the guitar, not seen onstage since the Dead's jams with Ornette Coleman in early 1993, and not seen after. Despite having spent the previous half-decade experimenting with MIDI, Garcia's tones on Blue Incantation aren't exactly clean, but nor are they the surrealistic digital extravaganzas that colored the Dead's own "Space" segments. The newest versions of the material, on Front Street outtakes, dial back Mishra's own MIDI and "all the cheesy '80s drum pads."
Though Mishra was understandably stressed by the three-hour delay to retrieve Wolf, the two had plenty of time to talk. And during this window, Sanjay Mishra let Garcia in on a secret. "Before I went to a conservatory and studied classical music, I had this whole existence of playing Grateful Dead music in a cover band," Mishra told him.
While Grateful Dead-influenced bands began to populate the landscape in the '70s, Maha Maya were unusual in that they were based in Calcutta circa 1975. "All that stuff that you were doing in San Francisco was going on all around the planet," Mishra told Garcia. "It was happening everywhere."
"I really loved your music, and I knew all these songs. I wasn't trying to copy you, but your music was in my brain for a very formative period of my life in my late teens, and I played it 24/7, so much so that the other members of the band would get really upset with me."
Maha Maya weren't really a Dead cover band, except maybe in the mind of their lead guitarist. "Our setlist would go, like, Allman Brothers, Grateful Dead, Jimi Hendrix, Doobie Brothers, Allman Brothers, Grateful Dead, Jimi Hendrix, Grateful Dead, Grateful Dead, Grateful Dead, Grateful Dead."
And they had a scene, too. "It wasn't like all of India was like San Francisco," he says, "but there were pockets where we could do a show and we could get, like, 2,000 people, and the whole place would be tripping and getting high, and we'd be doing all Dead tunes.
"When we would play these shows, we would have a little program with all these ads, which would help pay for the gig and all the musicians. But we would actually print a setlist."
When Garcia got his breath back from laughing, he said, "This is amazing, first of all. But secondly, the Grateful Dead played for 30 fuckin' years and we couldn't get a setlist together and you guys had a setlist?" Mishra had brought one of the brochures with him, and Garcia inspected it, giggling all the while.
Mishra moved to the United States in 1977 and saw the Dead as soon as he could, which happened to be April 15th, 1978 in Williamsburg, Virginia. The 300-mile road trip was "my first exposure to life in America," he says. Once they got past Richmond, "it was just a two-lane highway and nothing but Dead vans and VW buses and choppers and people passing joints around. I thought, 'This is awesome! This is always what I thought America was!'" The show was wonderful, too. Garcia played Wolf. (Coincidentally, the Dead's Williamsburg '78 stop was released as Dave's Picks 37 the same week this article was published.)
The Wolf that Steve Parish returned with on his motorcycle had received a few rounds of modification since Mishra's first Dead show, most recently a MIDI set-up. Both guitarists were deep into digital experimentation. "He was excited about my Godin MIDI guitar. The big problem with MIDI guitars was tracking, you'd get all these false notes and glitches, but Godin came out with a nylon-string guitar that was really good at tracking, where the scale length on the neck was a little longer, and he was really fascinated by that. And I was just as fascinated by his setup, where it went out from the pick-ups, straight to the pedals, and then came back in again." (Interested guitar heads should check out Blair Jackson's Grateful Dead Gear for a more detailed explanation.)
They finally got to work. The music on the three tracks is atmospheric and brooding, with little to compare it to elsewhere in Garcia's catalogue, give or take (maybe) the Zabriskie Point soundtrack or a stray session with Hamza El-Din. With only two guitarists and a tabla track, it's also extremely intimate. Though Garcia's playing might be dismissed as tentative, it's also an authentic map towards future directions. And if it's decidedly late-period Garcia, without the technical finesse of his younger self, Mishra's chops are prime. Mishra's playing—precise, questing, and moody–sometimes recalls the dexterous changes and textures of Garcia's Blues For Allah period in the mid-'70s, especially on the quick-cycling piece called "Monsoon" on the original release and now retitled "Dancing."
During Sanjay Mishra's day at Front Street, they worked through four takes each of "Monsoon" and "Nocturne" (now "Pranam") and one take of "Clouds" (now "Loving Sky"). "I don't think he was in a mindset where he could play those beginning to end, at least for a little while," Mishra says. He planned to edit together a complete take from the different passes. "Then when it came to 'Clouds,' which was a slower, mellower tempo, he was able to go beginning to end."
"Do whatever you want with it," Garcia told him about the material, arranging for Mishra to finish out his stay with a visit to a Napa winery owned by some friends.
Before leaving town, though, Mishra wanted to immediately make a back-up copy of the tape, the tangible proof that the deal had just gone down. He tried the local studios, but it was late in the day, and everybody was booked or closed. So Mishra pulled out the business card of Grateful Dead sound engineer John Cutler and put in a call. Shortly, Cutler rang back. Studio A at the legendary Fantasy Studios in Berkeley was available for him. Immediately.
Mishra and Garcia met up again six months later in DC. The album was finished, and he had a CD for Garcia to check out. The Dead were back at R.F.K. with Bob Dylan opening. Mishra navigated the roadies and found Garcia, but it was too chaotic to check out the mixes. "Come to my hotel tomorrow," Garcia said, "let's go listen to Bob."
Garcia brought him to an enormous comfortable couch positioned at the side of the stage, where the two could watch Bob Dylan while listening to the mix on headphones. Mishra poked his head around the speakers, was disappointed how empty the stadium seemed for Dylan's set, and mentioned it to Garcia. "He got a really sad expression on his face," Mishra remembers. Garcia watched Dylan's set reverently.
Even the next day, Garcia didn't have much interest in hearing the recordings. "When's the next one?" he asked. "I don't do one-shots anymore." The Dead guitarist wanted to start planning whenever there were plans to make. "Fax me the dates," he told Mishra.
"He loved faxes. He thought it was magical that I could put a piece of paper on something [in Maryland] and instantly in California that same piece of paper appeared there." Mishra bought a fax machine to communicate with Garcia, who (it should be noted) wasn't the faxing-back type. Blue Incantation was set for a mid-summer release, and a month or so later Mishra was getting ready to fax over the next round of dates.
He received the finished CDs the same morning that he saw the news of Jerry Garcia's death on CNN. The album was hitting stores that week, and it happened to be the day the label's publicist was starting to follow up on the promotional copies launched a few weeks previously. Mishra tried to put the brakes on, but it was too late. Blue Incantation was received warmly, with the three Garcia tracks especially conjuring a late-night mood. Along with two tracks with the Jerry Garcia Band in January and one with David Grisman in July, the Blue Incantation session creates a bookend on more than 30 years of incredibly wide-ranging collaborations.
For the past quarter-century, Sanjay Mishra has continued to play, perform, and release music. He's done soundtracks, released his own albums, and published a Guitar Atlas for players adapting Indian modes to western tunings. He's veered sometimes into the jam world, collaborating with Keller Williams, DJ Logic, and even occasionally playing Dead tunes with former Dark Star Orchestra/Furthur guitarist John Kadlecik. His most recent release is Duets with Garrett Gleason, recorded remotely last year, with Mishra's precise guitar wandering 21st century noisescapes. If Jerry Garcia was cooped up at home right now, it's easy to imagine him doing the same.
Excursions in sound. Dig this flavor of culture reportage? If so, support us through Patreon. Help us continue to produce mixtapes, podcasts, radio shows, a/v joints, interviews, features, and much more.