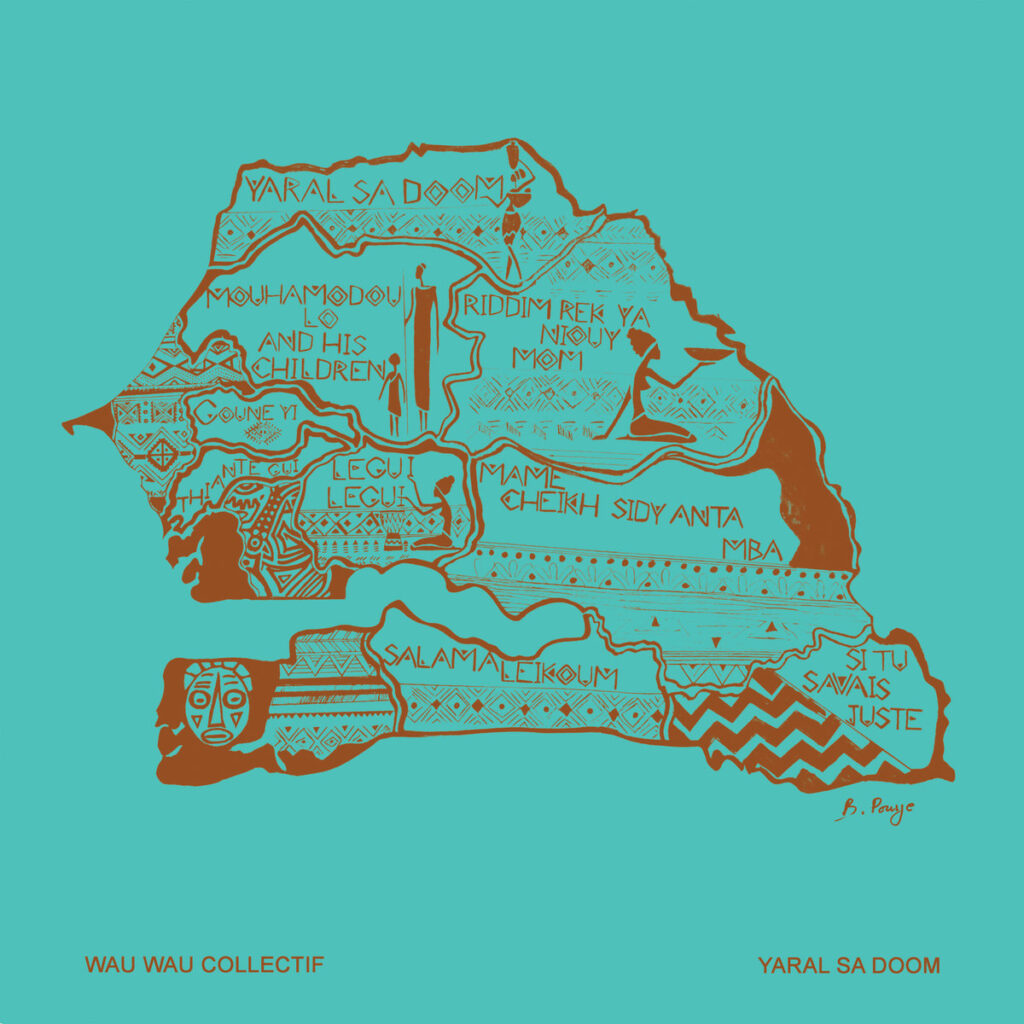 Wau Wau Collectif's Yaral Sa Doom often feels like a dream, something too pure to actually exist. First envisioned by Karl Jonas Winqvist, Swedish music archeologist and founder of the Sing a Song Fighter label, the project came out of a 2018 visit to Toubab Dialaw, Senegal, a small rural fishing village that also happens to serve as the center of a bohemian art scene. Over his stay, Winqvist managed to bring together local musicians, producers, and poets, "becoming" the Wau Wau Collectif in the process, creating boundlessly free and euphoric music.
After returning to Sweden, Winqvist began trading the recordings back and forth via WhatsApp with Senegal based collaborator/studio engineer Arouna Kane. The resulting album, Yaral Sal Doom (a Wolof phrase translated as "educate the young"), sees release this week in partnership with West African outfit Sahel Sounds, featuring over 20 contributing performers from Senegal and Sweden.
The music is spacious and graceful, at times reminiscent of Bembeya Jazz National's tranquil yet lively highlife music. And while it may feel tempting at times to describe this as "West African music," it is in truth a trans-global work. And unlike Bembeya Jazz's state-subsidized origins, Wau Wau Collectif feels more like a freak-folk collective, together under unlikely circumstances to create their own sonic patchwork, a serene quilt of playfully weird and cosmic sounds.
Kane compares the experience to "diving into the sea…There are all different species of fish swimming around, but together they make the ocean." Though the songs deal with themes central to social issues facing contemporary Senegal, education, and immigration, austerity is by no means forced upon the music. Rather, it's deeply celestial, expansive in its gentle, quiet beauty, never sacrificing "importance" for playfulness and fun, incorporating intergalactic jazz and dub grooves.
One of the standout performances, "Mouhamodou Lo and His Children," features a delightful and hypnotic call and response. The deep gravitas of Lo's call and the joyful levity of the children's voice swirl around cascading synths and swooning horns. A picturesque accordion like sound comes in and out of the dialogue, romantic and waltzy with the gentle highlife guitar. Other highlights like "Salamaleikoum" bathe in washes of harmony and mbira, summoning a dreamy and buoyant gospel, while "Yaral Sa Doom II" flutters with chamberesque horns, earthy chants, and pacific electronic backdrops. An early but easy shortlist contender for one of our favorite albums of the year. | c depasquale
For heads, by heads. Aquarium Drunkard is powered by its patrons. Keep the servers humming and help us continue doing it by pledging your support via our Patreon page.