"Heaven on Earth, he'll get there soon." Welcome to Heaven on Earth, a 4-hour(!) Kevin Ayers mixtape by David Mittleman, host of Tucson's KXCI independent radio's Observations of Deviance, a weekly "all-vinyl, freeform program that harkens back to early days of underground FM radio."

Heaven on Earth (A Kevin Ayers Mixtape)

It's baffling that even among deep music lovers Kevin Ayers remains under-appreciated. As a founding member of Soft Machine, he wrote some of the band's most memorable songs and went on to release several strong solo lps. He's collaborated with John Cale, Robert Wyatt, Gong, Anthony Moore, and Brian Eno. According to forward-looking British music journalist Nick Kent, Kevin Ayers and his one-time collaborator Syd Barrett "were the two most important people in British pop music. Everything that came after came from them."
Despite his well known musical companions, Ayers' isn't name-dropped the way they are. Blame, at least in part, a lack of availability. His solo albums have been spottily available in the USA over the decades, and remain mostly hard to find. But the publication of his collected lyrics prompted me to re-listen to most of his oeuvre. And the result of that heavy listening lead to this, a roughly chronological (1965-1983) mix of my favorite Ayers tracks.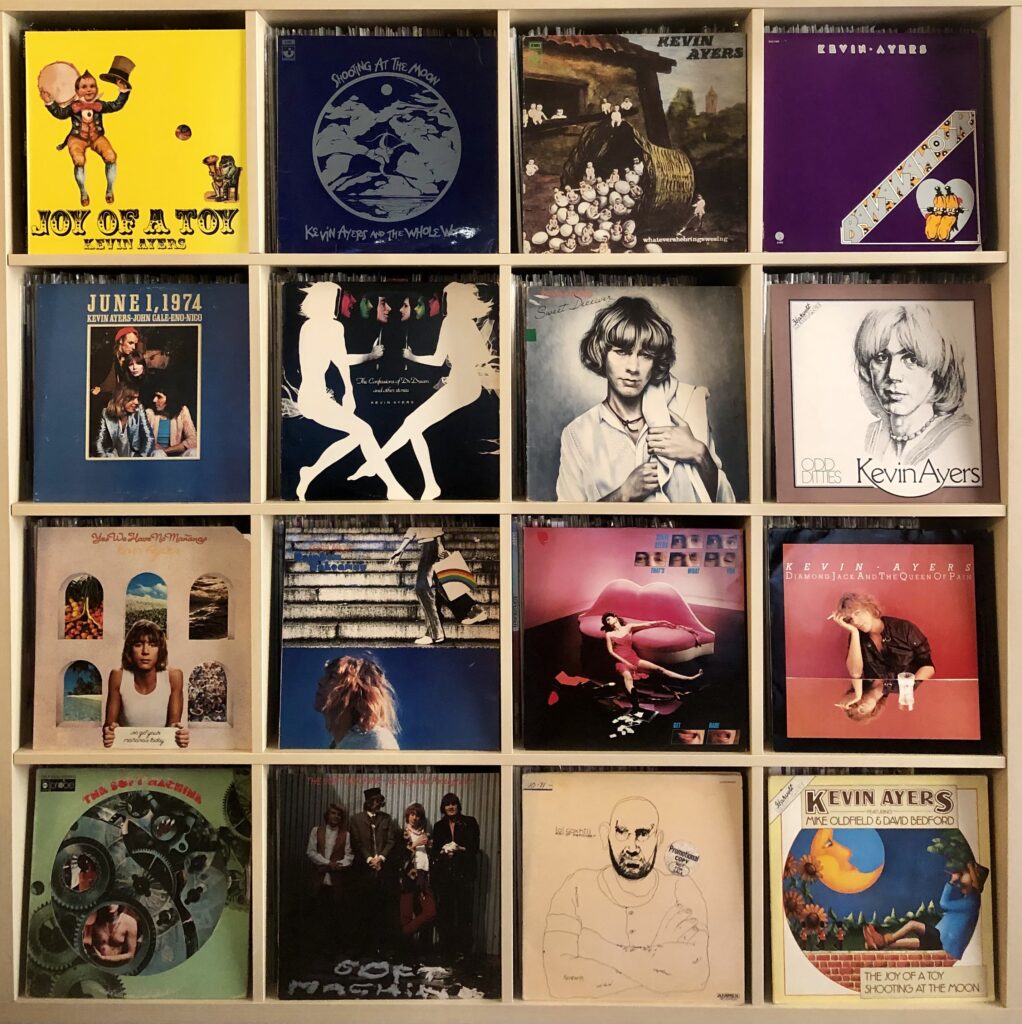 After listening to all of his music, the thing that most confounded original listeners (Ayers' wide range of influences) is what I find most appealing in his work. Mainstream critics of the period were dumbfounded by the Soft Machine's unique sonic presence. One critic in 1969 didn't even try to address their music, hoping that people in the future would be able to untangle this musical web:
"The Soft Machine is a three-man English group that defies musical classification," wrote Lillian Roxon in 1969's Rock Encyclopedia. "The jazz people won't touch them because they have long hair and look like pop people. The pop people think they're not commercial enough. The avant-garde music people are intrigued but undecided. The group says they play avant-garde jazz but they call it pop because that's the only way people will come to hear it…They have been called the Futuristic Beatles, and years from now, when we fully understand their combination of John Cage, Stockhausen, Cecil Taylor and Ornette Coleman, we might agree."
Ayers was one of the few singer-songwriters of his era to engage seriously with experimental music, free jazz in particular. According to collaborator Robert Wyatt, as quoted in Marcus O'Dair's Different Every Time, "Kevin enjoyed being avant-garde…He was the catalyst for very, very advanced ideas."
But his experimental leanings never overshadow his clever songwriting. Wyatt once again: "I loved Kevin. I thought he was great. Very easygoing, good company, made me laugh. He was a terrific songwriter, and I liked singing his songs. And part of the tension in Soft Machine was because I did like his songs, whereas the group itself was abandoning songs in favor of extended instrumental pieces."
While he dipped into some very avant-garde waters—especially with his band The Whole Earth—he kept a foot in song-based waters, leaning into sly and witty lyrics. Perhaps his idiosyncratic song structure made it harder for people to embrace. For me, that's the charm.
His insouciance towards the music business didn't help. Lackadaisical to a fault, Ayers simply didn't give a fuck. You can hear it in his song, never in a rush to get anywhere. It's drop out music that ignores the world. Kevin lived in a decadent dream world fantasy, and he conjured it into reality with his music.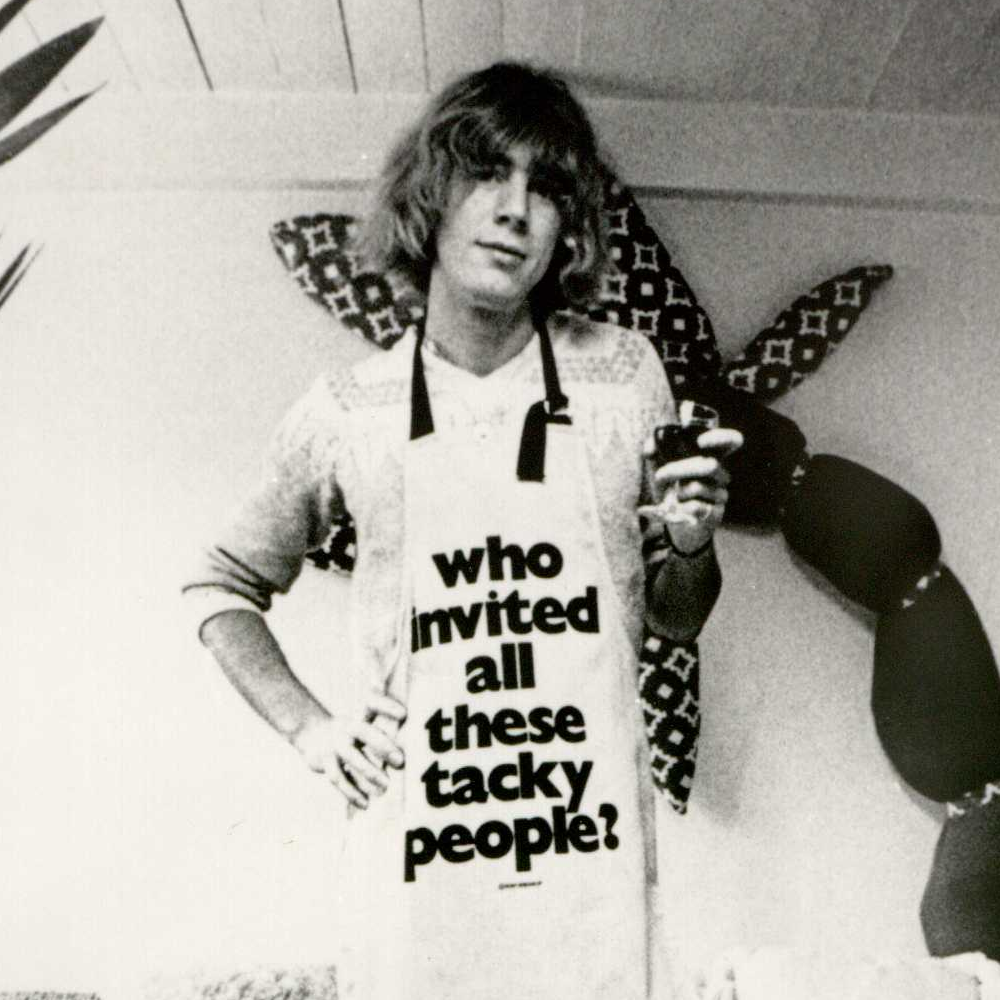 "She lies in waterfalls of dreams/And never questions what it means."

"Decadence"
As for the real world? Well in it, Ayers was mostly out for wine and good times—a Bacchanal hedonist excessively indulging in pleasure and luxury. Dissipation and debauchery abound. His "singular songwriting talent was matched by a sometimes startling lack of ambition," says Sean O'Hagan.
Ayers himself concurred: "The thing about Soft Machine and me, was that I never considered another profession. My only other desire was to do as little as possible. Honestly, I just assume that whatever is going to happen to me is going to happen. There it goes: someone is there, someone isn't there. This girl is here. This food is here. I think the clever people are the ones who do a little as possible."
Musician, archivist and producer Pat Thomas worked with Kevin in 1997. He shared Ayers' self-assessment. "It's depressing that he was so dispassionate. He only wanted to sit around the house, shoot the shit a little bit, drink. He was funny, he was sweet, he was just kinda hanging out…too dispassionate to be curious of his surroundings, which I found bizarre because we were in these wonderful cities."
Compare Kevin's fanciful flights (e.g. "Lady Rachel") with Wyatt's Earth-bound music. Wyatt's music is concrete and focused on quotidian reality, e.g. his political activism, membership in the Communist party, his life with his wife Alfie. In the 1995 documentary Little Red Robin Hood Wyatt says, "I was really interested in the simple difficulty of singing something that was true. Is it true?" Kevin, on the other hand? He was just looking for a good time.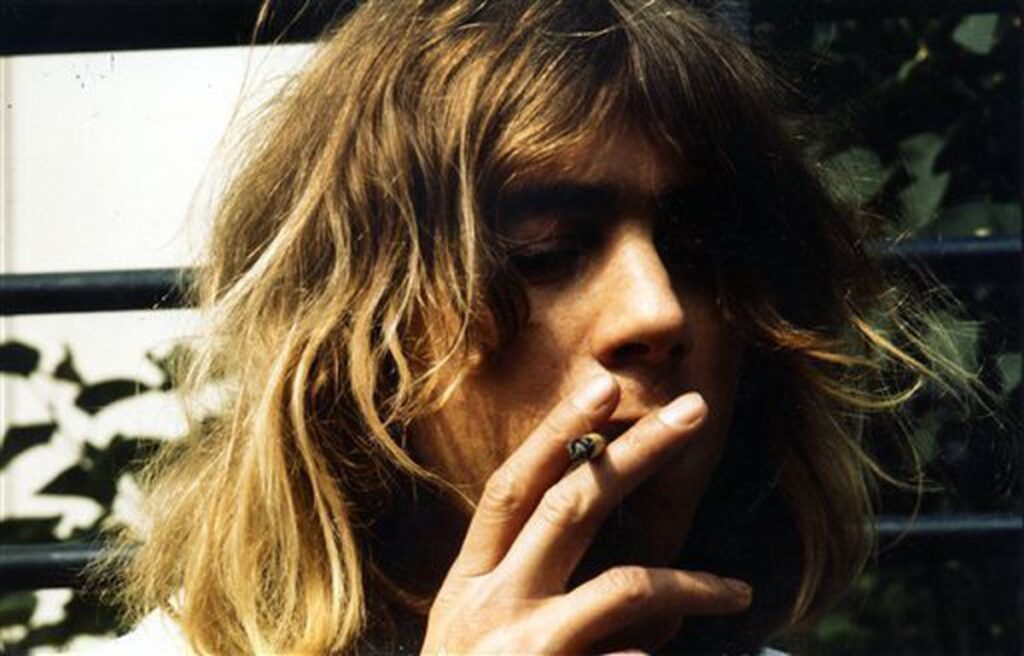 Ayers' father was the journalist, poet and BBC producer Rowan Ayers, who later originated the BBC2 rock music program The Old Grey Whistle Test. After his parents divorced, his mother married a civil servant/army officer. When he was six the family moved to Malaysia where Ayers lived roughly six years.
It is possible that growing up in Malaysia formed Kevin's views about race. "I was the only white boy among 80 pupils at school, and I spoke no Malaysian." Unfortunately, one of his best songs is marred by distasteful liberal guilt, a fantasy that runs off the rails with lyrics about changing his skin color from white to brown.
"Brown is the color of skin/That I like to be in/As it doesn't seem right/To be colored so white."

"Colores Para Delores"
Thankfully, this is a rare sour note among hours of celebratory musical bliss. Hopefully this mix will ease you into Kevin's fantasy and you'll want to return.
Tracklist: Kevin Ayers, "This Song Isn't Called Anything" ++ "Crystal Clear" ++ Lol Coxhill + Kevin Ayers & the Whole World, "A Collective Improvisation" (London, July 18, 1970) ++ Kevin Ayers, "Rainbow Takeaway" ++ The Wilde Flowers, "She's Gone" ++ Soft Machine, "Jet Propelled Photographs" (aka "Shooting At the Moon") ++ "Feelin' Reelin' Squeelin'" ++ "We Did It Again" ++ "Plus Belle Qu'une Poubelle" ++ "Why Are We Sleeping" ++ "Clearance in Wonderland/We Know What You Mean" (May 12, 1967 at BBC Radio Top Gear) ++ "As Long As He Lies Perfectly Still" ++ Kevin Ayers, "Lady Rachel" ++ "Song For Insane Time" ++ "Religious Experience (Singing A Song In the Morning" (feat. Syd Barrett) ++ "Stop This Train" (Top Gear Session, February 10, 1970) ++ "Why Are We Sleeping" (Top Gear Session, February 10, 1970) ++ "Gemini Child" ++ Kevin Ayers and the Whole World, "Rheinhardt and Geraldine/Colores Para Dolores" ++ "Red Green And You Blue" ++ "Lady Rachel" ++ Lol Coxhill ++ Kevin Ayers & the Whole World, "Vorblifa-Exit" (Live Holland, July 1970) ++ Gong, "Clarence in Wonderland" ++ Kevin Ayers, "Butterfly Dance" ++ Bridget St. John with Kevin Ayers, "Jolie Madame" ++ "The Spider And the Fly" ++ "The Oyster And the Flying Fish" ++ Kevin Ayers, "Lady Rachel" (Alan Black Session, May 20, 1970) ++ "Shooting At The Moon" (Alan Black Session, May 20, 1970) ++ "Whatevershebringswesing" ++ "Stranger In Blue Suede Shoes" ++ "Lunatic's Lament" (Bob Harris Session, May 17, 1972) ++ Kevin Ayers & Decadence, feat. Steve Hillage, "Stranger in Blue Suede Shoes/Why Are We Sleeping" ++ "Decadence" ++ "Oh! Wot a Dream" ++ "Shouting in a Bucket Blues" ++ Kevin Ayers & Brian Eno, "Piano Duet" (1974) ++ Lady June, "Bars" (feat. Kevin Ayers and Brian Eno) ++ "The Lady Rachel" (John Peel Show, July, 30, 1974, BBC Radio One) ++ "Confessions of Doctor Dream" (feat. Zoot Money) (Paris Radio, February 1975) ++ "Didn't Feel Lonely 'til I thought of You" ++ "Farewell Again (Another Dawn)" ++ Blue" ++ Anthony Moore, "Wrong Again" (feat. Kevin Ayers) ++ "Blue" (feat. Andy Summers, Zoot Money) (August 1976, Radio Bremen) ++ A Few From the Mountain" ++ "Where Do the Stars End" ++ "Howlin Man" ++ Kevin Ayers & John Cale, "Howling Man" (live) ++ "Friends & Strangers" ++ "Lady Rachel" (unreleased single version) ++ Kevin Ayers & the Whole World, "Rheinhardt And Geraldine/Colores Para Dolores" ++ "Don't Let It Get You Down" ++ "Falling In Love Again" (Bob Harris Session, May 17, 1974) ++ "Lullabye + Locked Groove"
By heads for heads. Aquarium Drunkard is powered by its patrons. Keep the servers humming and help us continue doing it by pledging your support via our Patreon page.