What is the color of anger? Of devotion? Of love? Annie Besant and C.W. Leadbeater's occult treatise Thought Forms offers a color-coded guide. First published by the Theosophical Society in 1905, the book the puts forth the view that thoughts are things, and that emotions in a person generate colorful patterns and psychic structures in the unseen realm, fantastic auras visible only to the clairvoyant. For those of us without second sight, these forms are visualized through 58 illustrations. Besant and Leadbeater lay it out simply: The quality of thought determines color; the nature of thought determines form; the definiteness of thought determines clearness of outline.
The book had a decisive influence on the field of early abstract art, inspiring visionary artists like Hilma af Klint (whose work has been the subject of much notice in recent years), Piet Mondrian, and Wassily Kandinsky, as they expanded art from the representation into the abstract. Recently, Brooklyn label Sacred Bones released an expanded edition of the book. This handsome new version was edited by artist and historian Lucy Lord Campana, who also produced mind-bending new endpapers, utilizing technology to reflect light in ways impossible in the natural world. Her work is paired with insightful and riveting introductory material by occult historian and speaker Mitch Horowitz, author Dr. Victoria Ferentinou, and curator Troy Conrad Therrien.
It makes good sense that Sacred Bones, a label with deep occult sensibilities and outre ethos, would treat a volume of esoterica to a lavish "reissue." The label is home to adventurous songwriters like Zola Jesus and Amen Dunes, the motorik band Moon Duo, and Belarusian post-punk band Molchat Doma. It's discography also features many of cinema's most musical directors, populated with soundtracks and original works by Jim Jarmusch, John Carpenter, David Lynch, and Twin Peaks: The Return star Caleb Landry Jones. SB reissued a record for plants, Mother Earth's Plantasia by synthesist Mort Garson, as well as his 1975 Ataraxia project, The Unexplained, which offers "electronic music explorations of the occult." Perhaps you read about (or at least saw a snarky tweet about) the label's forthcoming in utero collaboration between Luca Yupanqui and her parents, Psychic Ills bassist Elizabeth Hart and Iván Diaz Mathé, who contributed to Lee "Scratch" Perry's The Life of the Plants. No single occult tradition ties the label's artists and collaborators together, but the label flourishes in broad relation to the occult, with its vast undertones permeated deeply into the foundations of the sub-cultures Sacred Bones celebrates and promulgates.
"Many people are aware that sound is always associated with colour—that when, for example, a musical note is sounded, a flash of colour corresponding to it may be seen by those whose finer senses are already to some extend developed," reads Thought Forms, in its final chapter, "Forms Built By Music." It would be foolish to suggest that the many flashes of color by some of the musicians inspired and drawn to theosophy, including Elvis Presley, Van Morrison, Todd Rundgren, and Sun Ra, would be uniform in hue. Naturally these forms are infinite in variety, writes Besant and Leadbetter. "Each class of music has its own form."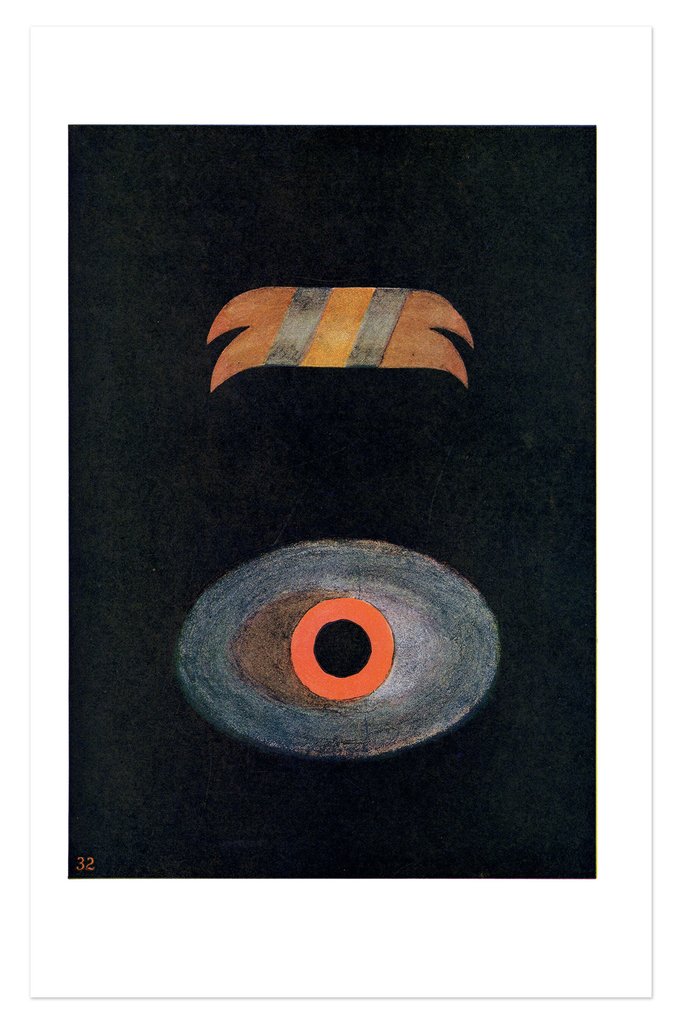 The Sacred Bones edition of Thought Forms is striking and lovely. The first copy Lord Campana encountered wasn't. "It was the junkiest, print-to-order copy you could get on Amazon," Lord Campana says via Zoom. Most problematic was the fact that the vivid and uncanny colors of the original had been printed in black and white. Eventually she connected with the team at Sacred Bones, and their conversations resulted in a full scale recovery project. The endeavor revealed a mistake—many publications faultily printed 1901 as the book's original publication date. The opportunity to the correct the record, or at least amend it, fueled the project. "People are really ready to challenge ideas at this moment in time," Lord Campana says. "Rewriting history is being embraced at the forefront of culture."
Theosophy, after all, helped shape culture, pop and otherwise. And that's largely because it had, at its onset, a bonafide sensation: Madame Helena Blavatsky. In the late nineteenth century, she made her name as a world traveling Russian occultist, teaching a blend of esotericism, Buddhism, and Hinduism, assorted theories, and concepts she called theosophy. Blavatsky claimed to have come in contact with a race of cosmic "Ascendent Masters." These included Jesus, Sanat Kumara, Buddha, Pythagoras, and other figures from religious traditions and history. Clothed in fantastic garb, these beings watched over and guided humanity. In his Into the Zone podcast episode "The Guru of Ojai," author Hari Kunzru likens Blavatsky's pantheon to modern superheroes.
They'd once been ordinary humans, but had become more. Those who attended meetings at the Theosophical Society, which Blavatsky formed with Henry Steel Olcott in New York City in 1875, might have envisioned achieving similar goals. It was a largely progressive and feminist movement (which is not to say theosophy's views on race aren't complicated and somewhat jumbled), the new religion dovetailed with the rise of expansive DIY spirituality in America—effectively constituting the birth of the New Age movement.
"Theosophy is encompassing of so many subjects," says Mitch Horowitz, an occult historian and New Thought speaker. Usually clad in punk t-shirt and leather jacket, Horowitz is funny, quick and purposeful in his words. Perhaps you've heard one of his many spots on the late night call-in show Coast to Coast A.M. "If a person is interested in the idea of primordial civilization, if a person is interested in the idea of possibility of evolving states of consciousness, that will tie into theosophy. If a person believes the western religions or traditions don't give us the full story—that they are echoes of something else to which the original keys have been lost—that's encompassed by theosophy."
With its long gone continents, cosmic brotherhoods, and dynamic shapes and colors springing from within, theosophy and embraces a particularly artist view of wonder. And Thought Forms, writes Ferentinou in her introduction, "proved of vital importance to modernists who embarked on a re-evaluation of the artistic domain, of the princes of artistic creativity and of the role of the artist as a revolutionary of the new age."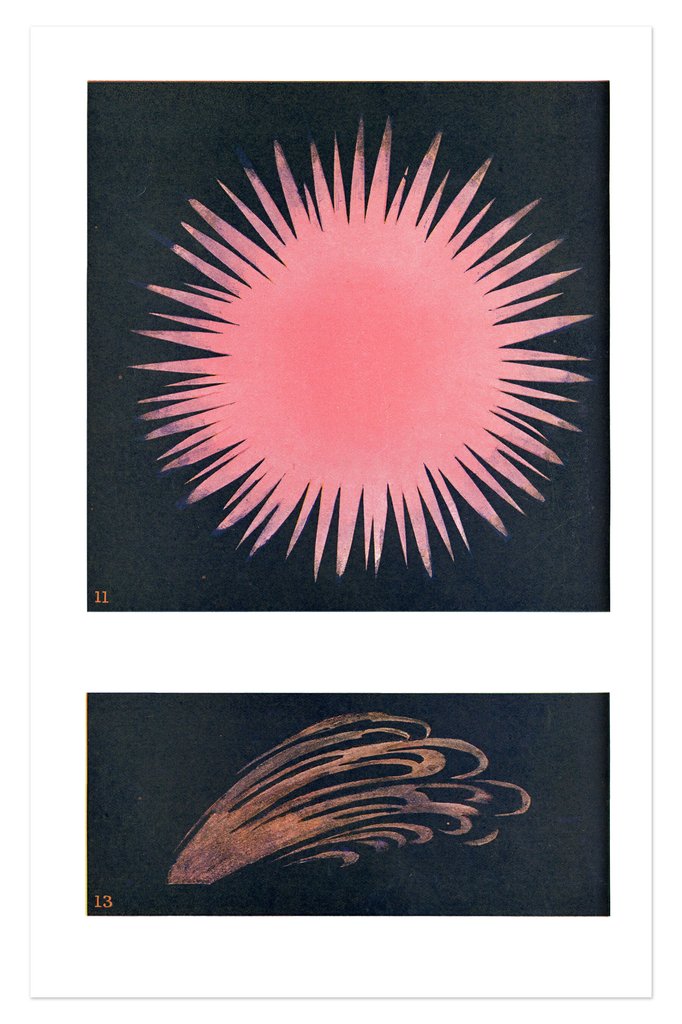 When friends would inquire about the towering stacks of books that took up floorspace in the Chicago apartment of a young Sun Ra, the young artist would reply simply: "I don't have to look for books, they appear to me miraculously."
Sun Ra was a reader. He consumed science fiction, history, and esoterica, poring over the details of forbidden folklore and secret societies. He especially was drawn to the occult, poring over volumes about Black Nationalism, Mesmerism, Freemasonary, numerology, Egyptian mysticism, the Rosicrucians, the Kabbalah. He toyed Gnostic ideas and was fascinated by Christian visionaries like Thomas Lake Harris and Emanuel Swedenborg, who detailed astral travels to faraway other worlds.
He synthesized the ideas of these works as an artist, independent record label pioneer, musician, lecturer, and teacher. When he taught at Berkeley in the '70s, Ra's reading list for "The Black Man in the Cosmos" included philosophical and metaphysical works, including works by Black poet and writer Henry Dumas, French philosopher Constantin-François de Chasseboeuf, The Egyptian Book of the Dead, and other titles, like the King James Bible—renamed by Ra, The Source Book for Man's Life and Death and credited to the author "God." Also included were a number of works concerning the mystic teachings of theosophy.
Did Sun Ra own a copy of Thought Forms? It's hard to say. Though he apparently owned a copy of Besant's earlier book Thought Power: Its Control and Culture, "nothing by Besant or Leadbeater was found in Sun Ra's books when died, nor were they on his reading list for the course he taught at Berkeley," says John Szwed via email. Szwed is the author of Space Is The Place: The Lives and Times of Sun Ra, the source of that quote about Sonny acquiring books via supernatural means at the top of this writing. But he adds: "That doesn't mean he never read them, of course," Szwed concludes.
But through Blavatsky's writings, Szwed writes in Space is the Place, Sonny learned "of all the secret societies, real and imagined, that were theosophy's precursors." Her cosmic brotherhoods inspired his imagination. And it all deeply instilled in Sun Ra a sense that secret knowledge was there to be gleaned from esoteric sources and he devoted considerable time to explaining his findings to his devotees. "His lectures would be about anything in the universe and out of the universe," said one-time pupil Ahmed Abdullah. "In the early days we would have long rehearsals. We'd rehearse for 13 hours at a time. Often times, that's how he would convey his philosophy to us. If someone made a mistake on one of the arrangements, he would stop the band and he would talk. "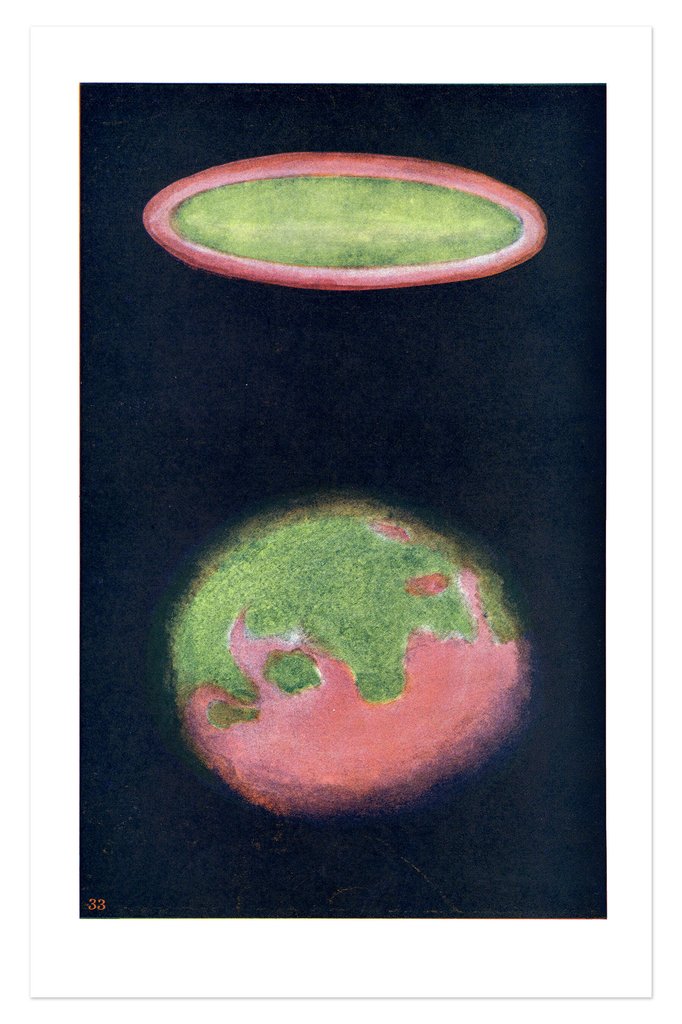 In 1983, Van Morrison also decided to talk with "Rave On John Donne," the partially spoken centerpiece of Inarticulate Speech of the Heart, an unsung classic of ambient fusion, Celtic folk, and spiritual wandering. Over washes of soft saxophone and wavy strums of electric guitar and piano, Morrison calls into the unknown, citing poets who blazed a mystic trail before him: Omar Khayyam, the titular Christian mystic, WB Yeats, and Walt Whitman. An avid reader of theosophist Alice Bailey (who's cited in the liners alongside L. Ron Hubbard), Morrison places theosophy into the lineage of the western occult tradition, alongside alchemy and the Hermetic Order of the Golden Dawn. "Rave on through the writing of a vision," Morrison speaks, before settling into a repeated mantra. "Rave on, rave on, rave on, rave on."
It's tempting to wonder what color the recording might emanate. Perhaps dark blue, the color of "religious devotion," perhaps a lighter blue with shades of purple, to indicate "high spirituality." The song sounds like "a Ginsberg rant of joy, with the metaphysical Elizabethan and other dead poets brought up to date, as beacons of light…an Open University reading this of visionaries," writes Brian Hinton in Celtic Crossroads: The Art of Van Morrison. Just as these writers turned their thoughts into things ("printed page") so Morrison and his band turn his exhortations into a thing that can be felt. Morrison bassist David Hayes confirms a 45-minute version spanning two reels of 24-track tape was cut. "It was some session, it was like being in a church."
Others were also inspired by Bailey's work's. Lou Reed and Jonathan Richman bonded over her A Treatise on White Magic, which Ryan Walsh suggests influenced White Light/White Heat in his indispensable Astral Weeks: A Secret History of 1968. But neither of them were as overt at Todd Rundgren, who dedicated the second side of his 1975 album Initiation to exploring a multi-suite instrumental epic called "A Treatise on Cosmic Fire." Initiation also features "Eastern Inclination," an expression of Rundgren's mystical wanderings and frustrations with religion (as well as some fairly boneheaded stabs at "Asian" sounding melodies). Like Morrison and Blavatsky before him, Rundgren outlines his pantheon, citing the theosophist alongside other holy figures, including Jesus, Moses, Mohammed, Sri Krishna, Steiner, Gurdjief, Blavatsky, Bhudda, Guru Maharaji, and Reverend Sun Myung Moon.
While Rundgren was crouched over one his synths in the studio, Elvis Presley was out there, maybe on stage, wearing one of his flashy jumpsuits. Even here the occult influence creeps in. One of Presley's trusted advisors was his hair stylist Larry Geller, who turned Presley on to the study. "I was cutting his hair at Graceland one night, it was about 10 PM, and we were talking about books, as ever," wrote Geller for the Guardian in 2002. "I told him about The Secret Doctrine by the Theosophist, Madame Blavatsky—he read a lot of New Age literature—and Elvis just said, 'Larry, I want it—take a redeye flight to L.A. and get me that book.' So I went and brought him a handful of spiritual books by the following afternoon."
On this topic, Horowitz lights up: "You wouldn't find theosophy's influence in Elvis' songs, which were largely written by other people, but the case has been made to me—and I think it's true—that Elvis probably got the earliest inspiration for his jump suits from the garb that was attributed to the Hidden Adepts and Hidden Masters." Indeed, they were far out.
"I've always been preoccupied by magic, mystery, myth, secrecy, revelation, and ritual," says Hilary Woods. Her 2020 Sacred Bones album Birthmark evokes and explores those preoccupations via spectral and often overwhelming post-punk. "Of all the art forms, I feel music has the greatest ability to facilitate change in the most intimate and immediate way."
Annika Henderson, known for her work with Geoff Barrow of Portishhead and Exploded View, whose minimalist kosmische rock has incantatory purpose, says that music indeed feels like an occult pursuit. "Art and music [allow for the act of] taking a human away from this world—into another realm, whether it's the impossible or the improbable, like Houdini unhand-cuffing himself in a tank of water, defying the limits of man, and after, delivering himself [and] observer right there back into his own universe, into his own human body, merely a temporary displacement. Music has a way to tap beneath the conscious outer shell, to unfurl the muscular tensions, tease out the mental truths, the uncomfortables or the comfortables."
Thought Forms greatest appeal is the suggestion that the unseen can be made seeable. 116 years after its publication, this remains a galvanizing notion. After all, in music thoughts are given form that can be experienced, felt, and tangibly known. "To exist is not enough," Besant and Leadbeater write. "But to live we must know." The occult offers pathways in. It is the work of an artist to provide the structures and shape, to paint with "coloured fire" on the air and the ear, the unknown granted some form of knowability. | j woodbury
For heads, by heads. Aquarium Drunkard is powered by its patrons. Keep the servers humming and help us continue doing it by pledging your support via our Patreon page.