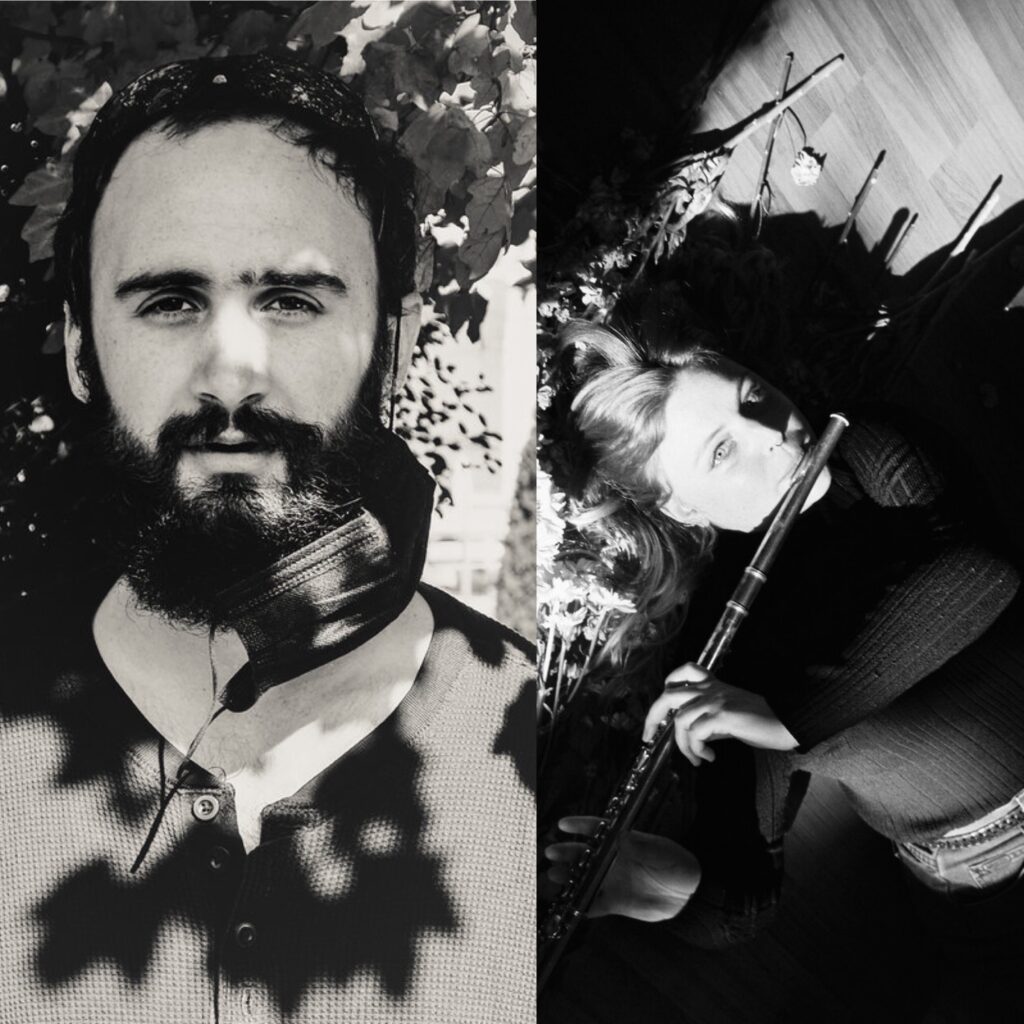 On the fantastic Songs for John Venn, poet and musician Lou Turner offers up "Astral Weeks-y flute flutters, Hurley-worthy armchair boogies, garage-y rambles," and more. But today, she joins us to speak with her friend and colleague Dan Wriggins about music, words, and collaboration. Wriggins has a new EP available today for Bandcamp Friday, Still Is: Dan Wriggins Sings Utah Phillips. His label, Orindal Records, will be donating all revenue from digital sales to the People's Fridge on 52nd St. in West Philadelphia. Now, take it away, Lou…
Friendship songwriter and newly-admitted MFA candidate in poetry Dan Wriggins released his debut solo EP Mr. Chill via Orindal Records earlier last month. Where Friendship situates Dan's Philly-bred, alt-country songs in an effortless sonic community, his solo work presents them to us more sparsely—somehow a bit more earnest and a bit more carefree all at once.
Mr. Chill was produced and played on by Friendship bandmate, Michael Cormier, and their longtime musical bond adapts beautifully to this new iteration of Wriggins' late-night smoking, early morning clock-punching, subtly yearning tunes. His gravelly, deadpan vocals break in the most evocative ways; full of cracks that let the light in to illuminate the wonder inherent in his wry observations.
Wriggins has a knack for whip smart couplets ("I can tell you stuff that I can't tell anyone else / because you don't threaten to help") that strikes me as real country, in an olden-golden way, bringing to mind folks like Jerry Jeff Walker and Willie Nelson. But there's also a poignant thread of tenderness ("I still want to love this little world") undulating throughout that recalls Gene Clark's songs or the poems of James Tate. A peaceful resignation emanates from Wriggins' tunes: an acceptance of the world and of one's fraught relationship to it; moments of clarity and intimacy and others of loneliness and longing. It's all in there, and it's all refracting for you to find your own reflection in it, too.
I met and caught up with Dan over the phone to discuss Mr. Chill, and walked away from our conversation eager to check out a Louise Bogan book from the library, pursue my status as a "Convinced Friend" of the Quakers, and to spin Mr. Chill several more times from my porch into the springtime dusky air. I think you'll feel the same way.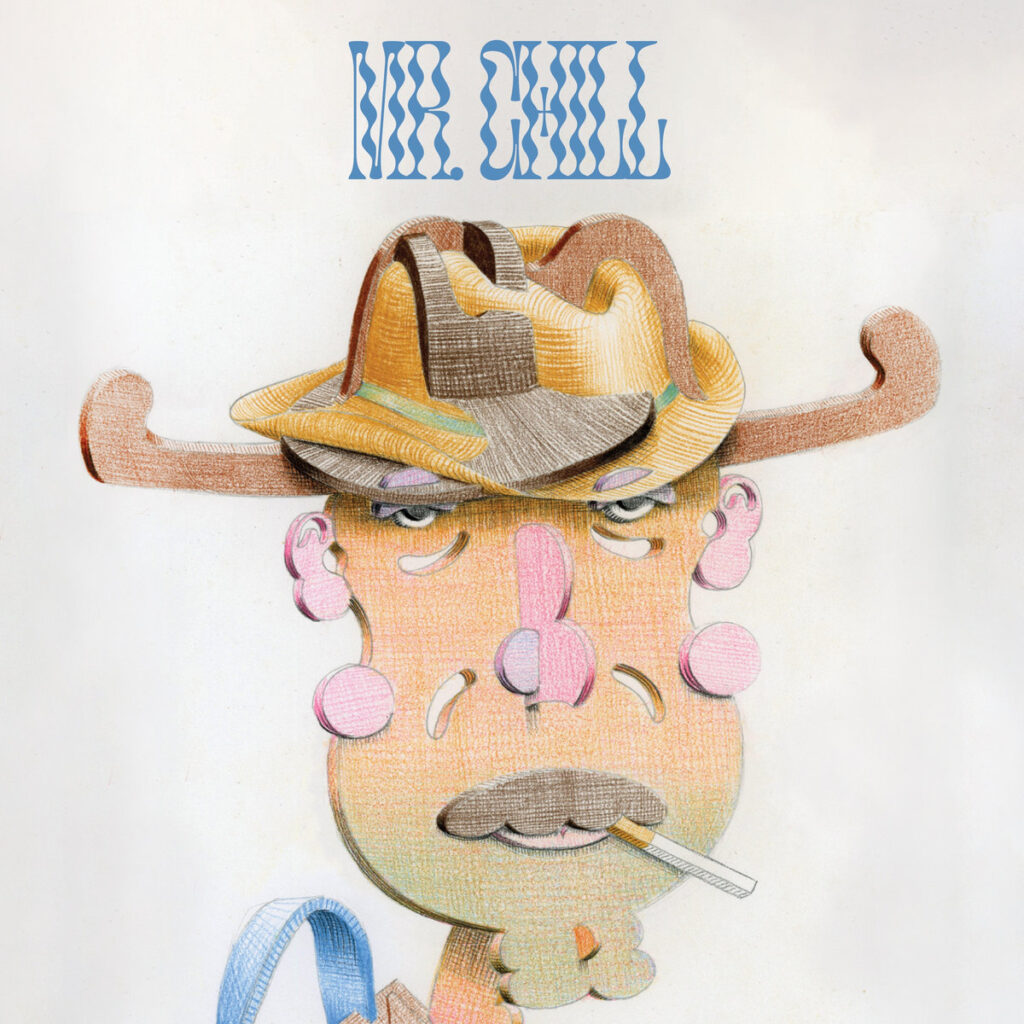 Lou Turner: Hey Dan, what's going on over there today?
Dan Wriggins: Not much. It's nice out today, I walked my dog, and I've been watching college basketball. I don't know much about it but I like to make the bracket. I'm beating Mike [Michael Cormier, producer, head of Dear Life Records, and member of Wriggins' band Friendship] right now. Anything could happen.
LT: Are you and Mike still actively doing Friendship things? Friendship, the band?
Dan Wriggins: We're not at the moment. It just felt safer not to, although I guess we could have if we really wanted to. We will start again soon—the four of us who are still in Philly are going to start working on new stuff soon. But Mike is the only person I'm playing music with now, and he's the one that worked on the EP with me.
LT: I really love all the production. I love the way Mike played drums—it feels so live and warm and airy.
Dan Wriggins: Yeah, he's indispensable. He's really good at it. He's super versatile, but he knows what he wants in general and he knows what he wants specifically when he's playing with me. From coming up with parts to figuring out how to record it. I think Brad Krieger at Big Nice Studio really helped Mike realize his drum sound vision. I think he did a great job, and I think he's pleased with it too.
LT: It's special to have folks who are able to read your mind and translate it to a recording. Did you track it live?
Dan Wriggins: Most of it we did, yeah—drums, guitar and vocals all together, and then he would play organ or piano after that. A couple we did guitar, vocals, and organ together and then he added drums later.
LT: On "The Diner," I really loved the droning violin. That was Lina Tullgren?
Dan Wriggins: Yeah, Lina is amazing. They put out solo music where they're singing with a band, and more recently they've put out more experimental violin music. They're from New England but they're always on the road, they're in L.A. now. We've toured with them before, they're the best.
LT: It kind of reminded me of John Cale-era Velvet Underground. The rest of your music doesn't quite do that, but it felt very natural. Since you brought up the word "experimental," I'm gonna go down that rabbit hole. [Laughs]. What kind of experimental music do you draw upon for your music and production, and even songwriting?
Dan Wriggins: Probably not very much. I listen to a ton, there's a lot of stuff that would qualify as "experimental" or stuff from decades ago that would be called "avante garde" that I love, and that I suppose could have oblique influence. But all my direct heroes are pretty much just writing songs. Like a lot of people, I love a lot of minimalist composers from the '60s and '70s like Terry Riley, Pauline Oliveros, La Monte Young. I guess John Cale was kind of the linchpin because he hung out and played with them a lot, and then he showed it all to Lou Reed. Of course he wasn't the only one, but it seems like he had an outsized influence on bringing a certain type of minimalist experimentation to rock n' roll.
LT: Even his solo stuff seems effortlessly and equally influenced by those two traditions. Kind of wild.
Dan Wriggins: Yeah. Anyway, that chorus section on "The Diner" was Mike's idea. It sounds like mostly violin but it's an organ and violin duet, where the instruments are playing the same part, staggered. They played that and we loved it, and then later it was Mike's idea to cut the drums out, which I think was also really important. I really love that part of that song too. We can chalk it all up to Mike.
LT: It seems like you guys don't worry about whether a song is going to be a solo thing or a band thing, you kind of just follow the song, and maybe if you're jamming it'll come into the fold of being a Friendship song. Is that accurate?
Dan Wriggins: If I play it with Friendship and we can't figure it out, it'll stay a solo song. But most of the time I play it with Friendship and we can. I haven't had to separate a lot. Some songs are cast aside. I guess I recorded a couple of those cast-asiders in that session, but we aren't releasing either of them. I might at some point.
LT: Cool. I can relate to that. I'm in a band that started by being each others' backing bands. We rotated doing our own songs and being the rhythm section, and we eventually started writing songs together.
Dan Wriggins: Styrofoam Winos?
LT: Yeah. It's fun to think of a band as a place to further develop something and not worry too much about anything else. The trust and companionship of knowing "these people are going to make this sound better."
Dan Wriggins: Yeah. Friendship's going to look different in the future, because we're not going to all be in Philly anymore, but I think we all will be working, touring, and recording as much as we can. I'm excited to expand in certain ways that maybe I wouldn't have if I hadn't also put out some "solo" songs. Having that outlet will make it easier to let loose more with Friendship.
LT: Does poetry play into that at all, too? Is that a similar outlet for you, or does it feel like a separate practice?
Dan Wriggins: The writing is not separate at all. I'm always trying to write a lot of stuff down, and then I wiggle it around and make it into songs or poetry. But for the last six years, if I've come up with anything good, I've tried to fit it in a song, and I haven't written a lot of poetry. The edited, ending part is very different though. Because as you probably know, a lot of great lyrics look flat on a page, and great poems would make unbearable lyrics.
LT: Bless you for saying that. [Laughing]. Needs to be said more.
Dan Wriggins: I'm trying to work on more poetry now, I want to publish a book as soon as I can, but I have all these hang-ups about it. More often than not, if I find out that an artist I love also works in another medium, I check out that other one and think, ah, I don't know about this man, you ought to stick to your main thing. [Laughing] And that's the case too between poetry and fiction. I guess I'm thinking of James Schuyler who is a poet I really adore, and his one novel… it's not that bad, but it's nothing compared with his poetry.
LT: I didn't know he wrote a novel!
Dan Wriggins: It's called What's For Dinner, and then he also has a collaborative novel with John Ashbery called Nest of Ninnies. I bought that, but I'm scared to read it because I suspect I won't like it.
LT: Wow, yeah. I feel like it's rare to find someone who holds the key to all mediums. David Berman comes to mind—he's an influence on you, I'm assuming, because you have that lyric in "All Things Being Equal" about being in the wake of his death and talking to somebody about it. I feel like that's somebody who really is steeped in the long tradition of poetry and is turning it on its head at the same time. It's not just a hobby.
Dan Wriggins: For sure. I definitely listened to him while he was alive, but he wasn't nearly as huge for me as he was for a lot of my friends, which is part of what inspired that line in the song. But he is definitely, in our world, one of only a few examples of someone who was brilliant at both. He's the proof. I know it can work, so I'm going to try and do it. Did you ever meet him in Nashville?
LT: He came to a show we played once, accompanied by Cassie [Berman]. I think they came to see their neighbor, Whit Hill, play, who is an amazing songwriter. We were the last band to play and right as we started our first song, he and Cassie left. We were all kind of like, "There goes David!" It was kind of a relief [laughs]. I also saw him while on a bill with Cassie once, and I wrote a poem about it in Shape Note Singing [Turner's chapbook]. Everyone was standing around this warehouse, but he found a chair and very obtrusively took it and dragged it up behind his butt to the front of the stage, plopped down, took out his flip phone, and filmed her whole set. It was really beautiful. I never met or spoke to him, but I'm thankful for his spectral spirit around the city. Those that did know him have a lot of beautiful things to say.
Dan Wriggins: That kind of reminds me of this time when my band in college was opening for Jeffrey Lewis in a basement. We probably didn't sound great, there were not many people there, and they were all far from the stage area, hiding in the shadows. As soon as we started playing, Jeffrey walked right up in front of us and attentively listened. It made us feel really good. Not that headliners should be expected to act a certain way, but it sure feels nice when they do something like that.
LT: Was that the diner [from Dan's song, "The Diner"] by chance?
Dan Wriggins: It wasn't, it was the basement of a dorm. The Diner, though, was great. It ran for about two and a half years. You could get down into the basement from the stairs in the house and also from a bulkhead in the back. There was a good backyard and a big front porch, and the only close neighbor was a frat house in West Philly. If you have that, an ideal house venue building, along with a conscientious crew that works hard and likes cool music and wants to make it a good space, it's the perfect combo. You don't get that in an art scene that has no money without luck. For them, it worked, and that made it a great art space in Philly for a while.
LT: I love that. I love "The Diner," and the line about the children's song: "here is the church and here is the steeple," and "we aren't here to expose each other / we're here to hang on and lift it up." I grew up really steeped in the Christian church, and I was always told this maxim that the church building is just a building, and the church is really the people. The congregation makes it what it is, and the building's just a building. That blew my mind as a little kid, like, "we are the thing!" I like thinking about the DIY arts community in that context.
Dan Wriggins: Totally. I grew up Quaker. For anyone who doesn't know, in a Quaker meeting, everyone just sits around in silence for an hour and if anyone wants to get up and talk about whatever they want, they can. The funny, mundane reality of that is that if you happen to be in a meeting in a town where the few people who are the most vocal aren't very good at it, or like to talk about things you aren't really moved by, it just won't be as good. On the other hand, if you find a meeting where some of the most talkative members are really thoughtful and charismatic, it's rewarding all the time and you don't have to do anything. Obviously this isn't really the point of going to church or worshipping, but it is a funny element. I guess what I'm saying is that all communities are not created equal. No matter what, you should try to do the best you can to contribute. But if you find a scene that's really great, it's easy to think "oh yeah, that's just what this type of thing is like," and it's not, it depends on the folks.
LT: I've been to a handful of Quaker meetings in my life, and I actually visited one in Philly [Note: after some deliberation, it was decided this meeting took place, coincidentally, at Dan's meeting house]. I've been thinking about how I want to go back to some meetings after covid times. I'd like to make it more of a routine to go and sit in silence with other people. I love that that's all that's expected of you, just to be together. That you don't have to say anything unless you feel led. You're inspiring me. I don't know if you can straight up convert, but…
Dan Wriggins: There's a weird terminology — if you didn't grow up Quaker and you become one, you're a "Convinced Friend."
LT: Ah, you're convincing me! [Laughs] And you grew up Quaker?
Dan Wriggins: Yeah, my dad's family was Quaker going back a long time. I grew up in Maine, but his side of the family is historically from Philly.
LT: I'd like to ask you more questions about the EP [Mr. Chill], because I've taken us many other places. Congratulations on your EP! I'd like to talk about Mr. Chill as a character [both laugh]. I picture Mr. Chill on the cover, which is so beautiful, by the way, and I imagine some of the lyrics being delivered directly from that cigarette-gripping mouth. I'm wondering if you think of yourself as the speaker in your songs, or if you're thinking of characters, or of Mr. Chill as a loose alter-ego?
Dan Wriggins: Man, it's pretty nebulous. Most of what I've thought about it came after the fact of writing and recording the music. The colored pencil piece was done by a Philly artist named Kalina Winters, she's really cool. It was a funny process — I was trying to think of a name for an EP, and trying to figure out if I'd put this out under my own name or come up with a moniker, and I put the decision off until the mastering engineer (Patrick Klem) needed the metadata or whatever. I thought about using Mr. Chill as a moniker, but I stuck with my name, a safer bet. I have kind of leaned in to being Mr. Chill though. I included one thing in the press release about how old Friendship songs end up on chillout playlists, and people tell me my music is gentle and chill and makes them feel relaxed, and beyond that, in my life, going back a long time, people saying "oh man you're so chill, you're so based," and thinking either "oh, I must be," or "I sure don't feel that way!"
It's funny, I was catching up on the Aquarium Drunkard Transmissions podcast yesterday, and at the beginning of the Bill Frisell episode, Jason Woodbury tells Bill something like "the last time I interviewed you, I felt nice and relaxed afterwards, you seemed so centered." Bill laughs, and there's a touch of crankiness in his voice when says "Well, I'm not, I'm glad that's how it affected you, but that's outside and not inside."
LT: Oh, I remember that! Like, "there's actually a whole lot going on inside of here!"
Dan Wriggins: Right. And I can relate. Bill seemed to have a good take on it which is that the exterior serenity is a good thing, but it doesn't mean that I'm zenned out, because I'm not. I promise.
All of that is separate from whatever I was thinking while writing the song "Mr. Chill," which is not much. In terms of voices and narration, most of the time I don't have a clear idea. It's me, but the songs are never very autobiographical, there's almost always a "you," and that's very loose in my mind too. In certain songs "you" is pretty clearly a romantic partner, in others it's less clear. Or is it God? Or all three! Huh. Apparently there's God in everybody, according to the Quakers.
LT: Hell yeah. I love the zinger at the end of the song, "I can tell you stuff I can't tell anyone else/ because you don't threaten to help." I love the thought of help as threatening. Again, it reminds me of a Quaker meeting. There's not a threat of having to interact, you sit in silence. There is a thread of quietude that runs through your songs. It's not so serious, it's very wry also, but there's an understanding that not saying anything can sometimes be the best thing.
Dan Wriggins: Yeah I liked that line too. That song is pretty contradictory. The narrator is saying "I want help," and "I don't." For that line, there's a pretty clear surface meaning: People often immediately want to solve problems instead of listening, and that's not always good. I'm certainly guilty of it. That's the easiest option on that line. I also think of it as a mean thing to say, because "don't threaten" can also mean "don't have the capability." Pretty belittling.
LT: Ooh… backhanded.
Dan Wriggins: Yeah. I love being salty in songs.
LT: I also like the line "I still want to love this little world." Which could also be read as almost petty and diminutive, while still looking for wonder. Also, the line about being a "green detective." You clearly are looking at the world with some wonder, but not super wide-eyed about it. I think that creates all these potential meanings. It opens the floor for interpretation, because you're noticing things, not drilling them into our heads.
Dan Wriggins: Yeah. A lot of my favorite poets, especially James Tate, seem to write from a place of wonder and observation, like how can the world be doing all these unbelievable things before my very eyes. I guess part of that is getting older, feeling a little more passive, wanting to keep the wonder. I've become more cynical, more of a crabapple about stuff. How can you not. Whenever I think of the "little world" line I think of the Disney ride, "It's a Small World." I went to Disneyworld as a little kid; I remember digging that one.
Talking about saltiness in lyrics, I was just thinking about that Lomelda song "Kisses." Apparently the refrain is "I'm light like kisses." I didn't know that until today, and I purposely didn't look it up for a long time because it's hard to tell exactly what the words are, and I always heard it as "but you liked my kisses," which to me such a sassy line. It's this really immature but powerful line, like, "why did you leave me? You liked my kisses! I know that you did, you can't hide that, or take it away."
LT: Incredulous.
Dan Wriggins: Right. To me "you liked my kisses" was so powerful, but I was pretty sure it wasn't that because it didn't quite fit syllabically, and I didn't think Hannah would write such a bratty, hand-on-hips line. But of course, "I'm light like kisses" in the context of the song is an amazing line. When I found out, I wasn't mad, I was happy.
LT: That's beautiful. I'll have to listen again, for both. I also wanted to ask about the buckets in "Mr. Chill." Kind of reminded me, because of the buckets and also the working-class themes, of "My Bucket's Got a Hole in it" by Hank Williams. Were you thinking of Hank or any buckets in particular?
Dan Wriggins: I think I took it from a noir movie, but I can't remember what it was. Maybe it's Lauren Bacall. Someone says "my room is full of buckets," and in the context it's clear that she means "I've been crying a lot."
LT: Woah. Collecting those tears.
Dan Wriggins: Yeah. I realize it isn't so clear in the song, that's fine.
LT: Speaking of references, I love how you weave the references into your song, "Lucinda on June Bug," how it's both reverent and irreverent. I'm wondering if you have a favorite Louise Bogan poem or book?
Dan Wriggins: My favorite book is Journey Around my Room, which is an "autobiography," but also apparently a "mosaic," and was compiled after her death by her executor, Ruth Limmer. It's not chronological, it's just these seasonal passages and memories with crazy titles. It rules.
One of my favorite poems I think I can remember, it's very short:
Solitary Observation Brought Back From a Sojourn in Hell:
At midnight tears
Run in your ears
LT: Oh my God! She's so mystical. I've got one too, it's also short:
Knowledge:
Now that I know
That passion warms little
Of flesh in the mold,
And treasure is brittle,
I'll lie here and learn
How, over their ground
Trees make a long shadow
And a light sound
Like, now that I know everything's shit, I'll just lie here and think about trees. I'm also wondering about favorite Lucinda Williams songs, and if there are any other times she talks about june bugs besides "2 Kool 2 Be 4-gotten?" I hope your song inspires her to write more about june bugs.
Dan Wriggins: That's the only one I know of. Yeah, I guess my song is about having times when you don't want to learn anything new. So it felt like a good place to fit in some stuff I really adored.
LT: I can't think of many other songs that have been written about that, about wanting to shut the windows and not let anything else in for a while, hunker down in the comforts of the shit you already love. I'm glad there's a song for that now, so thank you.
Dan Wriggins: Sure [Laughing]. You're welcome.
Only the good shit. Aquarium Drunkard is powered by its patrons. Keep the servers humming and help us continue doing it by pledging your support via our Patreon page.