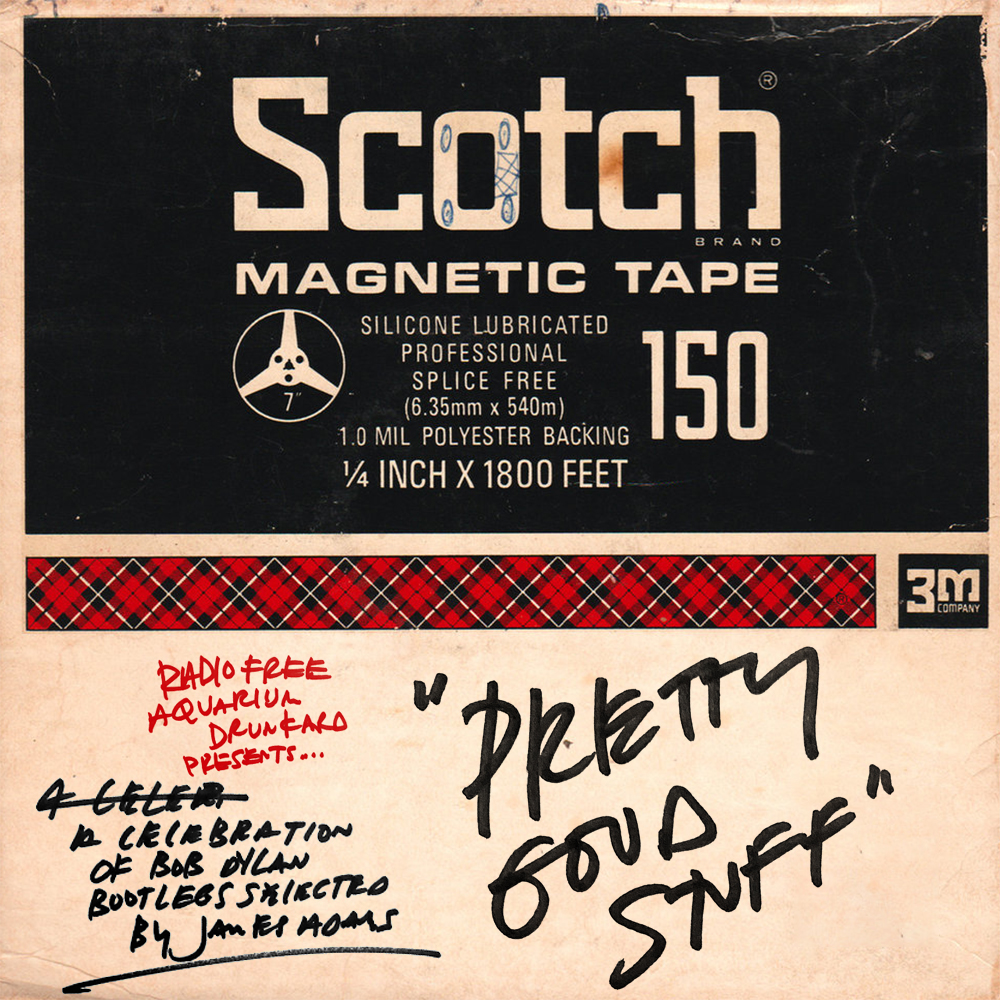 Boy and girls, the return of Pretty Good Stuff: Dylan historian James Adams' hour-long program diving deep into the depths of all things Dwarf Music. This installment, all California: 1965-2019.
Bob Dylan :: Pretty Good Stuff | Ep. 11
(the individual mp3s are available via our Patreon)
00:00 DJ talk over What Can I Do For You? (1979-11-18; Santa Monica, CA)
04:26 California (1965-01-13; New York, NY)
07:25 Lenny Bruce (2019-10-12; Santa Barbara, CA)
13:25 Most Likely You Go Your Way (And I'll Go Mine) (1974-02-11 Evening; Oakland, CA)
16:23 DJ talk over Trouble (1981-04-00; Los Angeles, CA)
20:55 Positively 4th Street (1965-12-12; San Jose, CA)
25:26 Accidentally Like A Martyr (2002-10-07; Red Bluff, CA)
29:06 Watered Down Love (1984-05-23; Los Angeles, CA)
31:47 Seeing The Real You At Last (1995-05-27; Monterey, CA)
36:45 DJ talk over Can't Wait (1998-09-25; Concord, CA)
39:31 Baby Stop Crying (1978-06-07; Los Angeles, CA)
46:04 Song To Woody (1986-06-17; Costa Mesa, CA)
49:06 Saved (1979-11-18; Santa Monica, CA)
54:31 Lakes Of Pontchartrain (1988-06-10; Berkeley; CA)
1:00:18 DJ talk over Louie, Louie (1985-09-19; Los Angeles, CA)
1:02:43 I Don't Believe You (She Acts Like We Never Have Met) (1978-01-30; Santa Monica, CA)
1:07:44 What'll I Do (2016-06-13; San Diego, CA)
1:12:07 Mama You've Been On My Mind (1964-11-27; San Francisco, CA)
1:14:18 DJ talk over God Knows (1993-10-09; Mountain View, CA)
1:17:55 Highlands (1999-06-25; Chula Vista, CA)
1:27:57 Out
Bob sez: Aquarium Drunkard is powered by its patrons. Keep the servers humming and help us continue doing it by pledging your support via our Patreon page. For heads, by heads.