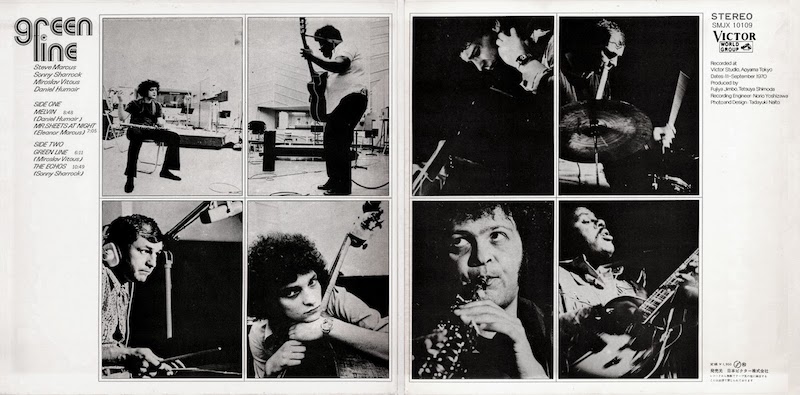 In 1970, Sonny Sharrock was enthralling/confounding audiences as the resident axman in flute-maestro Herbie Mann's touring ensemble, which also included Miroslav Vitous on bass, and early jazz-rock reedman Steve Marcus. All three had recorded great Mann-produced solo albums. They can be heard vibing behind their mutual benefactor on Live at the Whiskey A Go Go and seen playing to the crowds at the Harlem Cultural Festival in the Summer of Soul documentary. But they had other destinations and horizon in mind for themselves. Making the most of a tour stopover in Japan, the trio enlisted Swiss drummer Daniel Humair and ducked into a Tokyo studio and cut a blistering session as a one-off quartet they called Green Line.
The group's eponymous sole album is a document of four badass youngbloods looking around for the nearest rule book so they can light it on fire and piss on the ashes. And that they did. At just over half an hour, Green Line wastes no time, kicking off with Humair's composition, 'Melvin,' a stone-cold groove so deep in the pocket it should be covered in lint. It's aggressively funky, making it known that everything to follow will most surely mean business. Mellowing briefly with the gorgeous, lackadaisical haze of Marcus' 'Mr. Sheets at Night,' the group quickly returns to full flight for Vitous' propulsive, bop-leaning title cut.  But it's Sharrock's tour-de-force finale, 'The Echoes,' that reveals each player careening steadily toward the outer reaches, with Sharrock in the full astral ascent of his early prime—with the controls set for somewhere between 'Interstellar Overdrive' and 'Interstellar Space.' It's music rife with an energy of mutual annihilation, where the only endgame is total cosmic implosion.
Though only ever released in Japan and in sore need of reissue (affordability not being among the virtues of an original copy), Green Line sits easily alongside the most progressive jazz albums of the early 70s, many of which featured the work of the quartet's alumni—namely Sharrock's uncredited appearance on 'Yesternow' for Miles Davis' A Tribute to Jack Johnson, Vitous' early fusion-defining tenure with Weather Report, and Marcus' collaboration with Japanese jazz-rock outfit Jiro Inagaki and Soul Media. And so, Green Line was ultimately the beginning and end of its own trajectory, but damn, what a glorious path it blazed. | j annis
For heads, by heads. Aquarium Drunkard is powered by our patrons. Keep the servers humming and help us continue doing it by pledging your support via our Patreon page.