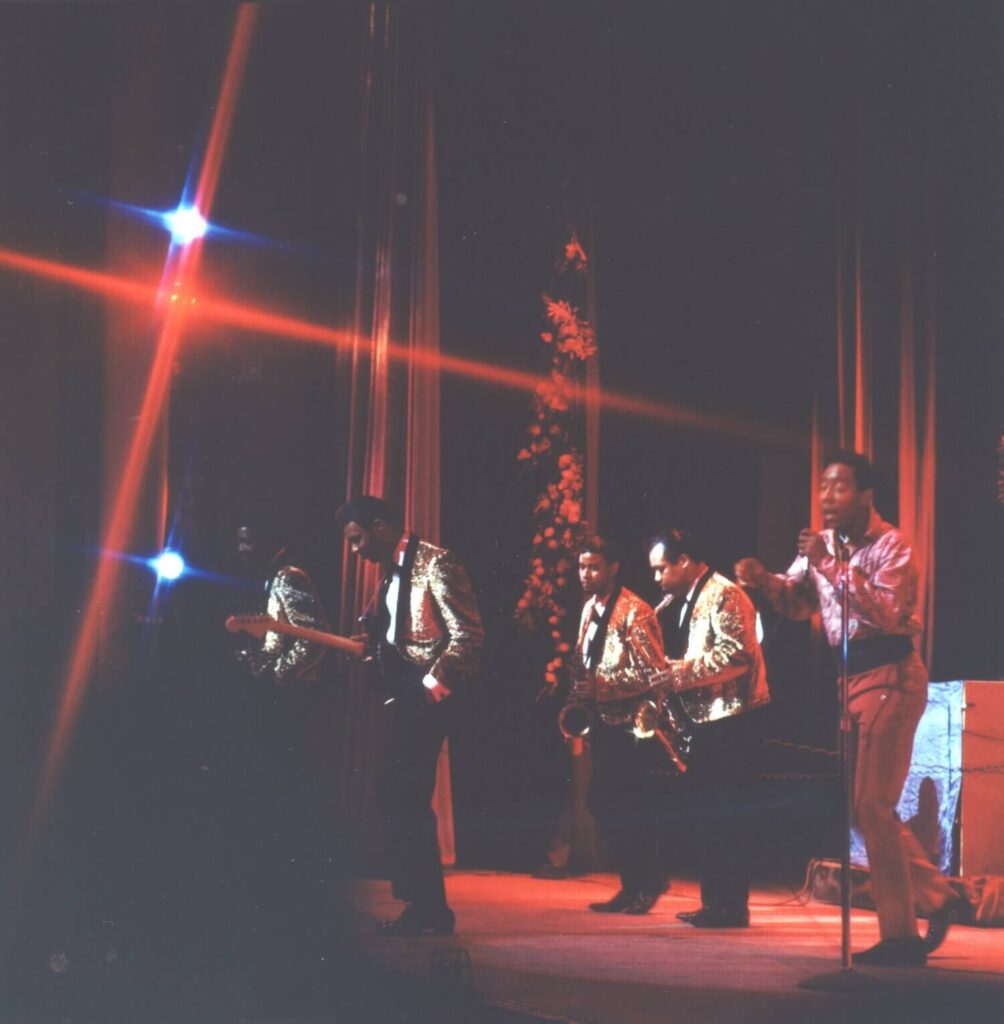 Arlester "Dyke" Christian ended up in the desert because of a radio deejay. In 1964, Eddie O'Jay hired the Buffalo-based Carl LaRue and His Crew to back up his vocal group The O'Jays, which had moved to Phoenix, Arizona, from Buffalo. Christian played bass in LaRue's crew, so he went along for the ride. By the time the band got to the Valley of the Sun, The O'Jays had headed back East. LaRue's band fell apart and he returned to Buffalo, but Christian, Alvester "Pig" Jacobs, and saxophonist J.V. Hunt stayed in the desert. The "Three Blazers" joined up with local players to form Dyke and the Blazers and cut a raw and thunderous single, "Funky Broadway," named both for the street in Buffalo and the one that cuts across Phoenix. It caught the ear of another deejay, Tony Evans, who played the record on KRIZ. Wolfman Jack heard the record and started broadcasting it on XERB, his mega-watt border blaster. Over in Los Angeles, Art Laboe heard it too. He didn't care for it—found it "continually boring"—but a young man from the shipping department overheard and expressed his admiration. Soon, Dyke and the Blazers signed on with Laboe's Original Sound Records. The song hit the charts and cover versions by Wilson Pickett and Jimmy Smith followed.
The forceful, steady thump that caused Laboe to initially dismiss "Funky Broadway" is featured in abundance on two recent collections, Down on Funky Broadway: Phoenix 1966-1967 and I Got a Message: Hollywood (1968–1970). While "Funky Broadway," "We Got More Soul," and the oft sampled "Let a Woman Be a Woman, Let a Man Be a Man" are the best known cuts, of particular shambolic charm is "Uhh," a relentless grinder propelled by drummer Rodney Brown. It's the best kind of nasty: nasty by omission, with Christian leaving it up to the listener to fill in his suggestive blanks. The original incarnation of Dyke and the Blazers didn't last much longer. I Got a Message showcases the work that came next in Los Angeles, before Christian was shot and killed back in Phoenix in 1971. But "Uhh" coasts along on the kind of groove that sounds like it never truly stops playing. | j woodbury
Only The Good Shit. Aquarium Drunkard is powered by our patrons. Keep the servers humming and help us continue doing it by pledging your support via our Patreon page. .