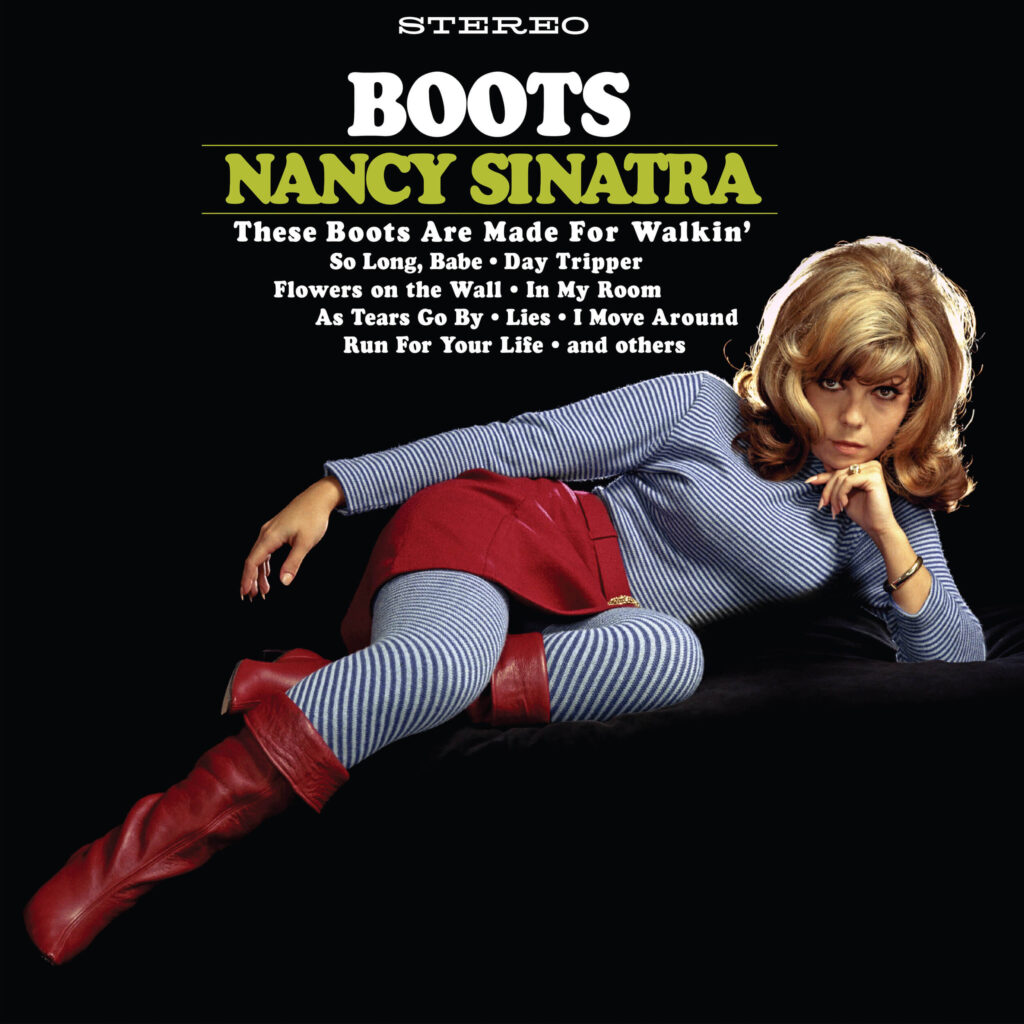 Aged twenty-five, Nancy Sinatra's career was close to finished. A few years prior to her supposed demise, in 1961, she signed to Reprise Records, a label founded by her father Frank Sinatra to secure his and the acts on the roster's artistic authority, as well as giving musicians an opportunity to own their masters. Being the Boss' daughter, however, didn't give Nancy special dispensations at Reprise. She paid for her studio time like everyone else and when her early singles (she refers to them as her "Nancy nice lady" records) received acclaim in Japan and Europe but failed to chart in America, the threat of being dropped by the label lingered. To salvage her future as a recording artist, she desperately needed a hit single.
Enter Lee Hazlewood, the songwriter and producer with a voice as deep as the ocean floor and dry as Texas soil. Upon the request of her father, Hazlewood was brought in to work with Nancy along with arranger Billy Strange ahead of recording her debut lp. In the living room of her mother's home in 1965, where Sinatra had returned after her first divorce, Hazlewood played her a couple of songs he'd written that could work for her. Finally, that evening, he performed something he intended to keep for his own repertoire. On guitar, he strummed the now legendary quarter-tone bass line introduction to "These Boots Are Made For Walkin.'" Sinatra, having fallen in love with the song immediately, argued that he couldn't sing it as the male perspective of the lyrics was "Chauvinistic and ugly." Whereas from a woman's point of view, particularly when the Women's Liberation Movement was gathering momentum, it was a declaration of empowerment. 
"These Boots Are Made For Walkin'" was recorded on November 19, 1965, featuring vibrant playing from members of Los Angeles' finest session group, the Wrecking Crew. The single entered the chart in December and by February 1966, it received the RIAA Gold Single Certification. With a debut album recorded in a 12-hour period, spread over three sessions, bolstered by a memorable performance on The Ed Sullivan Show (now considered one of the first music videos) and a new blonde image, Nancy Sinatra not only invigorated her career, but she became the emblem of Swingin' Sixties culture.
Fifty-five years after the release of her career-defining debut, Boots, Light in the Attic present the second installment of their Nancy Sinatra Archival Series; a deluxe edition of the record featuring an interview with the singer, unreleased tracks and previously unseen photographs taken during the recording sessions. Remastered by John Baldwin, using the original analog tapes, it's a celebration of both Nancy Sinatra's enduring legacy and the beginning of one of music's most important collaborative partnerships. 
The working relationship between Lee Hazlewood and Nancy Sinatra, to many, culminates with their eponymous Nancy & Lee, which arrived two years after Boots. The work that preceded that record, notably the stark production centred on tremolo guitar and a somber Sinatra on "Bang Bang (My Baby Shot Me Down)" or the dreamlike "Sugar Town" from '67's Sugar were equally magnetic isolated snapshots of the magic produced between Hazlewood and Sinatra, before the former joined her on the mic. When asked about their creative partnership, Sinatra described Hazlewood as "part Henry Higgins and part Sigmund Freud." With regards to the latter, we needn't venture further than his stellar production on the father-daughter duet of "Somethin' Stupid," which garnered a Grammy nomination.
Hazlewood's ear for a hook came from his days working as a local radio DJ in Phoenix, Arizona upon his return from serving in the Korean War. Hearing what was popular and dissecting the sonic formula swallowed up by listeners, led him to believe that he too could write a hit. From there, his musical career took off with guitarist Duane Eddy. His guidance as Sinatra's producer during Boots was formative. He urged her to change her vocal style ("You have to sing for the truckers") and possessed remarkable agility going from lush orchestration, screwball country numbers to stark and sinister soundscapes. The tonal sophistication of Hazlewood and Sinatra together is integral to the timelessness of the work. In both their approach to production and performance, there's equal parts reserve and indulging in excess.
For the most part, that sense of excess abounds on Boots. Settling into the record with a contemporary ear, a striking element to its make-up, but not unique for records produced during the 1960s, is that eight of the eleven songs are covers. The Beatles feature twice ("Day Tripper" and the egregious "Run for Your Life"), while Bob Dylan's "It Ain't Me Babe" is utterly transformed as a coy chamber-pop number. The instrumentation for Sinatra's version of "In My Room," underpinned by a funeral march and sinister brass accompaniments, steadily bubbles away beneath the surface waiting for the perfect moment to erupt with emotion. It makes for a somewhat more compelling rendition to that released by The Walker Brothers a few months later on their record, Portrait.
What's most captivating about Sinatra's artistry, particularly across Boots, is Nancy's nonchalance in her vocal performances. Personifying a figure of indestructible spirit on "Flowers on the Wall" ("Now don't tell me I've nothing to do") and hearing her swiftly rebuild a broken heart on "Lies," there's a great depth of character to Sinatra's style.  One that made her stand apart from her contemporaries and continues to illuminate today.
When something becomes ubiquitous it's easy to take it for granted. Sitting down with Boots, absorbing the infectious musicality and Sinatra's unwavering performances, the opening bars of her synonymous hit single remain unwavering in their jubilant impact. Heard within the context of the record, with a variety of tones and textures woven throughout, the listener develops an even greater appreciation for Nancy Sinatra. Fifty-five years on, her boots haven't lost momentum; on Boots, Nancy strides proudly. | z hedderman
Only the good shit. Aquarium Drunkard is powered by our patrons. Keep the servers humming and help us continue doing it by pledging your support via our Patreon page.