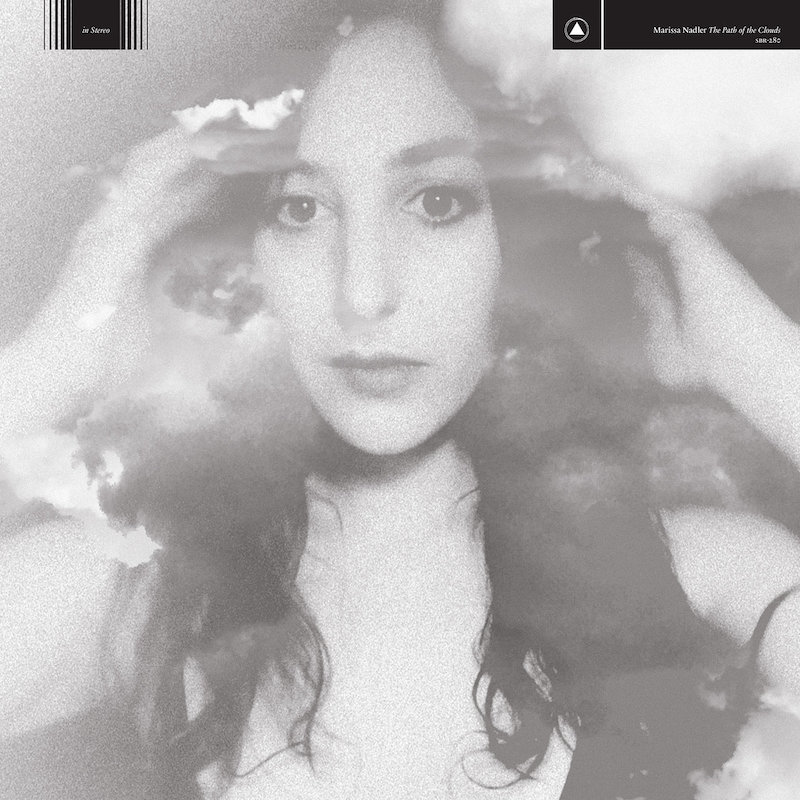 Since the early aughts, Marissa Nadler has made a chillingly beautiful kind of music, based on intricate folk-picked guitar and deeply personal. Trained in visual arts at Rhode Island School of Design, she began singing at open mics in Boston nearly two decades ago, and has since made ten studio albums and an equal number of self-releases. Although loosely affiliated with the freak folk scene, she has connected with musicians from many different genres, from the harpist Mary Lattimore to shoegaze pioneer Simon Raymonde to heavy music titans like Stephen Brodsky and Billy Howerdel.
Her latest record The Path of the Clouds is a bit of a departure, coming after Nadler relocated from Boston to Nashville. Hemmed in by quarantine in an unfamiliar city, Nadler rekindled a childhood fascination for the stories in Unsolved Mysteries. She was transfixed, in particular, by the tales about people who disappeared suddenly and were never heard from again—the wilderness explorers Bessie and Glen Hyde, the hijacker D.B. Cooper, the prisoners who made the only successful escape from Alcatraz. She began obsessively rewatching Unsolved Mysteries episodes about these stories, taking notes and working the details into a collection of songs.
In our interview, we talked about why these stories appealed to her and how Nadler balanced writing about other people with expressing her own experiences. We discussed the many interesting musicians who worked on this record with her—all remotely—and how she's built a community of like-minded artists. And while The Path of the Clouds has a definite mystery to it, we learned why no one should ever call Nadler's music "haunting" or "ethereal" again. | j kelly
---
Aquarium Drunkard: This is a pandemic album, isn't it? Can you tell me about where you were when the pandemic hit and how it affected you?
Marissa Nadler: It's only a pandemic album in that I recorded it during the pandemic. I was in Nashville, where I am now, and I did do a lot of the original recording at home. I produced the record myself and a lot of the collaborations were done remotely by email. So, it's kind of like an exquisite corpse of a record in some ways. I didn't give a lot of direction when I sent the songs to some of my choice collaborators, and what came back was pretty magical in many cases.
AD: You were fortunate, I think, to have everything you needed to make a record in Nashville, but it's still hard to work creatively when the world is shut down like that? Did you find it was difficult to get work done?
Marissa Nadler: I think that a lot of people, including myself, draw inspiration from the outside world. If you're not going outside much, you have to seek inspiration elsewhere. The inspiration for about half of the songs on the record didn't come from my personal life but from these stories about vanishing and disappearances. So, I guess it kind of was a pandemic record, because I don't think I would have gotten so deep into the stories of Glen and Bessie Hyde or the Alcatraz escapees or D.B. Cooper had I not had so much time on my hands.
AD: I hear you watched a lot of Unsolved Mysteries?
Marissa Nadler: Well, I definitely did as a kid. It was my favorite show. Initially, I really toyed with the idea of making a whole record about these stories, but I was kind of at the same time writing these deeply personal songs. But I was drawn to the Unsolved Mysteries stories about people who disappeared and were never seen again. That's the similarity between three songs that are based on true stories, which is "Bessie, Did You Make it," "Couldn't Have Done the Killing," and "Sometimes You Just Can't Stay." And those I've kind of realized later had a lot to do with my own life, why I was drawn to those stories.
AD: Why were you drawn to those stories about people who disappeared and were never seen again?
Marissa Nadler: I liked the idea that they did survive and that it's never too late to make change in your life. Probably none of them survived, but I kind of prefer to go about optimistically thinking that maybe they were able to have a second act. Especially with Bessie. I liked the idea of her kind of walking away from something that wasn't making her happy and trying again. It wasn't really clear to me until after the record was finished just how much the personal songs and the third-person narrative songs overlapped in their themes.
AD: I really like "Bessie, Did You Make It?" It's got some really lurid, violent imagery about finding bones in the boathouse and bullets in skulls and all kinds of extreme stuff. And it's obviously not about you in that sense, but it also seems that it might be about you.
Marissa Nadler: It's definitely not about me personally, but if you saw the video for it, it's these modern day women. Those lyrics, the visceral lyrics, those are pulled directly from the story. I'm such a dork. I took notes while I watched about 100 episodes in a row. It was kind of a writer's device to me, just to break through a writer's block that I was having. There wasn't a lot new to write about. So, I was taking notes and whenever something that I found interesting lyrically came up, I just wrote it down. And then I later turned them into lyrics. The bullet in the skull, that's directly from what they found. The details were already kind of there for me for the taking. It was a fun way to write songs.
In terms of the themes to that song, I think they could be applied to a lot of modern day women…and men and non-binary people.
AD: Everybody.
Marissa Nadler: Exactly. That's the universality of the themes of change and metamorphosis and disappearing. I think people can relate to wanting to sometimes walk away, and I've found that story kind of intriguing, which is why I wrote a song about it.
AD: Just for people who haven't seen the show, can you recap the story that was behind it?
Marissa Nadler: Glen and Bessie Hyde were a newly married couple. They were explorers. This was in 1928. They went down the Colorado River. Basically, they disappeared in their boat and were never found again. What I found interesting about the story was that somebody claimed to be Bessie 50 years later, and that to me, seemed so random. How could it not be true? It's not like Alcatraz where everybody knows that story and there are lots of movies and TV about it. This is just some random person, and why would she say that if I wasn't true? They tracked her down and she recanted the story, but I don't know. It kind of reminded me of the Russian revolution, of the woman who claimed to be the Czar's long-lost daughter.
AD: Anastasia.
Marissa Nadler: I've always been intrigued by that how they ruled her out by ear-matching.
AD: It's much harder to disappear now.
Marissa Nadler: Oh, it's virtually impossible. And that's kind of why these stories were so interesting. They all happened during a time when it really was possible. There's a story about Connie Converse disappearing. I can't imagine it being that easy to do today.
AD: You used to be able to do it by moving 100 miles away, but now everything is so tracked and connected.
The title track is about a really crazy, amazing story about D.B. Cooper, who hijacked a plane and got $200,000 in ransom, landed the plane and let everyone off except the crew and then parachuted out and was never seen again. That's insane. How did you hear about that?
Marissa Nadler: I was already familiar with the D.B. Cooper story. When I was taking notes on Unsolved Mysteries, that was one of the ones that I thought was pretty cool. Because again, that is so impossible…it wasn't even that long ago.
AD: 1971, I think.
Marissa Nadler: Yes, and that would never happen now. And the fact that he was fairly non-violent was even more interesting. It's a really crazy story, and I really wonder if he made it. Because I think he had experience as a paratrooper.
AD: You'd hope he'd parachuted out of an airplane before he did that.
Marissa Nadler: These stories, I think, as I was going…and I don't want to get too much into my personal life. I've gone through some transitions and I was drawn to these stories for that reason.
AD: In terms of the music, I was finding this album a little more driving and rhythmic than your previous work. For instance, "Couldn't Have Done the Killing" has these wonderful, massive guitar chords in it. It's not gauzy or ethereal or any of the things you usually get described as. I was wondering if you were thinking differently about the music for this record.
Marissa Nadler: Very differently. You know, when you've been doing it for as long as I have, obviously, I have no intention of staying the same. My last record was fairly stripped down sonically. I think because of that, I really wanted to try something different for this one. I learned how to play the piano during quarantine and learned how to read music finally. It's very helpful to keep the development of my melodic ear.
The main electric guitar player, instrumentalist, is a musician named Milky Burgess. He played on my record, Strangers, too. He's definitely got a groove to him. He likes to rock. That song, even from the beginning when I wrote that on acoustic guitar, it was always bar chords. It had a beat from the very beginning. Seth Manchester who mixed this record has mixed a lot of very heavy records. A lot of the songs have very little if not no reverb on my voice. I was just tired of these genre tags that diminished the songwriting. By stripping away some of that, I hope that the songwriting strength is evident.
AD: I really like that song. Now I know you just mentioned a couple of the people you worked with on this album, but there's a whole bunch of really interesting people on it. Can you talk to me a little bit about how you know these people and why you like them? One of them is Mary Lattimore, the harp player, who is amazing.
Marissa Nadler: I love Mary Lattimore. We go way back. I met her when we both lived in Philadelphia. When I was making my very early records, I was kind of hanging around in Philadelphia. I recorded my second and third records in Philly with Philly musicians. I knew Mary from the band Espers. I loved that band. So, I met her through them. We stayed in touch and did a tour together. There aren't too many people who play cosmic harp. I wanted something magical, and she's always been very supportive of my songwriting. So, she said yes, and I just said, play whatever you want.
AD: Which song is she on?
Marissa Nadler: She plays on "If I Could Breathe Under Water," and she plays on "Elegy." I have to go back to the credits, but she plays on three different songs, very, very beautiful additions.
AD: And then you have Simon Raymonde who was the bass player for the Cocteau Twins and I know you sang on his Lost Horizons project. How did you hook up with him?
Marissa Nadler: Well, Simon happens to also run Bella Union records, which is my other record label. I did, actually five songs for Lost Horizons, three with the last record and two …some of them came out as bonus tracks. But we've worked together. That label's cool because he's an actual artist and when I asked him, he's a rock star, and he was so cool about it. He was so humble and he really made me think about the bass differently. His playing is so melodic and beautiful. He has some moments that are really beautiful and I was pretty excited that he said yes, because you can't really get much better than that.
AD: And then your piano teacher, who also incidentally played in a couple of really well-known bands, he's also on this album. You mentioned learning piano during the pandemic, but how did that come about? How did you meet Jesse Chandler, and what does he do for you here?
Marissa Nadler: I met Jesse, hmmm, I think Simon introduced us. Midlake is on Bella Union. I can't even remember how I met him, but I participated in the Mercury Rev Bobbie Gentry covers album and went on tour with Mercury Rev, so that's how I got to know Jesse. He's just a really good player and I knew that he gave lessons and playing piano was something I always wanted to do. We're friends. I wrote a lot of the songs on the piano but was nowhere near good enough yet to play. I didn't play piano on this record, but I probably will for the next one. He plays all these woodwinds and that's another thing that I've never had on any of my records, like flute, alto flute, clarinet, crazy stuff. "Lemon Queen" and some of those songs have these really interesting sounds.
AD: Do you have a favorite bit on this album, like a sound or a lyric or a moment that really came out well?
Marissa Nadler: You know it's funny. I'm not just saying it, but I don't have a favorite track. I really love every song on it. There are a few things I would have done differently, but I'm pretty proud of it. I guess some of my favorite moments happened because of the randomness of the collaboration. When Jesse sent back those woodwinds for "Elegy" and "Lemon Queen," I was absolutely floored. Like I knew he was good. I knew all these people were great players, but I guess it takes some amount of trust to just mail songs to somebody and give them no instruction and see what comes back. For the most part, I kept almost everything that everybody sent. I did do the vocals in a real recording studio in Nashville, just because it deserved that.
AQUARIUM DRUNKARD: You were in Boston for a long time. Do you like being in Nashville?
Marissa Nadler: I don't know. I loved Boston, and I'm a real New Englander at heart. I've got to say I moved here right as the pandemic started. And right after the big tornado. I don't know yet really. I like my little studio. I like that it's cheap to live. I think that's why people move here. I'm as liberal as they come, so it's still strange living in a place where so many people are conservative. I don't think there are that many republicans in the whole state of Massachusetts.
AD: What's next? Are you going to do a tour or is that out of the question for now?
Marissa Nadler: No, I have a show booked in New York and then Psycho Los Vegas booked in the summer. I'm kind of not planning on doing a big tour. I think this whole thing affects some people more than others. I'm already predisposed to anxiety. I can't imagine feeling comfortable in small clubs doing the kind of tour I used to. I'm taking offers just on a case by case basis—if they're good enough. I'm kind of building up mystery, or I'll use that as an excuse.
AD: Are you doing other stuff to fill the time?
Marissa Nadler: Yeah. I manage myself and I'm producing myself. So, the record cycle itself has been a bit intense with two labels. Making sure everything is taken care of. I'm doing some live videos. I have one for Rough Trade that I'm making. I'm going to put together some really beautiful performance footage of these songs. But mostly I work on my fine art when I'm not doing music.
AD: What are you doing in fine art? Are you a painter?
Marissa Nadler: I used to be an art teacher for a special needs high school. I have a bachelor's and master's from RISD so I have a strong fine art background. I'm trying to get gallery representation. I'm trying to make a body of work that I'm proud of. Which is, for whatever reason, much harder for me than music. I think because I'm trained in it. It's hard to shut my brain off, that all of this has been done before. Whereas music is just so fun for me because I don't intellectualize it.
AD: Is it figurative or abstract?
Marissa Nadler: A little bit of both. My mom's an abstract painter. But I really specialize in portraits. Figurative work. Kind of trying to merge the two. And I'm still trying to find my medium. I'm working in film as well. I just learned After Effects and Premiere. Making some music videos for this record on my own. I'm always very busy with the creative stuff.
AD: Are you listening to anything good now?
Marissa Nadler: Yeah. Well, when I'm working I only listen to stuff like Harold Budd, or really instrumental ambient music like Mary's music. I am excited for my friend Emma Ruth Rundle's new record. She plays on my record. She's on "Turned into Air" and "Shape Shifter." Amber from Black Mountain is on "Elegy." They both have new music coming out. I like to champion the people I work with. Emma's really great. Her music is beautiful.
AD: She just did a record with Thou.
Marissa Nadler: Yes and Mitch from Thou directed a video for "Bessie, Did You Make it?" It's a nice little circle of friends. When you've been doing it for a long time, people start to become friends. Everybody knows each other.
AD: Did you ever want to do that? Get up in front of a big metal band and sing?
Marissa Nadler: Well, I have actually. I did this side project called Droneflower. It was a small release on Sacred Bones with Stephen Brodsky from Cave in and Mutoid Man, and then I opened up for Ghost for six weeks, which was quite the experience. It was wild. It definitely got me over my stage fright, or at least almost, because that's one of those situations where you just sink or swim.
AD: I know collaboration is somewhat fraught now, but are you doing any collaborations or side projects with anyone?
Marissa Nadler: I get asked to sing on stuff a lot, never to play guitar on anything, which is kind of sad. I just sang on a track for Billy Howerdel from A Perfect Circle. I also want to get into film scoring. I've had some cool co-writing sessions with my publishing company. It's kind of fun to work anonymously. They paired us with totally different writers, like rappers and stuff like that. It was so fun. I want to do some more of that.
AD: I think Nashville has a little bit of an independent film scene? I know Georgia has a lot of film, but it's pretty commercial. My son's an actor, which is how I know. He's also been suffering during the pandemic because there's no theater.
Marissa Nadler: The arts in general it's been pretty tough. Thankfully there have been companies like Bandcamp that pretty much single handedly kept me afloat.
AQUARIUM DRUNKARD: They're doing good work.
Marissa Nadler: They're a great company. Spotify is a tough one. I'm glad Apple Music is becoming more popular. They pay one cent per song, which is a lot more than Spotify.
AD: I don't get Spotify. They're not even profitable. So even if it's all about the money, what's the point?
Marissa Nadler: They also prevent artists from being heard. Like not a single one of the new songs has been put on a Spotify editorial playlist. So, all the plays that they've gotten have been from user-generated playlists. It seems rigged. I have two record labels and three really strong singles that just came out, and I don't know what's going on behind closed doors, but they've proven there are some fake bands. It's depressing.
Also, their whole motto that artists should be making more music if they want to be profitable is really a very backwards way of thinking about art. It really should be all about the quality not the quantity.
AD: It warps the way people listen to music. They don't have any connection to who made it or what the story is. They just float around from one track to another.
Marissa Nadler: When I was younger, I'd go and spend my allowance or what I earned at my job on a record, and because I had paid for it, I'd try to listen to it and find something I liked.
AD: I remember when you'd have one cassette tape in your car for the whole summer, and you'd just listen to those songs to death.
Marissa Nadler: I miss that. I miss pre-internet. I had an analogue childhood. I'm an X-ennial. I miss that era.
AD: Is there anything about your work that people don't get or that they always get wrong?
Marissa Nadler: Yeah. A lot. I mean, I happen to be an underdog in the industry, but I've managed to sustain a career despite that. I think that sometimes the songwriting gets overlooked, because of these genre tag names that I get stuck with like haunting, ethereal, gothic. If you take someone like Johnny Cash or even Hank Williams—these are not people I'm comparing myself to—but every songwriter I can think of has bones and blood in their music. Once you get labeled, it is tough to break out of the pigeonholing. I came up in the periphery of what people called freak folk, but I was never on that compilation, Golden Apples of the Sun. I wasn't freaky. I think people need descriptors, but I do really strive for the songwriting itself to be more important than the vocals. People always talk about my voice.
AD: People do that to all female artists.
MMarissa Nadler: It's frustrating. I was so happy when Guitar World recently wrote about my guitar playing. That was literally a career highlight for me because I've been playing since I was 14. They said I was a great finger-style player, and that was so nice to hear. It's always about the voice and always about the genre. Maybe it's laziness. I really just hope women start to get more respect about their writing and production choices.
AD: What do you think makes a great song a great song?
Marissa Nadler: It's a lot of things. It depends on the type of music. But I think relatability. An entry point. Whether that's a catchy melody or a thought-provoking lyric, a great beat or all of the above combined. I think about this a lot. One of my demos got 26 million listens on Spotify. I recorded it on a MacBook, no microphone, no money went into it, it wasn't even on a record. So, I thought about what made that song pop through. It depends on what it is, but I do think song structure is important. I like music that makes me feel something. That's pretty much the only rule for me.
For heads, by heads. Aquarium Drunkard is powered by its patrons. Keep the servers humming and help us continue doing it by pledging your support via our Patreon page.