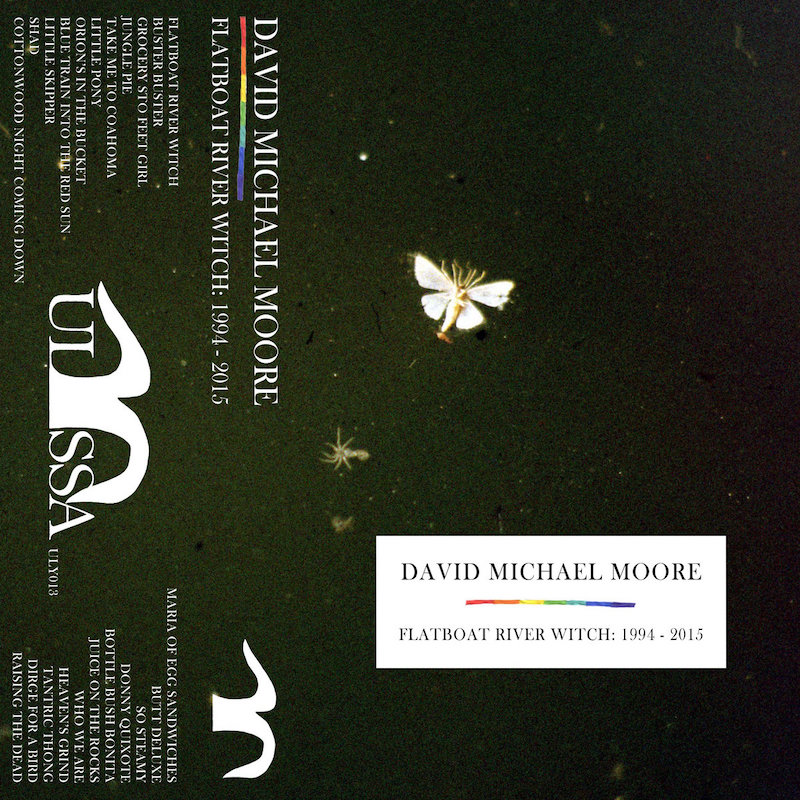 At age seventy-one, David Michael Moore is a Genuine American Freak. An artist and woodworker, living in Rosedale, Mississippi, its mighty river flowing half a mile from his home, Moore has been quietly recording a potent, homespun Americana—tinged with eastern tonalities and new-age ambient passages—for the past three decades. A compendium of these unique and eccentric sounds comes to us in the tape Flatboat River Witch: 1994 – 2015, via the Bloomington-based Ulyssa imprint. 
Moore builds his own patch worked instruments—zithers, harps, wooden drums, buzz boxes and dog bone xylophones. With these homemade sounds, along with piano, synths, drums, field recordings, and his endlessly imaginative sonic spectrum, Moore's idiosyncratic persona comes through in his vibrantly alive and evocative music. He crafts dreamy instrumental soundscapes and percussive ambient passages like the tropical, lounge-laden title track and industrial jazz synth-scape "Heaven's Grind." On the blissful "Cottonwood Night Coming Down," gorgeous, earthy piano rolls along gently with timbered rhythms. "Maria Of Egg Sandwiches" is a winsome western waltz, a dreaming twilight ballad riddled with rural chasms.
Elsewhere, Moore crafts rich, character-filled story songs, traversing across an idiosyncratic spectrum of sounds and sharing vivid glimpses of outcasts, rejects, and oddities in the vein of Ry Cooder or John Prine, and singing with a smoky, vaguely detached J.J. Cale cool. "Buster Buster," with its rolling piano and sepia-toned harp, is a buoyant, zydeco-driven tale of a low-down drunken war vet, while "Who We Are" details a wearisome tedium haunting the townsfolk with a rollicking Cajun groove.
Moore builds a world both prosaic and surreal—weirdo cosmic tales of the commonplace, with a thick current of the of the humid Delta running through it like a type of voodoo intruding on the vernacular. His mallet playing induces a trancelike blues—galloping and hypnotically rhythmic on tracks like "Bottle Bush Bonita" and "Tantric Thong." He embraces a playful discord on the musique concrète minimalism of "Juice on the Rocks," and works out lo-fi, free jazz excursions on the strangely elegant "Jungle Pie" and the wandering "Donny Quixote."
As often as he can be silly, there's also spiritual mysticism to be found in Moore's lyricism, it too riddled by the strange dense fog of the Delta. "When you step down in this river, throw away your name," he sings on "Shad." A meditative, muted fantasia steaming about, he continues: "By the time you reach the other side, you'll never be the same." On "Little Pony," sounds from Moore's surroundings awakening the senses of gliding vibes and raga-entranced strings, he sings: "Stars still flame across the sky / when I laugh / when I cry / I hope to live before I die / Things keep their secrets / I don't know why." The vibes breezily tap along, smirking with secrets of their own, at ease in the company of their fearlessly searching captain, harmoniously floating into the unknown and unexpected. | c depasquale
Only the good shit. Aquarium Drunkard is powered by its patrons. Keep the servers humming and help us continue doing it by pledging your support via our Patreon page.