Sharon Van Etten has been in near constant motion since she emerged in 2009 as one of indie rock's most distinctive and lovely voices. Over the last 13 years, she has formed bands, explored rock and electronic sounds and written some of popular music's most wrenching, self-revealing songs. In 2016, she had a minor but memorable role in the Netflix series the OA, lending her unearthly voice to the show's plotline about death and rebirth. That same year, she got married and got pregnant with her first child, but family life has, if anything, centered her and made her better at what she does. She's become more visible and more of a force with every album she's released. In 2021, some of the music industry's heaviest hitters—including Lucinda Williams and Fiona Apple—paid tribute to her songwriting skills, reinterpreting the ten songs from her 2010 album Epic.

Van Etten's sixth full-length, We've Been Going About This All Wrong, is, like much of the music being released this year, a pandemic album, reflecting a long, contemplative couple of years that Van Etten spent in Los Angeles with her family. But even during lockdown, she wasn't alone. Band members and fellow musicians reached out to her. Collaboration flourished. There were hikes, and outdoor gatherings, and lots of music, recorded in the home studio Van Etten finished in January 2020.. Van Etten, who uses her music as a way to explore her feelings, wrote 20 songs before her partner suggested that, maybe, she had an album in there. We talk about this latest work, the pandemic, having kids and making art in the face of upheaval. | j kelly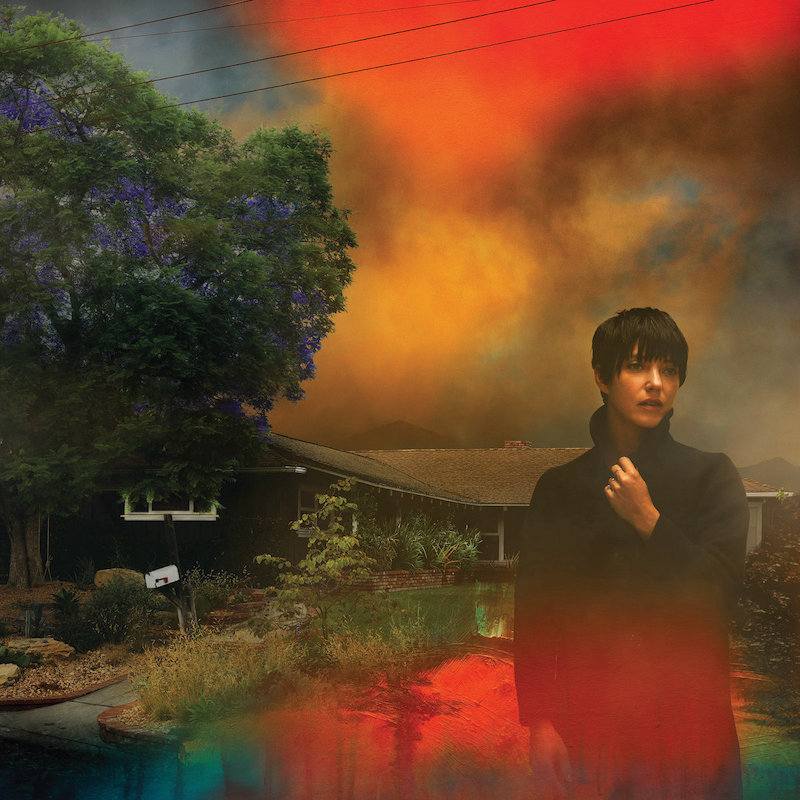 Aquarium Drunkard: What exactly have we been going about all wrong?
Sharon Van Etten: A lot of things. I feel like we all kind of looked at our lives under the microscope over the last couple of years, whether it be inward in your own little bubbles or as you're looking from afar. I've been looking at how I'm living my own life, with myself, with my family and my work. The way I interact with my son, with my partner in the midst of trying to have a life outside of them. On top of everything else that's been going on in the world, we're nitpicking our own little identities.
AD: People with little children really got socked the last couple of years.
Sharon Van Etten: Yeah, well I feel lucky about our son's age. He was turning three when this started. He's had more COVID years than normal years. To him, it's just normal. For that, I feel very lucky.
AD: You recorded this in your home studio during the pandemic. But to me, it really has this big communal feeling to it. Is making music a way of reaching out when you can't do that physically?
Sharon Van Etten: Yes, especially during this time. I reached out more than ever. I feel like my whole adulthood leading up to COVID was in preparation for these years. I've been learning how to ask for help. It took me a very long time to learn how to do that. As a kid and into adulthood. We made the big move from New York to California in September of 2019, and I finished the studio in January of 2020.
The timing was incredible. I keep telling this joke that the universe has called my bluff for all the reasons we moved to California as a family. To have more time at home, to be outside, to have a yard, to have more time with my family…
AD: But maybe not that much.
Sharon Van Etten: Exactly. I was like, all right, okay, maybe let's put the genii back in the bottle. But I toured with this amazing band in 2019. It was a new iteration for me. I was integrating more synthesizers into the live band setting, so I brought in a multi-instrumentalist who played keys as well as guitar and a bass player who has more jazz and goth and rock leanings. And my drummer who I met through my multi-instrumentalist Charley Damski. They played a big part in shaping these songs that I began in my studio.
They were also friends to me in LA, outside of the road. Some bands, they tour together and then they say "See ya!" But during the last couple of years, my band turned into my lifeline, along with some musicians who played on my last record Remind Me Tomorrow who were in LA. They reached out to me when I went radio silent and helped me work on projects with them from afar. They went on hikes with me when I went dark. For being new to LA, I had a nice group of friends. I was able to nurture them and they nurtured me, too.
AD: I've talked to a lot of artists who say that during the pandemic they were able to collaborate with people that they might not have otherwise. Because everything was virtual, you could collaborate with anyone.
Sharon Van Etten: Collaboration was at a height. I had done it before, but I felt like so many people were doing it, because a lot more people were home, so a lot more was able to actually happen.
AD: How do you summon the energy and hope and what not to make music when the world is falling apart like that?
Sharon Van Etten: I like that, "hope and what not." Exactly. I can't go completely dark. For my partner, for my son for myself. Through years of getting over trauma, I learned that you have to accept that things are going to pass. I'm not going to say that I've figured things out or that everything's great. It's more about knowing you can get through it, but you have to …try. You work at getting through it internally, but also externally with the people around you and in your life and in the choices you make. All day long, I'm trying to help my kid feel safe and protected. And so, I get into this filtered mode of self-preservation, which is for my son, but it kind of turns into my own mantra.
AD: What can you tell me about how the album took shape? Did it start with one particular track or was there a conceptual framework?
Sharon Van Etten: I tend to just write and write. The songs tend to represent the time that I'm in, which is why this record would inevitably be a COVID record, even though everyone's so tired of hearing that phrase. But I think that whether or not people lean into it, what they're making in these two years will be referred to as the COVID time. And so, I knew that I was going to go there. Everything I was writing about was mortality and relationships and regrets and hopes for the future. I've touched on a lot of that stuff in the past, but it's less about broken hearts and exes and more about my current life and family and friends and world with all that in mind, the heartache in that.
I had about 20 something songs at a certain point, and my partner said, I think you should just take those songs. I think you have a record in here if you take those songs and listen back. And so, I tried to find the common threads between the songs.
It took me a minute to figure out, sonically, what I wanted it to sound like. Although the bones were there from the beginning. I had worked with my friend Zach Dawes, who played bass on my last record. We had done a couple of collaborations doing a song called "Dry" for a horror movie and then doing a cover of "(What's so Funny 'Bout) Peace Love and Understanding," with Josh Homme. I really liked working with him. He has a really gentle way. He's very hands off and just lets the musicians do their thing.
One of the artists I listened to a lot during that time was Dion. And I thought I wanted to make a record with that classic sound. We were set to be in the studio to make another song, and Zach got some after hours at the Village Recorders in Los Angeles. We did two nights there. I had a beautiful session with his friends who are session players, Jay Bellerose, Dave Palmer and Benji Lysaght with the Dion palette in mind. I got some beautiful performances out of that, but when I got back and listened back to them and listened to what I was saying in my songs and comparing them to my original demos, I just felt like these are too beautiful. They're too classic. And also, in the context of what this record means to me, I wanted more ownership of it to represent my time and my space. And so, I decided not to do any further work at the Village. I would love to do that again sometime, because that was amazing, and that record will come. But I brought some of those stems into my personal recordings. My house engineer, who co-produced the record with me, Daniel Knowles, he helped me build these mixes to bring to a neighborhood studio that had a bit more space to accommodate my band. Then I brought my band in to flesh out these songs that were definitely a combination of band driven as well as synth driven. It was kind of a combination of all the records I've ever done mixed into one.
AD: I love the vocals in "I'll Try," how they twine together and how hopeful they are.
Sharon Van Etten: I originally started writing that when I was driving my kid to school, I was thinking about everything that was happening in the world and how normal it was for some people and how stressful it was for other people. I was still going about my day while all this chaos surrounded me. I found myself making these quiet resolutions to myself, trying to better and holding myself accountable for making a difference, whatever that is.
AD: "Mistakes" has this great line, "Even when I make mistakes, turns out great," and I'm just guessing here from your lyrics, but it seems like you might be a bit of a perfectionist. Have you learned to cut yourself some slack and learn from the wrong turns?
Sharon Van Etten: As I'm getting older, I realize that the best lessons that I've had have been from mistakes that I've made and not successes that I've had. In general, it's just trying to be easier and let go a little more. I try.
AD: Do you have any favorite bits or lines or moments on this record?
Sharon Van Etten: There's so many different things. I love the transition from the first song, after "Darkness Fades" where it's just this simple guitar until I say, "Until the doors close," and then the instrumentation unfolds. That transition to me has always been important. And then the minimalism of "Home to Me" for me was very important. That vacuum of sound and just hearing the words at the top. But sonically as a build, I would say "Born" is probably the biggest song that I've tackled in my life.
AD: Did you have any touchstones for that kind of big sound? I know you mentioned Dion.
Sharon Van Etten: I don't even know what to compare that song to. When I first started writing that song, I was trying to sing as low as I could. I was trying to conjure Nina Simone. But that was before any instrumentation was on there. I was doing it in my own weird way with a dry drum machine and a delayed piano when I first started writing it.
I was thinking about an experience I had with a friend of mine, not necessarily a confrontation, but a meeting that could have gone better, and I could have been a better friend about a certain situation. When I start looking back, for me, I start spiraling and thinking of all the things I could have said. So, this was happening stream of conscious, and this melody came out of nowhere. The melody is pretty much written in one sitting. But no arrangements obviously, and the chord change happened by accident at the end, and a lot of stuff just fell on top of that. It was like, that wants to go there. I definitely felt possessed by the end of the song. It was clunky and choppy in the first iterations, but I felt I had exorcised something.
AD: As you did on your last album, you were using some large, dancefloor sounds like synthesizer and reverbed drums. What is it about that that appeals to you?
Sharon Van Etten: As I'm learning how to use them, I'm interested in how real instruments and synthesizers and electronics blend together and how dark they can sound. I still like a live-sounding band, so you can feel that in a room. But there's something about the distortion and the drive and the metallic sound if you can match a guitar with a synthesizer. It's very satisfying. Playing a key instrumental also helps me write in a different way than if I was writing on guitar?
AD: Do you play piano well, or did you learn it to do this?
Sharon Van Etten: It was one of my first instruments growing up, but I'm not classically trained. I can play chords and do simple runs. I can sing while I play, but it's very minimal. I'm not excellent. I know how to play well enough to write, and then I bring in real musicians to make it better.
AD: Some of my favorite keyboard parts are like those Clean songs where they're just banging three keys, and it sounds great.
Sharon Van Etten: I like the dissonance of it. I definitely use it more percussively than anything.
AD: It seems to me that there's a dissonance between these very personal, confessional lyrics and the hedonism of the synth sound. Is that interesting to you?
Sharon Van Etten: Well, I like to offset feelings. If it's really upbeat, it's because I'm talking about something complicated. Sometimes a song can be sweet and just live. But the song "Far Away" is one of those songs where it sounds really pretty and dreamy but I'm talking about dying. You know? I'm looking out from wherever I am and seeing who I've left behind. I like those dualities. It's like, "What a pretty song!" but yeah, it's about death. I like those pulls, where it's the sound is really aggressive but it's about dancing with my partner and my child.
AD: Interesting. I know you're doing a song and some shows with Angel Olsen, which makes perfect sense to me. How do you know her and how did the song come about?
Sharon Van Etten: Angel and I have been touring around each other forever, high fiving along the way, bumping into each other at festivals. One night in Amsterdam, we were at the same bar together, and pushed our tables together. It was really sweet.
Angel and her whole entire band and crew are just really beautiful people. They've always been very welcoming. I really appreciate that sense of community. You can feel really isolated on the road. You wonder, who is my community. I feel like I'm still finding my identity. But she has always been very kind to me. We haven't ever really gotten to work together but every time we've bumped into each other, it's always been very fun and candid.
During COVID, we had been texting along the way and sending high fives via Instagram and social media and being supportive in that way. I got asked to do a cover of the Velvet Underground song, "Femme Fatale." I got the courage to finally ask one of my favorite singers ever if she'd want to sing on it with me, and she replied right away and sent amazing harmony right away.
That was so easy, and she added so much to the song that we made, that I got a little cocky. I sent her a demo that I was working on. She again was very kind and giving and said, oh my god, this is amazing. And I said, do you want to help me finish writing it? And she said yes, and do you want me to sing on it? And I said yes, absolutely. And it turned into this duet very quickly. We tracked the song with John Congleton, who we've both worked with. It came together very naturally, quite honestly.
The one thing that I missed—doing a duet but not being in the same room probably posed the biggest obstacle. But I was like, if I'm doing the first verse and you're doing harmony, does that mean you have to sing the harmony without me there? It was a funny process when we got to that point. She's just been…Angel. I don't know. She's wonderful. She's one of best people I know.
AD: Do you think there might be a whole album of that someday?
Sharon Van Etten: Well, that would be nice. We're pretty booked right now. But we definitely want to work together again. We just had such a good time doing it. It would be a dream to be in the same room together and take the time to make something more, for sure.
AD: Yeah, it's like the Justice League of female singer/songwriters. I know a lot has happened to you in the last few years. I watched you on the OA, for instance. And I loved how they used your voice, which does have an otherworldly quality. Did you learn anything from that experience that you've applied to your music?
Sharon Van Etten: Well acting is still something I know that I need to improve upon. I felt a camaraderie with the other actors, even though I was the only non-actor on the set. When you're dissecting a scene and you're talking about the inner motivations of the character that aren't written on the page, it was fun to see the actors talking it through with each other. What are you thinking? What would you be wearing? Those types of things that I don't have in my musical world. I'm uncomfortable on stage if I don't have an instrument. Like what am I doing with my hands if I'm not playing? So, it's interesting to start analyzing scenes in that way. I haven't used that part of my brain in a long time.
The main difference I had to struggle with…with music, it's coming from a personal place and I'm performing from a personal place, and I can be myself. Whereas in the OA specifically, I chose the role because I related to it personally, but I had to take my own personal experience to be somebody else. It was hard for me to get into this place where I'm somebody else. It made me more quiet. Which may have benefited the character. But I have a lot more learning to do with that. I want to take more improv classes, more writing classes and sit in a writers' room. It made me realize that I'm more intrigued with the writing process than the acting.
AD: You also, I hear, got a degree in psychology?
Sharon Van Etten: I haven't gotten there yet. I never got my undergraduate degree. And so, I started going in 2016 and then I found out I was pregnant, so I had to take time off and have my kid, and then I went back and have been taking a couple of classes here and there. Being a 41-year transfer student, I'm not the ideal candidate. I have to get some general requirements under my belt before I can transfer to the psychology school, but I have two more classes, a science class and a statistics class, and once I take those, I can apply for the School of Psychology at the University of California. And from there I can actually start going towards a degree, properly. I'm only chipping away at it, because between the kid and music, I want to be realistic about what I can do. But by the time I'm 50, I would like to have some kind of certification or degree.
AD: Is the goal to be a therapist?
Sharon Van Etten: That's a goal, but I don't want to pigeonhole myself. I may get interested in something else, I'm not aware of while I'm in school, different facets of the psychology world, whether it be one on one or working out of a college or in social work. Once I learn more about the field and what's available and how I can affect my immediate surroundings and my community, then I'll know more. But one on one talk therapy is an interest for sure. It's been very helpful to me. And I would love to help people communicate their emotions in a healthy way and find their outlet in order to do so.
AD: I feel like a lot of people are attracted to psychology because of the damage they've sustained and that's something that also comes up in your music. Do you see the two things as linked?
Sharon Van Etten: Absolutely. I write as a form of therapy for myself. I always have. I don't share most of what I write, because when I first sit down, I have this funny disconnect where I can't talk about my feelings immediately. I need to sit with them for a while and let them stir. Then I play and I sing, and I get them out in this raw state, and I can listen to it and look at it and have a better idea of what it is I'm feeling. That way I'm not acting too much in the moment and acting too emotionally where I'm not actually communicating in a clear way.
So, I've learned how to do that over the years. I'm still honing it, just for myself. I would say probably 90% of what I write is in a drive. It's more of my emotional journal that no one will ever hear. But, I want to help other people find that for themselves. Not just in music. Whether it be running or cooking or painting. Whatever it might be, just to find that thing where if you have a disconnect in communication, you have to find a niche for yourself that is your outlet, your form of expression. That you're able to get out before you find the words. That is a transitional state that helps me, personally, find the words. I don't know what that is, but I'm interested in it.
AD: I know you're doing some touring this summer. Is there anything else, any side projects or film soundtracks in the works?
Sharon Van Etten: Touring is the bulk of it. I'm going to Europe in a couple of weeks with the band, and L'Rain is supporting most of those dates. And then I have a couple of weeks off to hang with the fam, and then I'm back out in the U.S. with Angel and Julian, and I'm really excited about that. And then my son starts kindergarten, so I want to be home for that, so I'm going to take some time to be there…
AD: You won't believe how much more time you have when your kid starts going to school full time.
Sharon Van Etten: I just want to be there for him emotionally, and I want to nest more at home. Now that the world is opening up a little bit, hopefully, and just be able to live a bit more freely in California after touring all summer.
AD: You don't take him with you when you tour, do you?
Sharon Van Etten: He'll come visit some of the time, and I always want him to feel welcome and I want that to be a dialogue we have all the time. But I want him to be around other kids. I want him to have a life. With our lifestyle he's around adults a lot of the time, so sometimes I feel that he talks too much like an adult. But he likes it. He's interested. He likes music. He plays drums. He skateboards. It's a good lifestyle for a kid when he can come for sure.
AD: Have you heard anything good lately?
Sharon Van Etten: I love the new Warpaint album. I think it's so beautiful. The drumming is incredible, but the vocal arrangements are really special. I also really like the new Tomberlin record. I like how she leaned into the experimental leanings and the minimal piano. Also, I've been listening to Lucinda Williams' Bob Dylan covers record, and a lot of Bud Powell. I wasn't listening to new music for a while, but now I'm catching up.
Aquarium Drunkard is powered by our patrons. Help us continue doing it by pledging your support via our Patreon page.