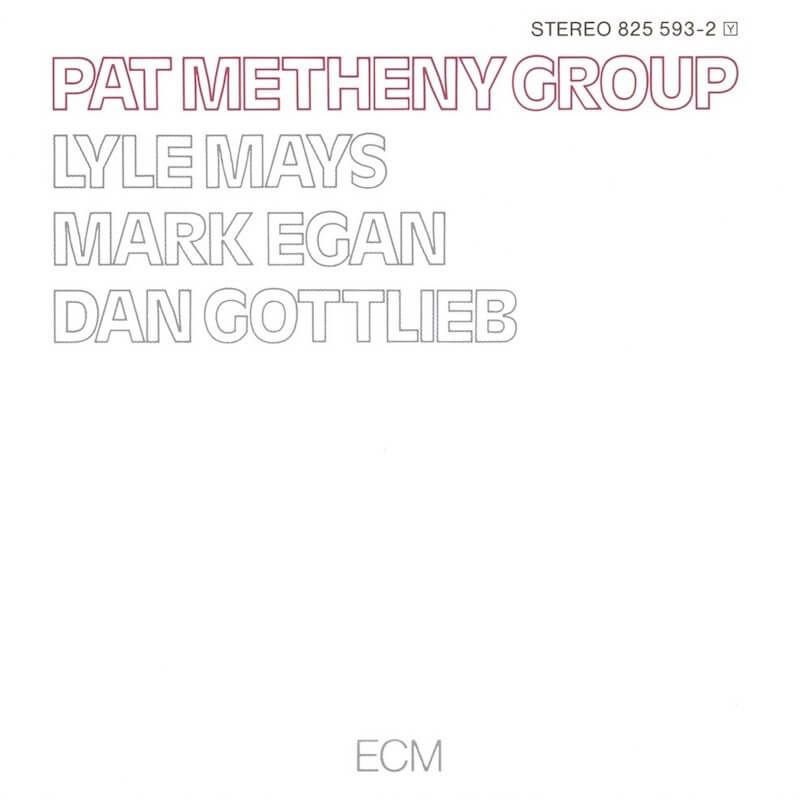 Guitarist Pat Metheny recently described music as a "carrot", "I am still figuring out what the stick is," he concluded to Ross Simonini in The Believer. That idea of constant investigation permeates Metheny's nearly 50 year music career as well as his first s/t LP with his Pat Metheny Group.
Originally released by ECM in January 1978; Metheny's group included pianist/keyboardist Lyle Mays, bassist Mark Egan and drummer Dan Gottleib. The LP was produced by ECM mastermind Manfred Eicher and helped cement the label's reputation for forward-thinking; avant-garde musicianship that either titillated or completely turned off most rabid jazz and instrumental music fans. 
1978 was a busy year for jazz with the release of new material from such fellow heavies as Art Ensemble of Chicago, George Benson, Lester Bowie, Chick Corea, Bill Evans, Herbie Hancock, Charles Mingus, Sun Ra and labelmates Keith Jarrett and Eberhard Weber. Even bands like Queen attempted to capitalize on the trend releasing their LP Jazz; that November.
Metheny's group stood out though. This was jazz that you didn't have to think about (even though most did; YouTube is littered with videos attempting to analyze the harmonics of what Metheny and Mays have done here) but obviously took great care to create, write and play. The album's first song, "San Lorenzo", false endings and all, let's you know exactly what lies ahead. The music sounds like summer vacation when you didn't have a care in the world and the days only ended because everyone else had to go home. "Phase Dance" has become one of Metheny's most popular tunes and tended to open nearly every show the band performed for years afterwards.
Mays is the clear MVP on this session; not only a co-writer of most of the material on the LP his piano and keyboard fill nearly every song with a wide variety of angles and emotions. On "San Lorenzo" he not only introduces the song but even mimics the missing horn parts. On "Jaco", named in honor of the late bassist Jaco Pastorious; he follows Metheny unerringly on their bluesy shuffle. Egan and Gottleib are just as reliable; everything seems to click into place and the pace never drags; if these guys fucked anything up during the recording; you'd be hard pressed to figure out where.
This is jazz (or jam band music? or fusion? or elevator music?) for the kids who raided their parents LP collection because the covers looked cool. And you can't say much about the cover for this one (or most of the ECM catalog) without agonizing over the incredible attention to detail and process. The LP cover for this one is literally the four musicians' names in either two (or four?) different colors on a plain white background. The cover reveals nothing about the group or the music contained within and you've just gotta think someone did that on purpose. | p barbatano
Pat Metheny Group :: San Lorenzo
For heads, by heads. Aquarium Drunkard is powered by our patrons. Keep the servers humming and help us continue doing it by pledging your support via our Patreon page.