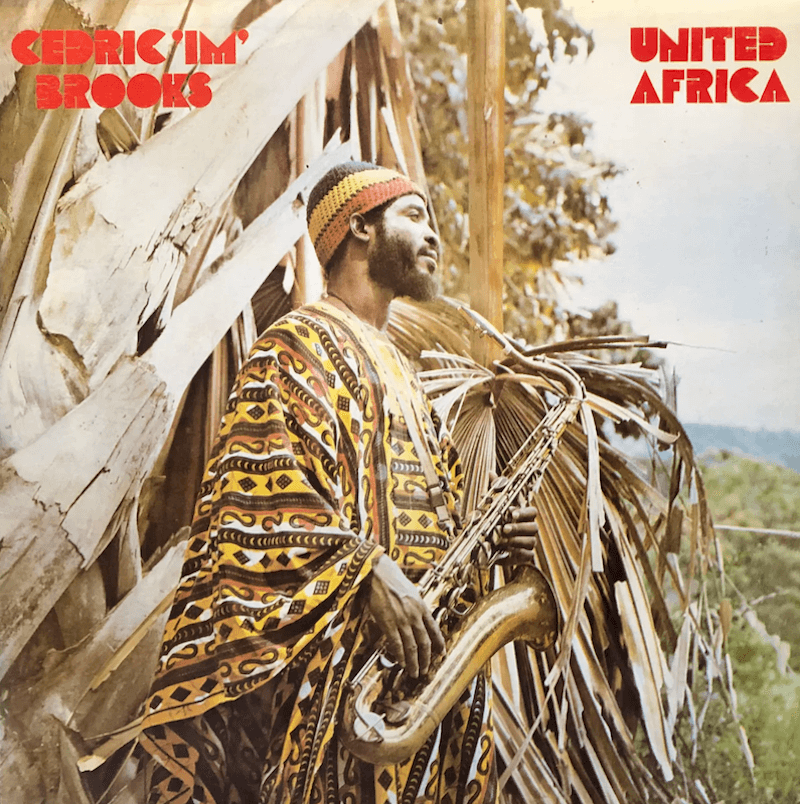 United Africa is Cedric "Im" Brooks' big-band opus, released in 1978 after Brooks had formed a new ensemble to merge the spiritual consciousness and musical traditions he'd explored over the previous decade.
Coming up through Kingston's famed Alpha Boys' School (which also counted the founding Skatellites as alumni), Brooks cut his teeth Studio One before a brief jaunt to the US in the early 70s to study music in Philadelphia. It was there he encountered the music and vison of Sun Ra, at one point nearly joining the ranks of the Arkestra. Impressed by the sheer cosmic scope and freedom of the Arkestra, Brooks teamed with legendary nyabinghi drummer and Rastafari elder Count Ossie back in Jamaica to form The Mystical Revelation of Rastafari, recording the landmark Grounation and Tales From Mozambique albums before leaving to pursue a more jazz-inflected, though equally righteous direction with Light of Saba. Brooks released two solo records in 1977, and while there were both were stellar, Flash Forward and One Essence only hinted at large ensemble instrumentation. With United Africa, Brooks finally arrived at the sound and vision he'd been building toward—music as boundless and verdant as the clearing he's overlooking on the album cover.
The opening fanfare of the Abyssinians' Rastafari anthem "Satta Massagana" is heavy enough to bust the gates of Zion wide open, leading off with the blaring call of brass and drums before sliding into riddim so effortless it seems to float away if it wasn't held down b Tony Allen's tremendous bassline. The title track and "Praises" nod to Highlife and Afrobeat, while "Rivier Jordan" and "Elehreh" are spirituals of the highest order.
But it's "Silent Force" that rises out of the album like a thick encroaching mist. It's a massive groove that wouldn't be out of place on an Africa 70 record, displaying the full strength of Brooks' tenor sax and the supple interplay of his ensemble as they funk hard over an insistent undercurrent of nyabinghi drums. With Brooks' tenor backed by Jamaican session luminaries like Ernest Ranglin, Harold Butler, Boris Gardiner, and Tony Allen, "Silent Force" is an otherworldly melding of roots reggae, spiritual jazz, and African polyrhythms that transcends the narrow confines of genre. This is fusion music in the truest sense. | j annis
Only the good shit. Aquarium Drunkard is powered by our patrons. Keep the servers humming and help us continue doing it by pledging your support via our Patreon page.