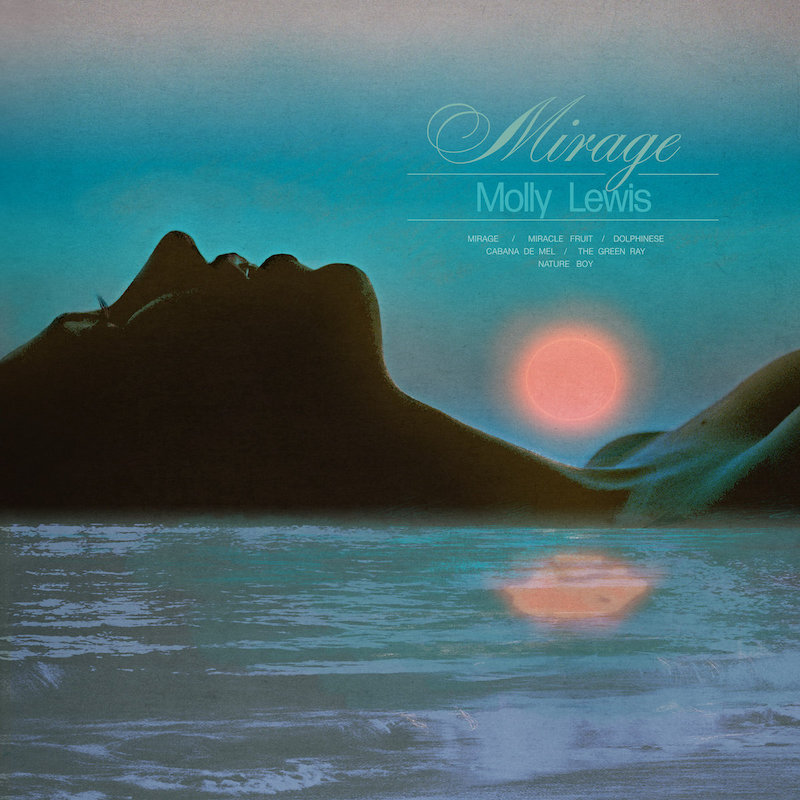 Among new artists digging into the bygone sounds of Pacific impressionism, Molly Lewis is the standout. She has taken her sound to the masses and has been met with praise and approval. In the seventy years since America's initial Exotica sensation, popular music has been in a state of near-constant upheaval and reformation. Yet, on her forthcoming EP Mirage, Lewis' sound manages to mystify while remaining accessible to collective taste.
Despite a surface-level minimalism, the arrangements on Mirage are dense. The approach layers strings, light percussion, and strummed guitars over electronic and organic soundscapes; all of which is then run through swathes of reverb. If not for Lewis' now-trademark whistle, one would risk getting lost in the lush. Somewhere between catchy and atmospheric, it directs the listener through an amalgam of influences over the course of the record.
Loaded term aside, the Exotica influence runs strong throughout Mirage. Lewis, however, has done her homework and the connections with global pop music dives well-beyond the surface. "Miracle Fruit" places Antonio Carlos Jobim at the forefront. Sultry Bossa Nova guitar lags a step or two behind the melody, slowing down time as a ghostly choir sends the tune towards the heavens. Though conceived as Lewis' impressions of a hallucinatory island, the songs on this EP are not limited by geographic boundaries. At multiple points the listener is
unbound from the earth and taken to seemingly new worlds. The saga persists with "The Green Ray." The piece moves into a deep pocket of sound that has an overwhelming air of Morricone scoring a space western. The guitar work of Rogê – a frequent collaborator of Seu Jorge – projects a neoclassicism, as if Andres Segovia secured a spot on a lunar orbit. Of course, the whole thing is all tied together with the closing cover of Eden Ahbez's "Nature Boy."
Written by Ahbez and made famous by the likes of Nat King Cole, John Coltrane, and even David Bowie, the number is a relic of a bygone musical phenomenon that has managed to endure in its relevance. It is the most understated tune on the album and the simplicity speaks to the motivation behind including it. Lewis wearing this influence on their literal (LP) sleeve emits a confidence and comfort with her own work. With "Nature Boy," a source of inspiration speaks for itself under new interpretation. As Ahbez did with Eden's Island, Lewis has crafted a personal sanctuary to share with audiences on Mirage. Much territory is covered along the journey – aqueous, astral, terrestrial – but overall, we're left with landscape like none yet charted. | j rooney
For heads, by heads. Aquarium Drunkard is powered by our patrons. Keep the servers humming and help us continue doing it by pledging your support via our Patreon page.