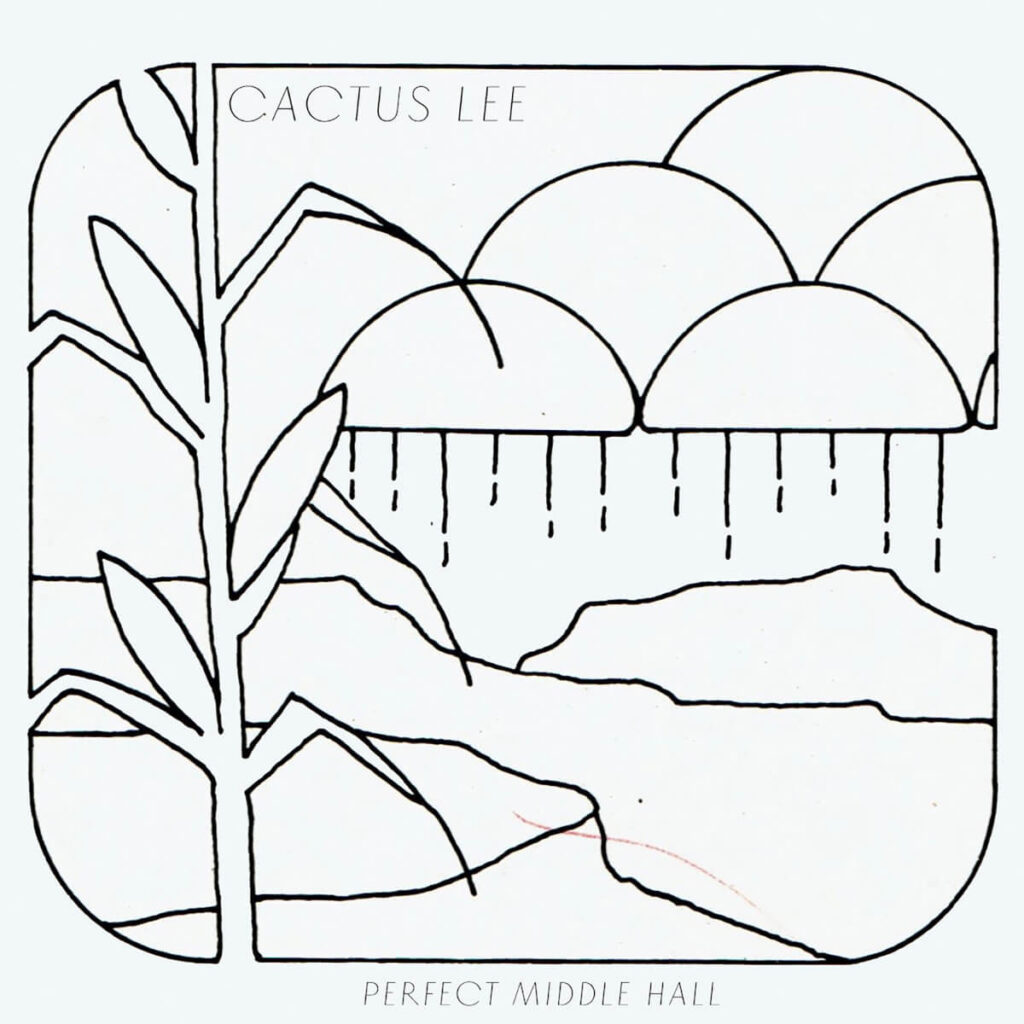 Cactus Lee, our dear, enchanting nine-to-five troubadour, drops his most recent release, Perfect Middle Hall, on vinyl this week. It's a perfect format for enjoying this one—a tight, cozy six-song cycle of Kevin Dehan's woolen, lo-fi folk, which introduces a more full-bodied richness into the sonic palette. 
"Lift your head up above the glass, it's morning time, this time will pass," he sings on the album opening "Down That Mountain." The sobering, spent ethos ("get to work at a quarter to three") is met with bright and empathetic hand percussion, giving the song an expansive psychedelic folk-soul coating. And when he sings "running tired down that mountain," in repeat, the guitar going electric and grungy, easily the most Horse we've heard this project go, his vocals echoed on themselves and his axe slashing in untamed resentment. 
That percussive sound—light but booming in longing echo—sustains across the album, due in no small part to John Bush's contributions on conga, percussion, and drums and Alice Stewart's added vocals, which double serve to maintain crucial elements the project's enchanted chambered folk. "Pere Lachaise," in particular, gleams like a charmed patch of woodland. But haunted with his own mortality, Dehan sings: "Bury me and leave me alone, and carve out my face in stone," his fate at the titular gates remaining obscured. He pleads: "Would you place a rose beside that tree?" the highest of stakes seemingly at play. "Slowly By" is a righteous left-turn into psychedelic rock, where Dehan's traditional tight-knit, tangled noodling is met with a sudden a cappella choir, and then dissociates into spacious pedal atmospherics and layered guitar hallucinations. Somehow romantic and foreboding at once, he sings: "The Venus trap by the sunlight, a lovely woman sleeps slowly by." 
The gentle, stunning title-track reflects on domestic bliss and heartbreaking transience before Dehan seeks spiritual transcendence on "Adeline," a roving escape from hearth & church. "Tell my kid that I put up a fight," he sings, "And give her the poem that I wrote." The poem, a warning in no uncertain times to pick up and do the same: "Adeline, you'd better run for your life." Dehan plays it out gently on acoustic guitar but the melody is unmistakably galloping.
The album concludes with "Kangaroo," not a Big Star cover but rather a ramblin' ride out that all but promises Cactus Lee will return in adventures big and small. Over a revved up, rattled beat Dehan, in a smoky and subtly pugnacious tenor, challenges: "Why does the final word gotta be no? Why am I running to and fro? Why's telling time such a losing game? Tell the truth to my goddamn face." Psychic sound vapors soar into the mix, as our narrator, "destitute and heart broke," stumbles across the devil. Tired as he may be, the road he travels is wide awake with twists and turns. | c depasquale
For heads by heads. Aquarium Drunkard is powered by our patrons. Keep the servers humming and help us continue doing it by pledging your support via our Patreon page. .